The Prevention of Prescription Drug Abuse in the Workplace (PAW) TA Center addresses prescription drug abuse—a growing public health problem with increasing burdens on workers, workplaces, and our economy. To subscribe colleagues, family members, or friends to this listserv sponsored by the Substance Abuse and Mental Health Services Administration (SAMHSA), please click here or send their e-mail addresses to paw@dsgonline.com.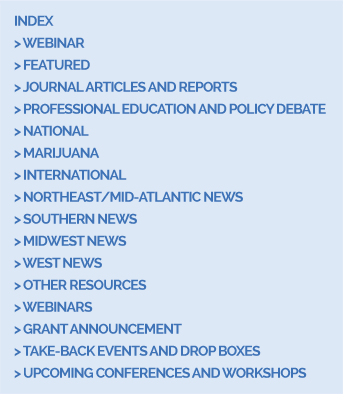 Featured
National Safety Council. 2015. Prescription Pain Medications: A Fatal Cure for Injured Workers.

Because workers who have taken opioid pain relievers following on-the-job injuries sometimes become addicted, courts have ordered employers and workers' compensation insurance carriers to pay for detoxification, medication-assisted treatment, and death benefits for surviving family members. This report examines relevant court decisions. It discusses when opioid-related overdose is compensable, how to protect injured workers from potential dangers of opioid pain medications, and how employers can reduce the risk of compensable costs associated with opioid use. It recommends educating workers about opioid pain reliever risks, working with insurance carriers to identify inappropriate prescribing and adopt procedures for managing employees' opioid use, ensuring medical providers follow prescribing guidelines and use state prescription drug monitoring programs, providing supervisor education focused on identifying impaired employees, expanding drug testing programs to screen for prescription opioids, and ensuring employee assistance programs provide adequate access to treatment.

Read more:
http://safety.nsc.org/workerscomp?utm_medium=(none)&utm_source=(direct)&utm_campaign=workerscomp

R.A. Pollini, E. Romano, M.B. Johnson, and J.H. Lacey. 2015. "The Impact of Marijuana Decriminalization on California Drivers." Drug and Alcohol Dependence 150:135–40, doi:10.1016/j.drugalcdep.2015.02.024.

California roadside surveys collecting oral fluid found no significant change in prevalence of THC–positive driving among weekend nighttime drivers in 2012 following marijuana decriminalization (9 percent) compared with 2010 (11 percent), or in the adjusted odds of testing positive for THC (odds ratio = 0.96). In contrast, prevalence of cannabinoids among fatally injured drivers was significantly higher in 2012 (17.8 percent) compared with the pre-decriminalization period 2008–10 (11.8 percent), with 1.67 higher odds of a fatal driver testing positive after decriminalization.

Read more:
http://www.drugandalcoholdependence.com/article/S0376-8716(15)00108-8/abstract

National Prescription Drug Take-Back Day
Drug Enforcement Administration
September 26, 2015, 10 a.m. to 2 p.m.
Various locations nationwide

On September 26, National Prescription Drug Take-Back Day will provide safe, convenient, and responsible means of disposing of prescription drugs, while educating the general public about the potential for medication misuse. Collection sites will be announced September 1, 2015, on the Drug Enforcement Administration's website.

Read more:
http://www.deadiversion.usdoj.gov/drug_disposal/takeback
Journal Articles and Reports
S.S. Ali, S. Sharma, A. Tabish, R. Sharma, M. Jaiswal, and R. Chaurasia. 2015. "Evaluation of Self Medication Amongst Nursing Students of Bastar Region: A Questionnaire Based Study." International Journal of Pharmacology Research 5(6), doi:10.7439/ijpr.v5i6.2273.

In Jagdalpur, India, a classroom survey of 142 nursing students ages 17–24 found 84.5 percent self-medicated with over-the-counter or prescription drugs. Most treated colds, headache, fever, diarrhea, or sore throat. A third conferred with other students before choosing a drug. Two thirds bought drugs from a pharmacy, 22 percent bought drugs from a "casualty," and 12 percent got drugs from other students.

Read more:
http://www.ssjournals.com/index.php/ijpr/article/view/2273

E.K. Choo, M. Mazer–Amirshahi, D. Juurlink, S. Kobner, K. Scott, and M. Lin. 2015. "The Prescription Opioid Epidemic: Social Media Responses to the Residents' Perspective Article." Annals of Emergency Medicine, doi:10.1016/j.annemergmed.2015.05.005.

In June 2014, the Annals of Emergency Medicine and the Academic Life in Emergency Medicine blog-based website hosted a live videocast, a detailed discussion in the website's comment section, and real-time Twitter conversations about the Annals Residents' Perspective article, "The Opioid Prescription Epidemic and the Role of Emergency Medicine." This dialogue resulted in 1,262 unique page views from 433 cities in 41 countries, 408,498 Twitter impressions, and 168 views of the video interview with the authors.

Read more:
http://www.sciencedirect.com/science/article/pii/S0196064415003923

K.L. Cropsey, E.N. Stevens, P. Valera, C. Brendan Clark, H.W. Bulls, P. Nair, and P.S. Lane. 2015. "Risk Factors for Concurrent Use of Benzodiazepines and Opioids Among Individuals Under Community Corrections Supervision." Drug and Alcohol Dependence, doi:10.1016/j.drugalcdep.2015.06.038.

This study analyzed case manager interviews and urine drug screens from 28,570 Alabama felony offenders who were diverted to community corrections supervision, including a daily program visit, between 2002 and 2012—typically after a period of incarceration. Drug testing occurred within 48 hours of program entry and then randomly among daily visitors. Average length of supervision was 10.4 months. At baseline, the Addiction Severity Index showed 18 percent had an opioid use disorder, and 8.5 percent had a benzodiazepine use disorder; the program usually mandated treatment for these disorders. Across the observation period, 11.5 percent tested positive for concurrent use of opioids and benzodiazepines, 15 percent tested positive for opioids only, and 7 percent tested positive for benzodiazepines only. In multivariate regression, concurrent use of both drug classes or use of either class alone was more common among offenders who were white, female, married, prescribed psychiatric medications, using cannabis, had seen a physician in the past 2 years, and had a drug-related offense. Relative to nonusers, concurrent users were more likely to be unemployed or disabled and have received counseling, and less likely to have completed college, live with relatives or friends, have a history of hallucinations, or have committed a violent felony.

Read more:
http://www.drugandalcoholdependence.com/article/S0376-8716(15)00352-X/abstract

S.M. Frenk, J.M. Sautter, and R. Paulose–Ram. 2015. "Prevalence and Trends in Psychotropic Medication Use Among US Male Veterans, 1999–2010." Pharmacoepidemiology and Drug Safety, doi:10.1002/pds.3809.

Analysis of 1999–2010 National Health and Nutrition Examination Survey data showed the percentage of male veterans who used any psychotropic medication increased from 10 during 1999–2002 to 14 during 2003–06, then stabilized. During the same time, the percentage of nonveteran males who used psychotropic medications remained relatively stable (7 percent, 8 percent, and 9 percent, respectively). Antidepressants accounted for most of the increase.

Read more:
http://onlinelibrary.wiley.com/doi/10.1002/pds.3809/abstract

J. Gray, N. Hagemeier, B. Brooks, and A. Alamian. 2015. "Prescription Disposal Practices: A 2-Year Ecological Study of Drug Drop Box Donations in Appalachia." American Journal of Public Health, doi:10.2105/AJPH.2015.302689.

From June 2012 to April 2014, eight drug donation boxes in Northeast Tennessee collected 4,841 pounds of pharmaceutical waste. Of this, 5 percent (239 pounds or 106,000 doses) were controlled substances. Median time to donation was 34 months from dispensing (range: 1–484 months). The controlled substance donation rate was 1.39 pounds per 1,000 residents. Communities with fewer than 10,000 residents had a statistically higher controlled substance donation rate than larger communities.

Read more:
http://ajph.aphapublications.org/doi/abs/10.2105/AJPH.2015.302689

L. Guo, Y. Xu, J. Deng, Y. He, X. Gao, P. Li, H. Wu, J. Zhou, and C. Lu. 2015. "Non-Medical Use of Prescription Pain Relievers Among High School Students in China: A Multilevel Analysis." BMJ Open 5:e007569, doi:10.1136/bmjopen-2014-007569.

In Chongqing, China, among 11,906 high school students completing a 2012 survey, 11 percent self-reported nonmedical use of prescription pain relievers. Nonmedical use was more prevalent among vocational high school students (16 percent) than among general high school students (10 percent; adjusted odds ratio (OR) 1.6). Below-average family economic status was negatively correlated with nonmedical use (OR 0.8). Positive correlates of nonmedical use were more pocket money; difficult family relationships; poor relationships with teachers, parents, or friends who engaged in nonmedical use; and suicidal ideation/attempt.

Read more:
http://bmjopen.bmj.com/content/5/7/e007569.full

O. Mowbray and A. Quinn. 2015. "Prescription Pain Reliever Misuse Prevalence, Correlates, and Origin of Possession Throughout the Life Course." Addictive Behaviors 50:22–27, doi:10.1016/j.addbeh.2015.06.006.

In national estimates from 2011–12 National Survey on Drug Use and Health data, 4.7 percent of people age 12 and over admit past-year prescription pain reliever misuse. Prevalence was 6 percent at ages 12 to 17, 10 percent at 18 to 25, 8 percent at 26 to 34, 4 percent at 35 to 49, and 2 percent at age 50 and over. Multivariate regression revealed no significant correlates with misuse except an illicit drug use disorder. These correlates diminished in significance among older adults. Older misusers were more likely than younger ones to get pain relievers from more than one doctor.

Read more:
http://www.sciencedirect.com/science/article/pii/S030646031500194X

S. Noorbakhsh, Z. Zeinodini, Z. Khanjani, H. Poorsharifi, and S.R. Esfahani. 2015. "Personality Disorders, Narcotics, and Stimulants; Relationship in Iranian Male Substance Dependents Population." Iranian Red Crescent Medical Journal 17(6):e23038, doi:10.5812/ircmj.23038v2.

In Tehran, Iran, 130 male narcotic users and 130 male stimulant users entering treatment in 2013 were recruited randomly and interviewed. Stimulant as opposed to narcotic misuse was more common among patients with histrionic, antisocial, or narcissistic personality disorders.

Read more:
http://ircmj.com/?page=article&article_id=23038

M.F. Regner, M. Dalwani, D. Yamamoto, R.I. Perry, J.T. Sakai, J.M. Honce, and J. Tanabe. 2015. "Sex Differences in Gray Matter Changes and Brain–Behavior Relationships in Patients with Stimulant Dependence." Radiology, doi:10.1148/radiol.2015142541.

This study gathered magnetic resonance images of the brains of 59 patients with stimulant use disorders and 68 age- and sex-matched comparison group participants. They found disorders were associated with significant losses in gray matter volume in several brain regions among women but not among men.

Read more:
http://pubs.rsna.org/doi/abs/10.1148/radiol.2015142541

M.E. Stabler, K.K. Gurka, and L.R. Lander. 2015. "Association Between Childhood Residential Mobility and Non-Medical Use of Prescription Drugs Among American Youth." Maternal and Child Health Journal, doi:10.1007/s10995-015-1785-z.

In an analysis of 2010 National Survey on Drug Use and Health data on youth ages 12–17, controlling for demographic, intrapersonal, interpersonal, and community factors, adolescents with low mobility (one to two moves in the past 5 years) and residential instability (≥ three moves) were 16 percent and 25 percent, respectively, more likely to report nonmedical use of prescription drugs compared with nonmobile adolescents (no moves).

Read more:
http://link.springer.com/article/10.1007/s10995-015-1785-z

University of Maryland. 2015. "Percentage of National Treatment Admissions for Heroin at Highest Level; Admissions for Other Opiates May Be Leveling Off." Center for Substance Abuse Research (CESAR) Fax 24(4).

In 2012, the percentage of heroin-related admissions at state-funded substance misuse treatment facilities reached the highest level since data collection began in 1992, according to the national Treatment Episode Data Set (TEDS). After 6 years of stability, heroin admissions rose from 14 percent in 2010 to 16 percent in 2012. Admissions for misuse of other opiates stabilized at around 10 percent in 2011 and 2012.

Read more:
http://www.cesar.umd.edu/cesar/cesarfax/vol24/24-04.pdf

A.D. Wasan, E. Michna, R.R. Edwards, J.N. Katz, S.S. Nedeljkovic, A.J. Dolman, D. Janfaza, Z. Isaac, and R.N. Jamison. 2015. "Psychiatric Comorbidity Is Associated Prospectively with Diminished Opioid Analgesia and Increased Opioid Misuse in Patients with Chronic Low Back Pain." Anesthesiology, doi:10.1097/ALN.0000000000000768.

In a nonrandomized cohort of 81 chronic low back pain patients in Pittsburgh, treatment included an opioid titration phase and a 4-month continuation phase, during which subjects recorded daily pain levels using an electronic diary. One fourth of patients dropped out. Those with high negative affect were prescribed a higher average daily dose of morphine equivalents. Study completers in high and low negative groups reported 21 percent vs. 39 percent improvements in pain. The high negative affect group had a significantly greater rate of opioid misuse (39 vs. 8 percent) and significantly more and intense opioid side effects.

Read more:
http://anesthesiology.pubs.asahq.org/article.aspx?articleid=2396642&resultClick=3
Professional Education and Policy Debate
M. Dunn. 2015. "The Importance of Understanding Motives for Prescription Substance Use and Misuse in Sport." Performance Enhancement & Health, doi:10.1016/j.peh.2015.04.001.

Prescription substance use is increasing within the community—particularly among athletes, who tend to misuse prescription stimulants. While drug testing in sport seeks in part to protect athletes' health, responses to positive notifications are frequently punitive. Prescription opioid misuse is often related to sports injury and chronic pain. Understanding prevalence and motivations for use among athletes is important.

Read more:
http://www.sciencedirect.com/science/article/pii/S2211266915000043

A.M. Holbrook. 2015. "Methadone Versus Buprenorphine for the Treatment of Opioid Abuse in Pregnancy: Science and Stigma." The American Journal of Drug and Alcohol Abuse, doi:10.3109/00952990.2015.1059625.

Methadone and buprenorphine are important treatment options for opioid misuse—even for pregnant women. Methadone may still be the preferred treatment choice for women who require higher doses to be stabilized, have a higher risk for discontinuing treatment, or have not had success with buprenorphine in the past. No evidence supports detoxification as an efficacious approach to treat opioid dependence during pregnancy.

Read more:
http://informahealthcare.com/doi/abs/10.3109/00952990.2015.1059625
National
Obituaries Shed Euphemisms to Chronicle Toll of Heroin
Katharine Q. Seelye, The New York Times
July 11, 2015

A growing number of families are writing truth-telling obituaries about their loved ones' deaths from heroin use, drug overdose, or addiction. Some obits have even gone viral on social media, prompting an outpouring of messages in which strangers share their own heartache. Experts say the emerging openness about fatal overdoses is a sign of a broader shift.

Read more:
http://www.nytimes.com/2015/07/12/us/obituaries-shed-euphemisms-to-confront-heroins-toll.html?_r=0

Former FBI Agent Sentenced to Three Years for Stealing Heroin from Evidence
Danielle Haynes, UPI
July 10, 2015

Former FBI agent Matthew Lowry was sentenced to 3 years in prison and 2 years of supervised release for stealing heroin from the agency's evidence storage facility. He pleaded guilty on 64 counts, including getting high on the stolen heroin. Lowry tried covering his crime by cutting the drug with other substances and forging labels. He said his addiction started with prescription pain medication for ulcerative colitis.

Read more:
http://www.upi.com/Top_News/US/2015/07/10/Former-FBI-agent-sentenced-to-three-years-for-stealing-heroin-from-evidence/1001436562390

Prescription for Addiction
S. Sipek, Workforce
July 10, 2015

With prescription drug misuse on the rise in corporate America, this writer believes employers should look to enhance their employee assistance programs. That includes partnering with organizations that offer outpatient treatment, which allows employees to continue working while getting help.

Read more:
http://www.workforce.com/blogs/13-working-well/post/21445-prescription-for-addiction
MARIJUANA
S. Dubois, N. Mullen, B. Weaver, and M. Bédard. 2015. "The Combined Effects of Alcohol and Cannabis on Driving: Impact on Crash Risk." Forensic Science International 248:94–100, doi:10.1016/j.forsciint.2014.12.018.

In a case-control study of a largely nonrandom subset of drivers age 20 or older who were tested for drugs and alcohol after being involved in a fatal crash during 1991–2008, the cases were drivers with at least one potentially unsafe driving action recorded in relation to the crash (e.g., weaving); controls had no recorded actions. (Editor's note: A nonrandom sample is poorly suited to a case-control study. Routine drug testing of drivers in fatal crashes only began in a handful of states in the past few years.) Compared with those testing negative, adjusted odds ratios of committing an unsafe driving action while under the influence of alcohol alone rose by 9–11 percent for each 0.01 Blood Alcohol Content (BAC), while odds of an unsafe action rose by 16 percent when driving only under the influence of marijuana. With both substances present, odds increased by approximately 8–10 percent for each 0.01 BAC over alcohol alone or THC alone. (Editor's note: The latter finding may merely mean aggressive drivers are more likely than others to drive after using substances.)

Read more:
http://www.fsijournal.org/article/S0379-0738(14)00535-0/abstract

R.L. Hartman, T.L. Brown, G. Milavetz, A. Spurgin, R.S. Pierce, D.A. Gorelick, G. Gaffney, and M.A. Huestis. 2015. "Cannabis Effects on Driving Lateral Control With and Without Alcohol." Drug and Alcohol Dependence, doi:10.1016/j.drugalcdep.2015.06.015.

In a random sequence of separate sessions, current occasional cannabis smokers drank placebo or low-dose alcohol and inhaled 500 mg placebo, low (2.9 percent) THC, or medium (6.7 percent) THC vaporized cannabis over 10 minutes, then drove the University of Iowa's National Advanced Driving Simulator for about 48 minutes. Researchers evaluated lane weave, standard deviations of lateral position (SDLP) and steering angle, lane departures/minute, and maximum lateral acceleration. Among 18 completers, blood THC concentrations of 8.2 and 13.1 µg/L while driving increased SDLP similar to 0.05 and 0.08 breath alcohol concentrations. Cannabis–alcohol SDLP effects were additive rather than synergistic, with 5 μg/L THC + 0.05 alcohol showing similar SDLP to 0.08 alcohol alone. Only alcohol increased lateral acceleration and lane departures/minute. Oral fluid effectively documented cannabis exposure, although with greater THC concentration variability than paired blood samples.

Read more:
http://www.drugandalcoholdependence.com/article/S0376-8716(15)00314-2/abstract

D. Powell, R. Liccardo Pacula, and M. Jacobson. 2015. Do Medical Marijuana Laws Reduce Addictions and Deaths Related to Pain Killers? National Bureau of Economic Research Working Paper No. 21345.

Researchers studied the impact of medical marijuana laws on treatment admissions for opioid addiction from the Treatment Episode Data Set and state-level opioid overdose deaths. In both standard differences-in-differences models and synthetic control models, states permitting medical marijuana dispensaries experienced a relative decrease in opioid addictions and opioid overdose deaths compared with states that prohibited dispensaries. The mitigating effect did not extend to medical marijuana laws that do not permit dispensaries.

Read more:
http://www.nber.org/papers/w21345

As Marijuana Attitudes Ease, Workplace Drug Testing Companies Brace for Fight
Daniel Moore, Pittsburg Post-Gazette
July 12, 2015

Both supporters and critics of drug testing agree that changing marijuana policies pose a threat to the practice, especially for companies with multi-state facilities. Defenders of testing maintain that employees who use drugs—including marijuana—have been found to miss more work, cause more accidents, change jobs more frequently, and cost employers more money. The drug test industry, large diagnostic laboratories, and smaller third-party companies have mobilized to oppose the wave of legislation and litigation they expect to rise from the conflict between workplace policies and law changes. The Drug and Alcohol Testing Industry Association has assembled pamphlets to assist businesses in defending their drug-testing programs, including talking points such as "the top 10 marijuana myths." It advises businesses to follow federal regulations, which list marijuana as a Schedule I drug.

Read more:
http://www.post-gazette.com/business/career-workplace/2015/07/12/Workplace-drug-testing-sparks-debate/stories/201506140006

New Study Explores the Effect of Cannabis on Arthritis Pain
CTV
July 14, 2015

The Arthritis Society of Canada has funded a research project studying the impact of medical cannabis on arthritis pain management.

Read more:
http://atlantic.ctvnews.ca/new-study-explores-the-effect-of-cannabis-on-arthritis-pain-1.2467322

Research by Stanford Law Students Offers Roadmap for California on Legalizing Marijuana
Clifton P. Barker, Stanford University
July 13, 2015

Stanford law students wrote Legalizing Marijuana in California: A Review of Policy Considerations. The report examines how California should legalize marijuana if citizens vote to do so. It debates the pros and cons of high versus low taxes and analyzes lessons learned from states that have legalized recreational marijuana.

Read more:
http://news.stanford.edu/news/2015/july/marijuana-maccoun-law-0701315.html
International
2015 National Medicine Take-Back Campaign Launched to 'Keep Your Drugs off the Streets'
CNW
July 13, 2015

Shoppers Drug Mart, the Partnership for a Drug-Free Canada, and Loblaw Pharmacy launched a 6-month National Medicine Take-Back Campaign. The campaign aims to ensure safe medicine use and promote environmentally friendly drug disposal. It raises parents' awareness of the dangers of prescription and over-the-counter drug misuse by teenagers.

Read more:
http://www.newswire.ca/en/story/1569551/2015-national-medicine-take-back-campaign-launched-to-keep-your-drugs-off-the-streets

Statement from the Minister of Health on the Re-Airing of the Preventing Drug Abuse Media Campaign
CNW
July 13, 2015

Health Canada relaunched the Preventing Drug Abuse media campaign, which will run until August 8, 2015, on television and Internet platforms. The ads illustrate the harmful effects of prescription drug misuse and marijuana on the developing brains and bodies of teenagers.

Read more:
http://www.newswire.ca/en/story/1569819/statement-from-the-minister-of-health-on-the-re-airing-of-the-preventing-drug-abuse-media-campaign
Northeast/Mid-Atlantic News
Malloy Signs Bill to Combat Substance Abuse, Opioid Overdoses
Steve Coulter, Trumbull Times
July 16, 2015

Connecticut Governor Malloy signed a law that requires prescription drug monitoring program checks when prescribing targeted drugs and allows pharmacists to prescribe naloxone to the state's families, first responders, and treatment community.

Read more:
http://www.trumbulltimes.com/2015/07/16/malloy-signs-bill-to-combat-substance-abuse-opioid-overdoses

State to Stockpile Overdose-Reversing Drug
Christian M. Wade, Gloucester Times
July 16, 2015

The Massachusetts Department of Public Health will bulk-purchase Narcan® and resell it at cost, making it cheaper and more accessible for cities and towns facing a surge of deaths from heroin and prescription opiate overdoses.

Read more:
http://www.gloucestertimes.com/news/local_news/state-to-stockpile-overdose-reversing-drug/article_3e7d0e2c-b43c-5d2a-8c23-661c0997c1fc.html

Easton Schools to Carry Drug That Reverses Opioid Overdoses
Monica Disare, The Boston Globe
July 16, 2015

Two secondary schools in Easton, Mass., will equip school nurses with naloxone starting this fall. Some parents questioned the decision but did not dismiss it outright. The Boston school district plans to begin training its school nurses to use naloxone in the upcoming academic year.

Read more:
https://www.bostonglobe.com/metro/2015/07/15/easton-schools-carry-drug-that-reverses-opioid-overdoses/B0bNSENBPo4gMvmU5UqX6K/story.html

Baltimore's Heroin Task Force Has a $20M Proposal to Reduce Overdose Deaths
Sarah Gantz, Baltimore Business Journal
July 13, 2015

Baltimore's Heroin Treatment and Prevention Task Force unveiled a $20 million, 10-point proposal to address heroin and opioid overdose deaths. Its recommendations include 24–7 addiction treatment services, a standardized treatment program for inmates, and a public outreach campaign aimed at addressing stigma around addiction.

Read more:
http://www.bizjournals.com/baltimore/news/2015/07/13/baltimores-heroin-task-force-has-a-20m-plan-to.html

Prescription Drug Combinations Proving to Be Most Fatal in Clearfield County
Deven Clarke, WJAC
July 16, 2015

Clearfield County, Penn., had no heroin overdose–related deaths in the past year, but 10 people died from prescription pill combinations. (Includes video: 2:20 minutes)

Read more:
http://www.wjactv.com/news/features/top-stories/stories/prescription-drug-combinations-proving-most-fatal-clearfield-county-6718.shtml
Southern News
Insurance Reform Commission Considers Steps to Deter Drug Abuse
Alex Rohr, The (Lynchburg) News & Advance
July 15, 2015

Virginia officials discussed whether to require insurance companies to cover "abuse deterrent" opioids during a recent Health Insurance Reform Commission meeting. Delegate Kathy Byron, the commission's chairwoman, brought the abuse-deterrent opioid question to the General Assembly on behalf of Teva Pharmaceuticals. The company expects to have an abuse-resistant opioid on the market later this year. Doug Gray, executive director of the Virginia Association of Health Plans, argued the state should not require insurance companies to carry the reformulations because the drugs are addictive, even when taken as prescribed. The commission will continue considering this issue.

Read more:
http://www.roanoke.com/news/virginia/insurance-reform-commission-considers-steps-to-deter-drug-abuse/article_60365299-04a7-5c22-bf83-d3f6a655b6ad.html

Arkansas Preparing for Heroin Epidemic
Phil Buck, KTHV
July 13, 2015

The Lonoke County Sheriff's Department is preparing for an influx of heroin in the tighter prescription pill market. Arkansas had 12 incidents involving heroin in 2014. In the first half of 2015, the state had 11 incidents.

Read more:
http://www.thv11.com/story/news/local/2015/07/13/heroin-epidemic-arkansas-prescription-drugs-opioid/30110695

Georgia Prescription Drug Abuse Prevention Initiative Awareness Campaign
PRFree.org
July 14, 2015

The Georgia Prescription Drug Abuse Prevention Initiative of the Council on Alcohol and Drugs has asked the community to take two important steps: lock up prescription drugs and dispose of them at a secure drop box location.

Read more:
http://www.prfree.org/news-georgia-prescription-drug-abuse-prevention-initiative-awareness-campaign-164300.html

Heroin Use on the Rise in Augusta, US
Bianca Cain Johnson, The Augusta Chronicle
July 13, 2015

Prescription drug misuse in Augusta, Ga., is one of the most common forms of illegal drug use. A Richmond County Sheriff's Office lieutenant estimates 80 percent of the homes they enter contain illegal prescriptions. The office investigated 8 heroin cases from 2007 to 2013 and 74 in 2014–15. Augusta has seen 26 overdoses since May 2014, but none were from heroin.

Read more:
http://chronicle.augusta.com/news/crime-courts/2015-07-10/heroin-use-rise-augusta-us

News4Jax Investigates Teen Drug Use
Vic Micolucci and Jodi Mohrmann, WJXT
July 13, 2015

Children in the Jacksonville, Fla., area are more likely to use drugs than those in other parts of the state.

Read more:
http://www.news4jax.com/news/news4jax-investigates-teen-drug-use/34132714
Midwest News
Drug-Dependent Babies Up 750 Percent in Ohio Since 2004
Zach Gase, Sun Times
July 14, 2015

From 2004 to 2013, the number of Ohio babies born drug dependent increased by 750 percent. In 2013, 1,691 babies were admitted with neonatal abstinence syndrome—a rate of 121 per 10,000 live births.

Read more:
http://columbus.suntimes.com/cbus-news/7/98/200990/drug-dependent-babies-ohio

Report: Kentucky Drug Overdose Deaths Rose in 2014
WKYT
July 16, 2015

In Kentucky, drug overdose deaths increased 7 percent last year to 1,087, while the subset attributed to heroin was stable at 233. Floyd County had the highest overdose death rate. Morphine accounted for most deaths, showing up in more than 40 percent of cases.

Read more:
http://www.wkyt.com/home/headlines/Report-Kentucky-drug-overdose-deaths-rose-in-2014-315398961.html

New Ohio Law Gives More Access to Overdose-Reversing Drug
Will Brown, WFMJ
Accessed July 17, 2015

Ohio's governor signed a bill and emergency executive order that lets licensed pharmacists dispense naloxone without a prescription, when authorized by the local health board and following rules set by the state's Board of Pharmacy.

Read more:
http://www.wfmj.com/story/29573158/new-law-gives-more-access-to-overdose-reversing-drug

Opiate Overdose Calls Could Double in Racine This Year
Cara Spoto, The Journal Times
July 11, 2015

Wisconsin's Racine Fire Department has administered Narcan® 46 times in emergency medical service calls so far this year. The drug was administered 49 times last year. Racine has confirmed nine heroin-related overdose deaths in 2015. Last year, the county saw 17 heroin-related overdose deaths, and in 2013, there were 10.

Read more:
http://journaltimes.com/news/local/opiate-overdose-calls-could-double-in-racine-this-year/article_f9b936dd-7516-5e3d-b342-8c19194606bb.html

Police Warn Sellers of Fake Home Buyers Stealing Prescription Drugs During Open Houses
Amy Hawley, KSHB
July 15, 2015

Police in Kansas City, Mo., are warning people about thieves who steal prescription drugs at open houses. Homeowners in Leawood and Overland Park have been targeted. (Includes video: 2:55 minutes)

Read more:
http://www.kshb.com/news/crime/police-warn-sellers-of-fake-home-buyers-stealing-prescription-drugs-during-open-houses

'Red Lives Matter': White Earth Rally Aims to Bring Awareness to Drug Abuse Deaths
Melissa Turtinen, Bring Me the News
July 12, 2015

"Red lives matter" was the theme of a rally on the White Earth Reservation, Minn., as a group gathered to bring attention to drug misuse among American Indians. Those who attended reflected on the reservation's drug epidemic—especially the increase of heroin and methamphetamine use.

Read more:
http://bringmethenews.com/2015/07/12/red-lives-matter-white-earth-rally-aims-to-bring-awareness-to-drug-abuse-deaths
West News
Report: Alaska Heroin Use Is Skyrocketing
Annie Feidt, Alaska Public Radio
July 14, 2015

Hospitalizations for heroin-related causes nearly doubled in Alaska from 2008 to 2012. In 2013, 23 Alaskans died following a heroin overdose—four times the number of overdose deaths in 2008. Many addicts switch from prescription pain relievers to heroin because it's cheaper and easier to find. (Includes audio: 1:41 minutes)

Read more:
http://www.alaskapublic.org/2015/07/14/report-heroin-use-is-skyrocketing-in-alaska

Use of Overdose Medication Cited in Life-Saving Efforts for 19 Oklahomans
Jacklyn Cosgrove, The Oklahoman
July 15, 2015

The Tulsa Police Department and other first responders have saved 19 lives with naloxone since the program's inception a year ago.

Read more:
http://newsok.com/use-of-overdose-medication-cited-in-life-saving-efforts-for-19-oklahomans/article/5433693

Report Shows State Losing Ground in Battle Against Overdose Deaths
Bruce Krasnow, The Santa Fe New Mexican
July 16, 2015

After a 2-year decline, the number of New Mexicans who died from a drug overdose hit 536 in 2014—a 20 percent increase over 2013. Half those deaths were from prescription opioids. The highest death rates in 2014 were in rural Hidalgo and Rio Arriba Counties. There were 900 opioid reversals using naloxone in 2014—a 29 percent increase from 2013.

Read more:
http://www.santafenewmexican.com/news/health_and_science/report-shows-state-losing-ground-in-battle-against-overdose-deaths/article_79eb4e44-1286-5c14-918d-ff878840b426.html
Other Resources
National Recovery Month
SAMHSA
Accessed July 17, 2015

Recovery Month, held every September, increases awareness of mental health and substance use issues and celebrates the people who recover. This year's theme, "Join the Voices for Recovery: Visible, Vocal, Valuable!" highlights the value of peer support by educating, mentoring, and helping others. The Recovery Month webpage provides a list of month-long events throughout the country. Groups and organizations can download a toolkit to promote local events.

Read more:
http://www.recoverymonth.gov
Webinars
Strategies to Address Opioid and Prescription Drug Misuse Series
Addiction Technology Transfer Center
Learning Series Schedule: 1:30 p.m. to 2:30 p.m. EDT
July 22: Defining the Scope of Prescription Drug Abuse
July 29: Clinical Assessments
August 5: Appropriate Opioid Prescribing
August 12: Treating Opioid Addiction
August 19: Opioid Overdose Intervention and Drug Disposal Strategies

This five-part Learning Series will provide information and strategies to effectively address prescription drug misuse. The series will focus on multiple topics, including 1) National and regional data and a brief physiology review, 2) Effective clinical assessment and screening practices, 3) Appropriate prescribing standards, 4) Effective interventions for treating opioid addiction and overdose, and 5) Unused medication disposal. Continuing education credit is available.

Read more:
http://www.auch.org/news-and-updates/item/384-strategies-to-address-opioid-prescription-drug-misuse-learning-series
Grant Announcement
Partnership for Clean Competition
Pre-applications due March 1, July 1, and November 1
Full applications due April 1, August 1, and December 1
http://www.cleancompetition.org/Pages/programs-grants.aspx

2015 Healthy Living Grant Program
American Medical Association
Deadline: September 11, 2015, 5 p.m. Central
http://www.ama-assn.org/ama/pub/about-ama/ama-foundation/our-programs/public-health/healthy-living-grants.page?
Take-Back Events and Drop Boxes
Level Plains Takes Back Prescription Drugs
Cassie Gibbs, The Southeast Sun (Alabama)
July 13, 2015
http://www.southeastsun.com/news/article_24a6643e-297d-11e5-96c5-8744f5b9af61.html

Juneau Police Create Drop Box for Turning in Prescription Drugs
Alaska Dispatch News
July 15, 2015
https://www.adn.com/article/20150714/juneau-police-create-drop-box-turning-prescription-drugs

Grant Helps Expand Reach of Dispose-a-Med Program
Brad Allis, Marana News (Arizona)
July 15, 2015
http://www.tucsonlocalmedia.com/marana/article_50e92750-2b05-11e5-8a6d-43b049daddb5.html

Old Medications to Be Accepted at Palm Desert Sheriff's Station
Alexander Nguyen, Palm Desert Patch (California)
July 13, 2015
http://patch.com/california/palmdesert/old-medications-be-accepted-palm-desert-sheriffs-station

Hanover Park Adopts Medical Disposal Program
Erin Hergarty, Chicago Daily Herald (Illinois)
July 13, 2015
http://www.dailyherald.com/article/20150713/news/150719611

Free Drug Drop-Off Box Installed at Sioux City Police Headquarters
Jordan Gonzalez, Sioux City Journal (Iowa)
July 16, 2015
http://siouxcityjournal.com/news/local/free-drug-drop-off-box-installed-at-sioux-city-police/article_295a1417-2fad-59f4-8c23-c8dc77f69416.html

Drug Collection Container Set Up by Covington Police Department
Kim Chatelain, The Times-Picayune (Louisiana)
July 15, 2015
http://www.nola.com/crime/index.ssf/2015/07/drug_collection_container_set.html

More Prescription Drop-Off Boxes Being Added
The Buffalo News (New York)
July 16, 2015
http://www.buffalonews.com/city-region/more-prescription-drop-off-boxes-being-added-20150716
Upcoming Conferences and Workshops
Mid-Year Training Institute
Community Anti-Drug Coalitions of America
August 2–6, 2015
Indianapolis, Indiana
http://www.cadca.org/myti

Register:
http://www.cadca.org/events/14th-annual-mid-year-training-institute-0/registration

Fourth Annual Generation Rx University Conference for Collegiate Prevention and Recovery
The Ohio State University College of Pharmacy
August 4–6, 2015
Columbus, Ohio
http://hecaod.osu.edu/events/national-meeting

SAMHSA's Center for Substance Abuse Prevention (CSAP) Drug Testing Advisory Board Meeting
Substance Abuse and Mental Health Services Administration (SAMHSA)
August 6–7, 2015

The CSAP Drug Testing Advisory Board (DTAB) will convene on August 6–7, 2015. The August 7 meeting will be open to the public from 9 to 11:30 a.m. EDT. This meeting will include updates on the status of proposed revisions to the Mandatory Guidelines for Federal Workplace Drug Testing Programs (urine/oral fluid) and the Request for Information (hair), review of public comments on the proposed revisions to the Mandatory Guidelines for Federal Workplace Drug Testing Programs (urine/oral fluid), review of public comments on the Request for Information (hair), and DTAB's process for evaluating the scientific supportability of alternate specimens for Federal Workplace Drug Testing Programs.

The public is invited to attend the DTAB open session by Web conference or in person in the Sugarloaf Conference Room, SAMHSA Building, 1 Choke Cherry Road, Rockville, Maryland 20850. Because of limited call-in and seating capacity, registration is requested. Public comments are welcome. To register, obtain the Web conference call-in numbers and access codes, submit written or brief oral comments, or request special accommodations for persons with disabilities, please visit http://nac.samhsa.gov/Registration/meetingsRegistration.aspx.

The agenda for the DTAB meeting will be posted soon at http://www.samhsa.gov/about-us/advisory-councils/drug-testing-advisory-board-dtab.

For further information regarding this meeting, please refer to the Federal Register notice: http://www.gpo.gov/fdsys/pkg/FR-2015-07-21/pdf/2015-17818.pdf.

Prescription Drug and Heroin Conference
Berrien Community Foundation
August 28, 2015
St. Joseph, Michigan 49085
http://www.berriencommunity.org/hope

28th Annual National Prevention Network Conference: Bridging Research to Practice
National Prevention Network
November 17–19, 2015
Seattle, Washington
http://www.npnconference.org

Register:
http://www.npnconference.org/registration

2016 National Rx Drug Summit
March 28–31, 2016
The Westin Peachtree Plaza
Atlanta, Georgia
http://nationalrxdrugabusesummit.org
The Weekly Update is a service provided by the SAMHSA Preventing Prescription Abuse in the Workplace Technical Assistance Center (PAW) to keep the field abreast of recent news and journal articles to assist in forming policy, research, and programs to reduce prescription drug misuse or abuse. Please note, the materials listed are not reflective of SAMHSA's or PAW's viewpoint or opinion and are not assessed for validity, reliability or quality. The Weekly Update should not be considered an endorsement of the findings. Readers are cautioned not to act on the results of single studies, but rather to seek bodies of evidence. Copyright considerations prevent PAW from providing full text of journal articles listed in the Weekly Update.