The Prevention of Prescription Drug Abuse in the Workplace (PAW) TA Center addresses prescription drug abuse—a growing public health problem with increasing burdens on workers, workplaces, and our economy. To subscribe colleagues, family members, or friends to this listserv sponsored by the Substance Abuse and Mental Health Services Administration (SAMHSA), please click here or send their e-mail addresses to paw@dsgonline.com.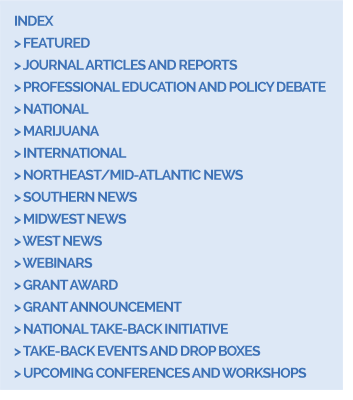 Featured
ED Naloxone Distribution: Key Considerations and Implementation Strategies
American College of Emergency Physicians, Trauma and Injury Prevention Section
August 19, 2015, 1–2:30 p.m. (EDT)

Experts throughout the United States who have helped establish emergency department naloxone distribution programs will share their experiences and insights into key policy and logistical considerations before starting a program in the emergency department. Participants will take away concrete recommendations and proven best practices, allowing them to set up their own emergency department naloxone distribution programs.

Read more:
http://www.coprevent.org/2015/07/want-to-save-lives-from-opioid-overdose.html#more

Register:
https://attendee.gotowebinar.com/register/5839727624803344642

Doctor Shopping Down 52% Since 2012, UK Study Says
Press Release
July 28, 2015

An evaluation by the University of Kentucky found doctor shopping in the state is down 52 percent since 2012, when House Bill 1 a) expanded use of the prescription drug monitoring program by requiring physicians to register and b) required that pain management facilities be owned by a licensed physician. Since the bill's implementation, more individuals have sought office-based addiction treatment, 24 non-physician–owned pain management facilities have ceased operation, the number of opioid prescriptions given to doctor shoppers dropped by 54 percent, and in 2013, for the first time in 6 years, Kentucky overdose deaths declined. Five million KASPER reports were requested in 2014; each weekday, providers request more than 20,000 reports.

Read more:
http://pharmacy.mc.uky.edu/display.php?id=1158

Using Patient Review and Restriction Programs to Protect Patients at Risk of Opioid Misuse and Abuse
The Pew Charitable Trusts
July 28, 2015

This fact sheet discusses patient review restriction (PRR) programs that encourage safe use of opioids and other controlled substances. PRR programs identify patients who are at risk for prescription drug misuse and ensure they receive controlled substance prescriptions only from designated pharmacies and prescribers.

Read more:
http://www.pewtrusts.org/en/research-and-analysis/fact-sheets/2015/07/using-patient-review-and-restriction-programs-to-protect-patients-at-risk-of-opioid-misuse-and-abuse
Journal Articles and Reports
C.L. Barry, A. Kennedy Hendricks, S.E. Gollust, J. Niederdeppe, M.A. Bachhuber, D. Webster, and E.E. McGinty. 2015. "Understanding Americans' Views on Opioid Pain Reliever Abuse." Addiction, doi:10.1111/add.13077.

In a 2014 survey of a nationally representative paid respondent panel of 1,111 U.S. adults, 28 percent reported using opioid pain relievers in the past 12 months, and 70 percent reported having ever used them. Just over half the sample reported pain serious enough to seek treatment. Of those, 80 percent were offered opioids, including 50 percent who were warned about addiction risk and 45 percent who were offered alternative nonmedication pain management. Among those who had ever used opioid pain relievers, 81 percent considered opioids effective in reducing or eliminating pain. Seventeen percent reported using opioid pain relievers not prescribed to them. Seven percent reported using opioid pain relievers for "the feeling it gave, not to treat pain," and seven percent had used the drugs for "longer than originally prescribed." Three percent reported having a use disorder, while 29 percent reported having a family member or close friend with a use disorder. The survey also assessed views on causes of the opioid epidemic, those responsible for addressing it, and 16 response policies. Treatment- and naloxone-related policies got much less support than did provider training, law enforcement, prescription drug monitoring program use, and patient restrictions.

Read more:
http://onlinelibrary.wiley.com/doi/10.1111/add.13077/abstract

A. Bisaga, M.A. Sullivan, A. Glass, K. Mishlen, M. Pavlicova, M. Haney, W.N. Raby, F.R. Levin, K.M. Carpenter, J.J. Mariani, and E.V. Nunes. 2015. "The Effects of Dronabinol During Detoxification and the Initiation of Treatment with Extended Release Naltrexone." Drug and Alcohol Dependence, doi:10.1016/j.drugalcdep.2015.05.013.

Opioid-dependent patients were randomized to receive dronabinol 30 mg/d (n = 40) or placebo (n = 20) while undergoing inpatient detoxification and during the 5 weeks that followed. Before discharge, all participants were encouraged to accept an injection of extended-release naltrexone, with a second injection given 4 weeks later. Inpatient opioid withdrawal was less severe with dronabinol. Rates of accepting first and second naltrexone shots, however, did not differ significantly. The 32 percent of participants who smoked marijuana regularly during the outpatient phase had significantly lower ratings of insomnia and anxiety.

Read more:
http://www.drugandalcoholdependence.com/article/S0376-8716(15)00249-5/abstract

C. Brooks Dollar and J.A. Hendrix. 2015. "The Importance of Romantic and Work Relations on Nonmedical Prescription Drug Use Among Adults." Sociological Spectrum: Mid-South Sociological Association, doi:10.1080/02732173.2015.1064800.

Regression analysis of National Longitudinal Study of Adolescent Health data found married people are less likely than unmarried people to use prescription drugs nonmedically. Cohabiters who are highly satisfied with their romantic unions or highly satisfied at work also have a low likelihood of misuse.

Read more:
http://www.tandfonline.com/doi/abs/10.1080/02732173.2015.1064800?journalCode=usls20#preview

E.J. Gladstone, K. Smolina, and S.G. Morgan. 2015. "Trends and Sex Differences in Prescription Opioid Deaths in British Columbia, Canada." Injury Prevention, doi:10.1136/injuryprev-2015-041604.

From 2004 to 2013, the prescription opioid death rate was higher in British Columbia (BC), Canada, than in Ontario. BC's rate, however, rose more slowly over time. In BC, methadone was involved in a quarter of opioid deaths, men had higher death rates than women, and a higher proportion of female deaths were suicides.

Read more:
http://injuryprevention.bmj.com/content/early/2015/07/20/injuryprev-2015-041604.abstract

S. Ickowicz, K. Hayashi, H. Dong, M.J Milloy, T. Kerr, J.S.G. Montaner, and E. Wood. 2015. "Benzodiazepine Use as an Independent Risk Factor for HIV Infection in a Canadian Setting." Drug and Alcohol Dependence, doi:10.1016/j.drugalcdep.2015.07.017.

Between May 1996 and November 2013, 1,682 baseline HIV–negative people who injected drugs in Vancouver, Canada, were followed for a median of 79.5 months. At baseline, 501 (30 percent) reported benzodiazepine use. Over time, 176 seroconverted to HIV–positive. Multivariate regression showed benzodiazepine use had 1.5 times the seroconversion rate of nonusers.

Read more:
http://www.drugandalcoholdependence.com/article/S0376-8716(15)00388-9/abstract?rss=yes

Y. Murphy, E.M. Goldner, and B. Fischer. 2015. "Prescription Opioid Use, Harms, and Interventions in Canada: A Review Update of New Developments and Findings Since 2010: Narrative Review." Pain Physician 18(4):E605–E614.

This article updates an earlier systematic literature review of Canadian data on prescription opioid use and misuse. Prescription opioid dispensing continued to increase in the country from 2010 to 2013, except in Ontario, where marked declines started in 2012. Nonmedical prescription opioid use declined in general populations (e.g., adults, students) but not in special risk groups (street drug users, First Nations). Prescription opioid–related mortality continued to rise. Reductions in general prescription opioid and/or high-dose prescription opioid dispensing were observed following key interventions (e.g., oxycodone delisting, prescription drug monitoring program introduction). Media reporting on misuse problems was associated with shifts in opioid prescribing patterns.

Read more:
http://www.painphysicianjournal.com/crrent_issue_vw.php?journal=89&code=2377&issue=current_issue

T.W. Park, R. Saitz, D. Ganoczy, M.A. Ilgen, and A.S.B. Bohnert. 2015. "Benzodiazepine Prescribing Patterns and Deaths from Drug Overdose Among US Veterans Receiving Opioid Analgesics: Case-Cohort Study." BMJ 350:h2698, doi:10.1136/bmj.h2698.

This study compared the 2,400 veterans who died from drug overdoses while receiving opioid analgesics from the Veterans Health Administration in 2004–09 with surviving opioid recipients. During the study period, 112,069 veterans who received opioid analgesics (27 percent) also received benzodiazepines. In multivariate regression, compared with those never prescribed benzodiazepines, risk of overdose death was higher for opioid users with prior prescriptions (hazard ratio [HR] 2.33) or a current one (HR 3.86), and rose with daily benzodiazepine dose. Compared with clonazepam, temazepam was associated with a decreased risk of death from drug overdose (HR 0.63).

Read more:
http://www.ncbi.nlm.nih.gov/pmc/articles/PMC4462713

J.L. Stewarta, A.C. May, S.F. Tapert, and M.P. Paulus. 2015. "Hyperactivation to Pleasant Interoceptive Stimuli Characterizes the Transition to Stimulant Addiction." Drug and Alcohol Dependence, doi:10.1016/j.drugalcdep.2015.07.009.

Researchers compared 18 problem stimulant users, 15 desisted stimulant users, and 15 stimulant-naïve comparison subjects during functional magnetic resonance imaging as they anticipated and experienced slow, pleasant brushstrokes on the palm and forearm. Although behavioral performance and ratings of soft-touch stimuli did not differ between groups, MRI found problem users had greater right anterior insula, left inferior frontal gyrus, and right superior frontal gyrus brain activation during anticipation and experience of soft touch, as well as higher bilateral precentral gyrus/middle insula and right posterior temporal gyrus activation during soft touch.

Read more:
http://www.sciencedirect.com/science/article/pii/S0376871615003804

United States Government Accountability Office. 2015. Prescription Drugs: More DEA Information About Registrants' Controlled Substances Roles Could Improve Their Understanding and Help Ensure Access. GAO-15-471.

The Government Accountability Office (GAO) interviewed 14 of 16 state government agencies and 24 of 26 national associations that said they interact with the Drug Enforcement Administration (DEA). They also surveyed generalizable random samples of 200 distributors, 304 individual pharmacies, and 400 practitioners, with respective response rates of 86 percent, 63 percent, and 55 percent. Thirteen of 14 state agencies and 10 of 17 national associations were generally satisfied with their DEA, although some associations wanted better DEA communication, primarily about members' Controlled Substance Act roles and responsibilities. Between 31 and 38 percent of registrants surveyed by GAO and 13 of 17 state agencies and national associations interviewed said DEA enforcement actions have helped decrease prescription drug misuse and diversion. More than half of DEA registrants have changed certain business practices as a result of DEA actions or the business climate these actions helped create. Most individual pharmacies (52 of 84) and chain pharmacy corporate offices (18 of 29) reported that tighter DEA restrictions have limited their ability to supply drugs to those with legitimate needs to a "great" or "moderate extent." The GAO recommends that DEA 1) identify and implement means of cost-effective, regular communication with distributor, pharmacy, and practitioner registrants; 2) solicit input from distributors or associations representing distributors and develop additional guidance for distributors regarding their roles and responsibilities for suspicious order monitoring and reporting; and 3) revise its guidance based on input from pharmacists or associations representing pharmacies and pharmacists.

Read more:
http://www.gao.gov/products/GAO-15-471

W. Wakeland, A. Nielsen, and T.D. Schmidt. 2015. "Gaining Policy Insight with a System Dynamics Model of Pain Medicine Prescribing, Diversion and Abuse." Systems Research and Behavioral Science, doi:10.1002/sres.2345.

This expansion of a U.S. system dynamics model used to study the impact of opioid misuse policy interventions estimates that a prescription drug monitoring program intervention would reduce nonmedical overdoses by restricting supply. An intervention to reduce nonmedical use would decrease nonmedical overdoses by curtailing demand, while a tamper-resistant drug formulation intervention would decrease risk for individuals but increase overdose deaths. The model has not yet been validated.

Read more:
http://onlinelibrary.wiley.com/doi/10.1002/sres.2345/abstract

M. Walter, D. Bentz, N. Schicktanz, A. Milnik, A. Aerni, C. Gerhards, K. Schwegler, M. Vogel, J. Blum, O. Schmid, B. Roozendaal, U.E. Lang, S. Borgwardt, and D. de Quervain. 2015. "Effects of Cortisol Administration on Craving in Heroin Addicts." Translational Psychiatry 5:e610, doi:10.1038/tp.2015.101.

In a double-blind, placebo-controlled, crossover study of 29 heroin-dependent patients in a stable heroin-assisted Swiss treatment setting, a single oral dose of cortisol 20 mg administered 105 minutes before daily heroin administration reduced craving in patients receiving low-dose heroin but not in patients receiving a medium or high dose, relative to placebo. The cortisol did not reduce ratings of picture-characteristic craving in any dosage group.

Read more:
http://www.nature.com/tp/journal/v5/n7/full/tp2015101a.html
Professional Education and Policy Debate
V. Silverwood and J. Broad. 2015. "Poisoning and Overdose." InnovAiT, doi:10.1177/1755738015594820.

This article provides an overview of common substances involved in poisoning and discusses assessment and management of U.K. patients suffering from accidental or deliberate poisoning that results in an overdose.

Read more:
http://ino.sagepub.com/content/early/2015/07/20/1755738015594820.abstract
National
As Opioid Epidemic Surges, Burwell Commits $100M in New Funds for Substance Abuse
Mary K. Caffrey, The American Journal of Managed Care
July 27, 2015

The U.S. Department of Health and Human Services will make an additional $100 million available to treat substance abuse, with a special focus on opioid addiction. Eleven million from the Substance Abuse and Mental Health Services Administration will go to state and community health centers for medication-assisted treatment. The Health Resources and Services Administration will make $100 million available for improved delivery of substance use disorder services, with a focus on medication-assisted treatment.

Read more:
http://www.ajmc.com/focus-of-the-week/0715/as-opioid-epidemic-surges-burwell-commits-100m-in-new-funds-for-substance-abuse

House Panel Advances Clark, Kennedy Opioid Bills
Peter Urban, Telegram
July 29, 2015

The House Energy and Commerce Committee approved legislation introduced by U.S. Representative Joseph Kennedy III to strengthen prescription drug monitoring programs. The committee also approved a bill introduced by U.S. Representative Katherine Clark that aims to help hospitals diagnose and treat newborns suffering from opiate exposure.

Read more:
http://www.telegram.com/article/20150729/NEWS/150729058

Heroin: The Epidemic That Knows No Boundaries
Tom Frieden, Centers for Disease Control and Prevention
July 27, 2015

This commentary from the director of the Centers for Disease Control and Prevention stresses the importance of prescribing opiates responsibly, identifying patients who might be misusing the drugs, and supporting those addicted to prescription opioids or heroin through medication-assisted treatment. (Includes video: 4:01 minutes)

Read more:
http://www.medscape.com/viewarticle/848294

Physician Groups Band Together to Address America's Opioid Crisis
Sys-Con Media
July 29, 2015

The American Medical Association Task Force to Reduce Opioid Abuse urged physicians to register for and use prescription drug monitoring programs (PDMPs). The task force seeks to enhance physicians' education on safe, effective, and evidence-based prescribing. This includes a new resource webpage that houses information on PDMPs and a robust national marketing, social, and communications campaign to ensure doctors are aware of all options available for appropriate prescribing.

Read more:
http://news.sys-con.com/node/3389385f

Indivior PLC Announces FDA Acceptance of Naloxone Nasal Spray New Drug Application with Priority Review
CNN
July 29, 2015

Indivior's New Drug Application for naloxone nasal spray was accepted and will receive priority review by the U.S. Food and Drug Administration (FDA) to treat opioid overdose. The nasal spray comes in a pre-filled device that contains naloxone specially formulated for optimal absorption.

Read more:
http://money.cnn.com/news/newsfeeds/articles/prnewswire/NY66947.htm

Adapt Pharma Submits NDA to FDA for Narcan® (Naloxone) Nasal Spray
Business Wire
July 27, 2015

Under Fast Track procedures, Adapt Pharma Limited submitted a New Drug Application to the U.S. Food and Drug Administration (FDA) for Narcan® Nasal Spray, which was developed in collaboration with the National Institute on Drug Abuse.

Read more:
http://www.businesswire.com/news/home/20150727005235/en/Adapt-Pharma-Submits-NDA-FDA-Narcan%C2%AE-naloxone%20-%20.VbZuX2nJDoY#.VbaTpGnJDoY
MARIJUANA
C.J. Boyd, P.T. Veliz, and S.E. McCabe. 2015. "Adolescents' Use of Medical Marijuana: A Secondary Analysis of Monitoring the Future Data." Journal of Adolescent Health 57(2):241–44, doi:10.1016/j.jadohealth.2015.04.008.

Analysis of 2012–13 Monitoring the Future data from high school seniors showed 1.1 percent used medical marijuana from their own prescription during the past 12 months, with 35 percent (17 respondents) using from someone else's prescription. Overall, 6 percent of seniors had taken someone else's medical marijuana during the past 12 months. Relative to nonmedical marijuana users, users of "prescribed" medical marijuana had higher odds of using daily, reporting they were "hooked," using marijuana to get high, misusing prescription drugs, and using other illicit drugs.

Read more:
http://www.sciencedirect.com/science/article/pii/S1054139X15001639

M.S. Wallace, T.D. Marcotte, A. Umlauf, B. Gouaux, and J.H. Atkinson. 2015. "Efficacy of Inhaled Cannabis on Painful Diabetic Neuropathy." The Journal of Pain 16(7):616–27, doi:10.1016/j.jpain.2015.03.008.

A randomized, double-blind, placebo-controlled crossover study of 16 patients with painful diabetic peripheral neuropathy showed spontaneous pain scores were lower for placebo than for low, medium, or high doses of inhaled cannabis and for high versus low and medium doses of inhaled cannabis. The high dose also significantly reduced pain measured with foam brush and von Frey evoked pain tests. However, the high dose also had serious negative effects, impairing performance on two of three neuropsychological tests (Paced Auditory Serial Addition Test, Trail Making Test Part B).

Read more:
http://www.ncbi.nlm.nih.gov/pubmed/25843054

B. Catlow and J. Sanchez–Ramos. 2015. "Cannabinoids for the Treatment of Movement Disorders." Current Treatment Options in Neurology, doi:10.1007/s11940-015-0370-5.

This opinion statement discusses the lack of randomized, double-blind, placebo-controlled studies of marijuana's effects on patients with movement disorders. Absent such studies, it would be unwise to recommend cannabinoids as primary treatment for any movement disorder.

Read more:
http://link.springer.com/article/10.1007/s11940-015-0370-5

Oregon to Begin Recreational Marijuana Sales Early
Matt Ferner, The Huffington Post
July 28, 2015

Oregon adults will be able to legally purchase recreational marijuana beginning October 1, about a year sooner than expected. The governor recently signed a law allowing recreational marijuana sales in existing medical marijuana dispensaries. In the future, the Oregon Liquor Control Commission will issue licenses to new recreational marijuana retailers. Those shops, which will be allowed to sell up to 1 ounce per transaction, are likely to open before the end of 2016.

Read more:
http://www.huffingtonpost.com/entry/oregon-recreational-marijuana-sales_55b7e75de4b0224d88344d2b

CDC Calls for Strict Edibles Labeling, Public Education
Marijuana Business Daily
July 28, 2015

Following the overdose death of a Colorado man who consumed an edible marijuana product (see the July 30, 2015, Weekly Update), the Centers for Disease Control and Prevention urged future recreational states to follow Colorado's lead on labeling, packaging, and dosage restrictions.

Read more:
https://mjbizdaily.com/cdc-calls-for-strict-edibles-labeling-public-education

House Bill Would Force Feds to Respect State Marijuana Laws
Matt Ferner, Huffington Post
April 23, 2015

Led by U.S. Representative Dana Rohrabacher, six Republicans and six Democrats introduced the "Respect State Marijuana Laws Act of 2015," a bill that would give precedence to state marijuana laws. While a federal spending bill signed by President Obama in December included a Rohrabacher amendment that prohibits the Department of Justice (DOJ) from using funds to interfere in state-legal medical marijuana programs, DOJ said it does not believe the congressional measure prohibits them from prosecuting individuals or businesses in violation of federal law. The Justice Department has continued its ongoing federal asset forfeiture actions against multiple dispensaries in the San Francisco Bay Area. According to a 2013 report from the advocacy group Americans for Safe Access, the Obama administration was spending nearly $80 million annually targeting medical marijuana. The Drug Enforcement Administration and several U.S. attorneys have raided hundreds of marijuana dispensaries and sent people to prison, even though they complied with state laws.

Read more:
http://www.huffingtonpost.com/2015/04/22/state-marijuana-laws_n_7121900.html

After Lively Debate over Medical Pot, Monterey County Supervisors Extend Interim Ban
Jim Johnson, Monterey Herald
July 28, 2015

The Monterey County, Calif., Board of Supervisors approved a 10-month extension of a temporary ban on medical cannabis cultivation and dispensaries to allow time to write permanent rules. The supervisors called for staff to do everything possible to speed up the ordinance creation-and-approval process.

Read more:
http://www.montereyherald.com/general-news/20150728/after-lively-debate-over-medical-pot-monterey-county-supervisors-extend-interim-ban

What's in the ResponsibleOhio Proposal to Legalize Pot
The Inquirer
July 24, 2015

ResponsibleOhio has drafted a constitutional amendment for the November 3 ballot that would legalize marijuana in the state. Provisions include the following: 1) home growing would be limited to four plants with a $50 annual license; 2) ten farms would receive grow licenses after paying an initial $100,000 fee to begin operation (and would be inspected periodically); and 3) if demand outstrips supply after 4 years, the state could issue an 11th grow license.

Read more:
http://www.cincinnati.com/story/news/2015/07/24/responsibleohio-proposal-legalize-pot/28880977

Workplace Marijuana Remains Issue
Journal Courier
July 31, 2015

This article discusses marijuana in Illinois workplaces. Thousands have applied for permission under the state's medical marijuana pilot program to use the drug for pain and illness. Many employers maintain zero-tolerance rules for substance use and misuse—they are under no obligation to change their policies. Marijuana is still illegal under federal law, meaning employees can be disciplined or even fired for having marijuana in their system.

Read more:
http://myjournalcourier.com/news/84187/workplace-marijuana-remains-issue

Insurance Companies Could Cover Marijuana Prescriptions in Future, Experts Say
Alexandra Posadzki, The Canadian Press
July 26, 2015

Experts predict Canadian insurance companies will cover marijuana prescriptions in the future, following the introduction of new Health Canada rules that allow for selling cannabis oils. However, cannabis needs an identification number (known as a DIN) before insurers begin routinely funding it. This new form of medical marijuana would be subject to the full Health Canada approval process. The lack of rigorous, clinical research on marijuana's efficacy is the primary reason why it does not have a DIN.

Read more:
http://www.cp24.com/news/insurance-companies-could-cover-marijuana-prescriptions-in-future-experts-say-1.2488180

Medical Marijuana: Weighing Benefits Versus Risks
Chris Huber, Rapid City Journal
July 27, 2015

This article discusses the benefits and risks of medical marijuana. Claimed benefits include reducing pain, alleviating nausea, blocking seizures, increasing appetite, and helping minimize glaucoma effects. Risks include acute panic attacks, depression, and paranoia—especially in novice users.

Read more:
http://rapidcityjournal.com/news/local/medical-marijuana-weighing-benefits-versus-risks/article_e4f71cda-c2b7-56a1-ae4b-d98181a4ec2b.html

Medical Marijuana Firm Potbotics to Launch 'Virtual Budtenders'
Dan Reily, Fortune
July 28, 2015

Potbotics, a biotech company, aims to help change how medical marijuana patients are treated, using three software products. Brainbot lets people use electroencephalography to measure patients' neurological reactions to different kinds of cannabis to accurately prescribe a particularly helpful strain. The Potbot app and in-store kiosk are virtual budtenders that recommend strains and strengths based on a patient's ailments and previous cannabis use. Nanopot scans the DNA of marijuana seeds to help growers optimize their plants for desired levels of THC and other active ingredients.

Read more:
http://fortune.com/2015/07/28/potbotics-medical-marijuana

Israelis Allowed Cannabis as Prescription Drug
Globes
July 27, 2015

Israel's Deputy Minister of Health announced more doctors will be allowed to prescribe medical marijuana, and the drug will be available in pharmacies. Medical marijuana will be monitored by standards similar to those for other prescribed drugs.

Read more:
http://www.globes.co.il/en/article-israelis-to-be-allowed-cannabis-by-prescription-1001055995
International
Minister Ambrose Announces Regulatory Amendments to Help Control Prescription Drug Abuse in Canada
CNW
July 30, 2015

Canada's Minister of Health announced final regulations to add tapentadol, a synthetic opioid for pain relief (and Schedule II controlled drug in the United States), to Canada's Controlled Drugs and Substances Act and to Narcotic Control Regulations lists of controlled substances.

Read more:
http://www.newswire.ca/en/story/1577909/minister-ambrose-announces-regulatory-amendments-to-help-control-prescription-drug-abuse-in-canada

Anti-Anxiety Drugs Added to Alberta's Drug-Monitoring List
CBC News
July 24, 2015

Alberta added benzodiazepines to its drug-monitoring list. The medicine will now be subject to the triplicate prescription program, which tracks prescribing and dispensing of drugs subject to misuse. The system also alerts physicians when patients receive benzodiazepines from another doctor.

Read more:
http://www.cbc.ca/news/canada/calgary/anti-anxiety-drugs-added-to-alberta-s-drug-monitoring-list-1.3167196

Fentanyl a Growing Danger to All Drug Users, Health Agency Says
CBC News
July 31, 2015

In British Columbia, the portion of drug overdose deaths involving fentanyl rose from 5 percent to 25 percent over the past 3 years. Drug users are at risk of injecting heroin that is partially or entirely fentanyl. Recreational users might also encounter fentanyl in other illicit drugs.

Read more:
http://www.cbc.ca/news/canada/british-columbia/fentanyl-a-growing-danger-to-all-drug-users-health-agency-says-1.3173455

Government of Canada Announces Close to $24 Million for Drug Treatment Initiatives Across Canada
CNW
July 29, 2015

Government officials committed $24 million to develop and improve substance abuse treatment systems across Canada. The National Anti-Drug Strategy will support 14 treatment initiatives over a 2-year period to increase collaboration and information sharing among providers. Some initiatives will also address prescription drug misuse disorder treatment.

Read more:
http://www.newswire.ca/en/story/1577347/government-of-canada-announces-close-to-24-million-for-drug-treatment-initiatives-across-canada

Naloxone's Prescription-Only Status to Get Health Canada Review
Helen Branswell, The Canadian Press
July 24, 2015

Health Canada agreed to review the prescription-only status of naloxone at the urging of several provinces. If its initial assessment finds the benefits of expanding access appear to outweigh potential risks, the next step will be a public consultation. The full process could be completed in about 18 months.

Read more:
http://www.cbc.ca/news/health/naloxone-s-prescription-only-status-to-get-health-canada-review-1.3166867

Marijuana Use Up Slightly Among P.E.I. Students: Report
CBC News
July 24, 2015

Prince Edwards Island, Canada, reported a slight increase in past-year marijuana use among 7th to 12th grade students—from 18 percent in 2008 to 22 percent in 2013. Overall, 24 percent of students reported using at least one drug in the past 12 months. Of those, 37 percent used more than one drug. Solvent use and prescription drug misuse declined from 2010–11 to 2013.

Read more:
http://www.cbc.ca/news/canada/prince-edward-island/marijuana-use-up-slightly-among-p-e-i-students-report-1.3166345

Advisory Drugs for Indians in Kuwait
Smriti Kak Ramachandran, The Hindu
July 25, 2015

Kuwait's Indian embassy issued an advisory informing Indian nationals how to prevent prescription drugs from being mistaken for narcotics. The notice warns travelers to bring a doctor's certificate if they are carrying prescription drugs and to ensure the quantity does not exceed 2 weeks' dosage. Prescriptions are also mandatory for Ayurvedic and homeopathic medicines. The embassy reported an increase in arrests and detentions of Indian nationals for alleged drug and narcotic possession. There are strict rules against drug and narcotic misuse in the Arab nation, with punishments ranging from life imprisonment to execution.

Read more:
http://www.thehindu.com/news/national/advisory-on-drugs-for-indians-in-kuwait/article7461979.ece
Northeast/Mid-Atlantic News
Lawmakers Consider Another Impact Fee—for Overdose Antidote
The Herald
July 28, 2015

State Representative Gene DiGirolamo is circulating a memo asking Pennsylvania lawmakers to support an impact fee covering naloxone's cost for police and first responders. The money would come from a 10 percent wholesale tax on opioid sales between the manufacturer and pharmacies. Legislation has not been formally introduced.

Read more:
http://www.sharonherald.com/opinion/columns/lawmakers-consider-another-impact-fee---for-overdose-antidote/article_fdc59535-a4c1-5294-90c9-b368576bd032.html

Promising Start to New Effort to Reduce Prescription Drug Abuse
NH1.com
July 26, 2015

New Hampshire's prescription drug monitoring program became operational last October. An estimated 9,627 practitioners (of 12,000) have registered.

Read more:
http://www.nh1.com/news/promising-start-to-new-effort-to-reduce-prescription-drug-abuse
Southern News
Arkansas House: Prescription Drug Abuse
Magnolia Reporter
July 26, 2015

Several pieces of legislation designed to reduce prescription drug misuse in Arkansas recently went into effect. Act 1208 allows the Department of Health to develop a prescription drug monitoring program that would alert a physician if a patient is being prescribed pain medication by more than three doctors within a 30-day period. This legislation also includes an education component, directing prescribers to obtain at least 2 hours of prescribing education within the first 2 years of being granted a license to prescribe controlled substances. The Joshua Ashley–Pauley Act (Act 114) provides immunity for anyone in possession of a controlled substance if the individual is seeking personal medical assistance or assistance for someone experiencing a drug overdose. The act also provides immunity from civil liability and professional sanctions to any healthcare professional who administers naloxone during an opiate overdose.

Read more:
http://www.magnoliareporter.com/news_and_business/public_records/article_befebb76-329c-11e5-a499-77f5d6551956.html

First Life Sentence in Kentucky in an Overdose Death Case Involving Prescription Drugs
News Democrat Leader
July 27, 2015

A U.S. district judge sentenced a Clay County man to life in prison for illegally distributing prescription drugs that caused another individual's death. This is the first Kentucky life sentence for an overdose death involving prescription drugs, and the first time in the Eastern District that a conviction was obtained in such a case without an autopsy report as evidence.

Read more:
http://newsdemocratleader.com/news/681/first-life-sentence-in-kentucky-in-an-overdose-death-case-involving-prescription-drugs

Va. Makes It Easier to Get Drug That Reverses Opioid Overdoses
Tammie Smith, Richmond Times-Dispatch
July 26, 2015

Virginia law now allows pharmacists to dispense naloxone to friends and family of a drug user who may be at risk of overdosing. A pharmacist working with a doctor or other legal prescriber can collaborate on a "standing order" that allows the pharmacist to dispense naloxone without requiring a doctor's visit first. The Virginia Department of Health and Virginia Department of Health Professions are developing guidelines for physicians to write a companion prescription for naloxone whenever they prescribe long-term opiate use.

Read more:
http://www.richmond.com/news/local/article_2d102853-5167-5ee8-b3e7-221c563b0487.html

New HIV Cases Soar in Florida
The Daytona Beach News-Journal
July 28, 2015

Reported HIV cases in Florida were up 23 percent (3,555 reported cases) in the past 6 months compared with the same period in 2014. Shared heroin needles appear to be one cause.

Read more:
http://www.news-journalonline.com/article/20150728/news/150729535

State Police: Heroin, Prescription Pill Overdoses on the Rise in Danville Area
WDBJ 7
July 24, 2015

Drug overdoses resulting from heroin and prescription pill use are on the rise in Virginia's Danville–Pittsylvania County. People are crushing pills and shooting them like heroin. (Includes video: 54 seconds)

Read more:
http://www.wdbj7.com/news/local/southern-virginia/state-police-heroin-prescription-pill-overdoses-on-the-rise/34337440
Midwest News
Pharmacy Robberies Up Across Indiana, US as Drugs Targeted
WLFI
July 27, 2015

Drug Enforcement Administration crime data show Indiana pharmacy robberies increased this year, outpacing other states. Indiana recorded 68 pharmacy robberies January through May, compared with 78 in all of 2014. The most commonly stolen narcotics were opiates and benzodiazepines. Some robberies were committed by medication addicts; others were committed by an organized retail crime group.

Read more:
http://wlfi.com/2015/07/26/pharmacy-robberies-up-across-indiana-us-as-drugs-targeted

Overdoses Are Linked to Tainted Heroin
Ed Pruneau, Missourian
July 31, 2015

Franklin County, Mo., narcotics investigators are seeing an increase in drug overdose cases due to heroin cut with fentanyl.

Read more:
http://www.emissourian.com/local_news/crime/overdoses-are-linked-to-tainted-heroin/article_100adaf4-dfe8-5741-865b-ae406b9eee86.html

Heroin in Mid-Missouri: Who's Using It? Where Is It Coming From? Why Is It So Deadly?
Melissa Hollowed, KQFX
July 27, 2015

ABC 17's Marissa Hollowed speaks with an undercover sergeant of the Columbia Police narcotics unit, an addiction specialist, and a recovering heroin addict to determine why the drug is killing so many people. Heroin use is widespread across all races, incomes, and education levels. A Missouri addiction specialist is seeing more use among housewives. The drug, which is cheaper than prescription pills and more potent, goes from Mexico to Chicago before being trafficked to Missouri. (Includes video: 5:36 minutes)

Read more:
http://www.abc17news.com/news/heroin-in-midmissouri/34382566
West News
Marin: Drug Firms Must Pay for Pill Disposal
Nels Johnson, Marin Independent Journal
July 29, 2015

Marin County officials said pharmaceutical firms should pay for safe disposal of old pills and medications. The county board tentatively approved an ordinance, scheduled for adoption August 11, which would require drug companies to manage and fund a comprehensive disposal program or contract with an approved disposal program. This includes paying for a free and accessible prescription drug take-back system. Drug companies would also pay for a project that includes 25 disposal sites, a mail-in program accommodating those who cannot travel to the sites, and an educational campaign.

Read more:
http://www.marinij.com/government-and-politics/20150728/marin-drug-firms-must-pay-for-pill-disposal

Montana Medical Association Announces New Drug Initiative Website
Luke Edwards, KTVH
July 29, 2015

The Montana Medical Association launched a statewide initiative addressing opioid misuse. Its new website, "Know Your Dose MT," will be a one-stop shop for Medicare providers and patients. (Includes video: 46 seconds)

Read more:
http://www.ktvh.com/home/headlines/Montana-Medical-Association-Announces-Drug-Initiative-Website-319668331.html
Webinars
Innovative Practices in Medication Assisted Treatment and Primary Care Coordination
Office of National Drug Control Policy
August 27, 2015, 3–4 p.m. (EST)

Ken Stoller, M.D., director of Johns Hopkins' Broadway Center for Addiction, and Susan Storti, Ph.D., R.N., from Brown University's Addiction Transfer Center of New England, will provide technical advice for implementing successful medication-assisted treatment programs and coordinating care for patients with opioid use disorder.

Register:
http://ems6.intellor.com/index.cgi?p=600716&t=1&do=register&s=&rID=9&edID=6

Strategies to Address Opioid and Prescription Drug Misuse Series
Addiction Technology Transfer Center
Learning Series schedule: 1:30–2:30 p.m. (EDT)
August 12: Treating Opioid Addiction
August 19: Opioid Overdose Intervention and Drug Disposal Strategies
http://www.auch.org/news-and-updates/item/384-strategies-to-address-opioid-prescription-drug-misuse-learning-series
Grant Award
Announce More Than $815,000 in Federal Funds to Treat Drug Addiction in Maryland
Political News
July 29, 2015

The U.S. Department of Health and Human Services awarded the Maryland Department of Health and Mental Hygiene $815,745 in annual federal funds for up to 3 years. The grant will support medication-assisted treatment for 271 patients in Baltimore City and Anne Arundel Counties each year. Maryland is one of 11 states receiving the funding.

Read more:
http://politicalnews.me/?id=34618&keys=HHS-FUNDING-MENTAL-HYGIENE
Grant Announcement
Partnership for Clean Competition
Pre-applications due March 1, July 1, and November 1
Full applications due April 1, August 1, and December 1
http://www.cleancompetition.org/Pages/programs-grants.aspx

2015 Healthy Living Grant Program
American Medical Association
Deadline: September 11, 2015, 5 p.m. (Central)
http://www.ama-assn.org/ama/pub/about-ama/ama-foundation/our-programs/public-health/healthy-living-grants.page?
National Take-Back Initiative
National Prescription Drug Take-Back Day
Drug Enforcement Administration
September 26, 2015, 10 a.m. to 2 p.m.
Various locations nationwide
http://www.deadiversion.usdoj.gov/drug_disposal/takeback
Take-Back Events and Drop Boxes
Headland's Drug Take-Back a Huge Success
Michelle Watson, Dothan Eagle (Alabama)
July 30, 2015
http://www.dothaneagle.com/news/dothan_progress/headland-s-drug-take-back-a-huge-success/article_bc599e30-36b7-11e5-a7ba-5b1ceec84954.html

Ionia Co. Offering Prescription Drug Drop Off
WLNS (Michigan)
July 27, 2015
http://wlns.com/2015/07/27/ionia-co-offering-prescription-drug-drop-off

Drug Take-Back Event Announced for September
Houston Herald (Missouri)
July 24, 2015
http://www.houstonherald.com/news/drug-take-back-event-announced-for-september/article_ea19fc30-3224-11e5-a134-9b9b414057a7.html

Pharmacy Lauded for Collecting Unwanted Medication
Perry Backus, Ravalli Republic (Montana)
July 30, 2015
http://ravallirepublic.com/news/local/article_d7467e3c-371d-11e5-a09d-0fadd83f1f08.html

West Milford Wants a Drop Box for Drug Disposal
David M. Zimmer, North Jersey Media Group (New Jersey)
July 30, 2015
http://www.northjersey.com/news/township-seeking-year-round-drop-box-for-medicine-disposal-1.1382738

Sen. Terrence Murphy Teams with Yorktown to Shed Prescription Drugs
Cassandra Huerta, The Daily Voice (New York)
July 27, 2015
http://yorktown.dailyvoice.com/news/sen-terrence-murphy-teams-yorktown-shed-prescription-drugs

Prescription Drug Turn-In Program
Lower Paxton Township Police Department (Pennsylvania)
July 29, 2015
https://dauphin.crimewatchpa.com/lowerpaxtonpd/3730/post/prescription-drug-turn-program

Shelby County Gets Second Prescription Drug Disposal Bin at Sheriff's Office Training Academy
Linda A. Moore, The Commercial Appeal (Tennessee)
July 25, 2015
http://www.commercialappeal.com/news/local-news/county-government/shelby-county-gets-second-prescription-drug-disposal-bin-at-sheriffs-office-training-academy_54957244

PA Police Lauded for Prescription Drug Drop Off Box
The Port Arthur News (Texas)
July 24, 2015
http://m.panews.com/2015/07/24/pa-police-lauded-for-prescription-drug-drop-off-box

Rx Dropbox: Get Rid of Unwanted Prescription Drugs at Sheriff's Office Collection Box
Chinook Observer (Washington)
July 28, 2015
http://www.chinookobserver.com/co/local-news/20150728/rx-dropbox-get-rid-of-unwanted-prescription-drugs-at-sheriffs-office-collection-box

Hurricane Police Department Offers New Drug Drop-Off Location
Cody A. Cummings, WCHS (West Virginia)
July 29, 2015
http://www.wchstv.com/news/features/eyewitness-news/stories/Hurricane-Police-Department-Offers-New-Drug-Drop-Off-Location-177469.shtml#.VbuT62nJDoY
Upcoming Conferences and Workshops
Drug Testing Advisory Board (DTAB) Meeting
SAMHSA's Center for Substance Abuse Prevention
August 7, 2015, 9–11:30 a.m. (EDT)
Attend via Web conference (see registration link below) or in person
Sugarloaf Conference Room
SAMHSA Building
1 Choke Cherry Road
Rockville, Maryland

To register, obtain the Web conference call-in numbers and access codes, submit written or brief oral comments, or request special accommodations for persons with disabilities:
http://nac.samhsa.gov/Registration/meetingsRegistration.aspx

Agenda:
http://www.samhsa.gov/about-us/advisory-councils/drug-testing-advisory-board-dtab

Federal Register notice:
http://www.gpo.gov/fdsys/pkg/FR-2015-07-21/pdf/2015-17818.pdf

Prescription Drug and Heroin Conference
Berrien Community Foundation
August 28, 2015
St. Joseph, Michigan 49085
http://www.berriencommunity.org/hope

SCOPE of Pain Training
Oakland County Prescription Drug Abuse Partnership
October 3, 2015
Waterford, Michigan
https://www.oakgov.com/health/partnerships/Pages/Oakland-County-Prescription-Drug-Abuse-Partnership.aspx#1

Register:
https://www.scopeofpain.com/in-person-training/index.php?event=145

143rd Annual Meeting and Exposition—Health in All Policies
American Public Health Association
October 31–November 4, 2015
Chicago, Illinois
https://www.apha.org/events-and-meetings/annual

Register:
https://www.apha.org/events-and-meetings/annual/registration-information

2015 Fall Research Conference: The Golden Age of Evidence-Based Policy
Association for Public Policy Analysis and Management
November 12–14, 2015
Miami, Florida
http://www.appam.org/events/fall-research-conference/2015-fall-research-conference-information

Register:
http://www.appam.org/events/fall-research-conference/2015-fall-conference-registration

28th Annual National Prevention Network Conference: Bridging Research to Practice
National Prevention Network
November 17–19, 2015
Seattle, Washington
http://www.npnconference.org

Register:
http://www.npnconference.org/registration

University of Michigan Injury Center Prescription Drug Overdose Summit
University of Michigan Injury Center
December 1, 2015
Ann Arbor, Michigan
http://www.injurycenter.umich.edu/conferences/opioid-overdose-summit

2016 National Rx Drug Summit
March 28–31, 2016
Atlanta, Georgia
http://nationalrxdrugabusesummit.org
The Weekly Update is a service provided by the SAMHSA Preventing Prescription Abuse in the Workplace Technical Assistance Center (PAW) to keep the field abreast of recent news and journal articles to assist in forming policy, research, and programs to reduce prescription drug misuse or abuse. Please note, the materials listed are not reflective of SAMHSA's or PAW's viewpoint or opinion and are not assessed for validity, reliability or quality. The Weekly Update should not be considered an endorsement of the findings. Readers are cautioned not to act on the results of single studies, but rather to seek bodies of evidence. Copyright considerations prevent PAW from providing full text of journal articles listed in the Weekly Update.