The Prevention of Prescription Drug Abuse in the Workplace (PAW) TA Center addresses prescription drug abuse—a growing public health problem with increasing burdens on workers, workplaces, and our economy. To subscribe colleagues, family members, or friends to this listserv sponsored by the Substance Abuse and Mental Health Services Administration (SAMHSA), please click here or send their e-mail addresses to paw@dsgonline.com.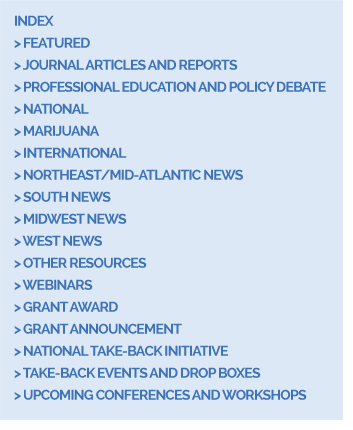 Featured
The Wild West of Marijuana Pesticides
Brooke Borel, The Atlantic
August 31, 2015

Because marijuana remains illegal on a federal level, the Environmental Protection Agency (EPA) has not approved pesticides for use on cannabis crops. Growers illegally treat the plants with pesticides intended for other uses. Many cannabis products contain pesticides at levels higher than typically allowed for edible or smokable products. Colorado and Washington are creating lists of "approved" marijuana pesticides that have active ingredients with low toxicity and are considered minimal risk, like petroleum oil and soap, making them exempt from EPA rules on pesticide residues. An investigation by The Oregonian in June found medical marijuana products on dispensary shelves with residues from household roach killer and other substances that should not be used on consumable crops.

Read more:
http://www.theatlantic.com/health/archive/2015/08/pot-marijuana-pesticide-legalization/401771
Journal Articles and Reports
J. DeVido, H. Connery, and K.P. Hill. 2015. "Sleep-Disordered Breathing in Patients with Opioid Use Disorders in Long-Term Maintenance on Buprenorphine–Naloxone: A Case Series." Journal of Opioid Management 11(4):363–66, doi:10.5055/jom.2015.0285.

This article reports on two adult female patients who were stable in buprenorphine–naloxone maintenance treatment but developed daytime sleepiness caused by sleep-disordered breathing. One patient's somnolence was improved by reducing buprenorphine–naloxone and other sedating medications and with a constant positive airway pressure (CPAP) device. The other patient could not tolerate a decrease in buprenorphine–naloxone and/or CPAP initiation, and her daytime sleepiness persisted.

Read more:
http://www.ncbi.nlm.nih.gov/pubmed/26312963

E.J. Hawkins, C.A. Malte, J.R. Grossbard, and A.J. Saxon. 2015. "Prevalence and Trends of Concurrent Opioid Analgesic and Benzodiazepine Use Among Veterans Affairs Patients with Post-Traumatic Stress Disorder, 2003–2011." Pain Medicine, doi:10.1111/pme.12787.

Pharmacy records for 66,210 patients treated for post-traumatic stress disorder by the Veterans Affairs Northwest Integrated Network indicated that age-adjusted long-term concurrent opioid and benzodiazepine use increased from 3.6 percent in 2003 to 5.5 percent in 2011 among men and from 3.9 percent to 7.0 percent among women. In 2011, 17 percent of long-term concurrent users were prescribed morphine-equivalent daily doses of opioids ≥ 100 mg.

Read more:
http://onlinelibrary.wiley.com/doi/10.1111/pme.12787/abstract

R.N. Jamison, E. Scanlan, M.L. Matthews, D.C. Jurcik, and E.L. Ross. 2015. "Attitudes of Primary Care Practitioners in Managing Chronic Pain Patients Prescribed Opioids for Pain: A Prospective Longitudinal Controlled Trial." Pain Medicine, doi:10.1111/pme.12871.

This paper reports on a trial involving treatment and comparison groups of 56 Boston-area primary care practitioners (PCPs) serving 253 chronic pain patients. Both groups received monthly telephone calls about their pain and opioid compliance. The practitioners were assigned to 6 months of care alone or supplemented by survey-based monthly patient summary reports to the PCP on pain, mood, activity levels, healthcare use, and Opioid Compliance Checklist results. At randomization, the researchers did not know that some comparison-group PCPs already received similar reports from pain specialists on their care teams. After 1 year, both treatment and control patients reported greater compliance with their opioid medications and felt monthly monitoring was beneficial. While the outreach was intended to facilitate data collection, patients viewed it as a helpful intervention. All PCPs in the treatment and control groups reported improvement in identifying patients at risk for misuse, perceived confidence in prescribing opioids for pain, and increased satisfaction with communication with pain specialists. Many PCPs, however, still lacked confidence in managing pain patients and reported reluctance to prescribe opioids for chronic noncancer pain, especially younger practitioners.

Read more:
http://onlinelibrary.wiley.com/doi/10.1111/pme.12871/abstract

R.M. Klevens, S. Everett Jones, J.W. Ward, D. Holtzman, and L. Kann. 2015. "Trends in Injection Drug Use Among High School Students, U.S., 1995–2013." American Journal of Preventive Medicine, doi:10.1016/j.amepre.2015.05.026.

According to Youth Risk Behavior Surveillance System data, in 2013, 1.7 percent of high school students nationwide had ever injected an illegal drug. The percentage injecting was unchanged from 1995 except among black non-Hispanic students. For this subgroup, injection drug use increased from 1995 to 2009, then began to decrease.

Read more:
http://www.ajpmonline.org/article/S0749-3797(15)00317-7/abstract

T.L. Morton, K. Devarakonda, K. Kostenbader, J. Montgomery, T. Barrett, and L. Webster. 2015. "Correlation of Subjective Effects with Systemic Opioid Exposure from Fixed-Dose Combinations of Oxycodone/Acetaminophen in Recreational Users of Prescription Drugs." Pain Medicine, doi:10.1111/pme.12884.

In a double-blind, manufacturer-funded assessment, 55 nondependent recreational users of prescription opioids in random order took single doses of intact immediate-release/extended-release and immediate-release oxycodone/acetaminophen 15/650 mg, intact immediate-release/extended-release and immediate-release oxycodone/acetaminophen 30/1,300 mg, crushed immediate-release/extended-release and immediate-release oxycodone/acetaminophen 30/1,300 mg, and a placebo. Strong correlations were observed between oxycodone concentration and area under the curve from time 0 to time of measured peak effects and time of self-reported peak effects. Intact immediate-release/extended-release oxycodone/acetaminophen produced 50 percent lower oxycodone peak plasma concentration than immediate-release oxycodone/acetaminophen. Median oxycodone time to peak concentration was significantly longer for intact immediate-release/extended-release oxycodone/acetaminophen than immediate-release oxycodone/acetaminophen. The pharmacokinetics of crushed immediate-release/extended-release and immediate-release oxycodone/acetaminophen (30/1,300 mg) followed a similar pattern. Crushing did not shorten the median time to maximum concentration for immediate-release/extended-release oxycodone/acetaminophen (30/1,300 mg).

Read more:
http://onlinelibrary.wiley.com/doi/10.1111/pme.12884/abstract

C.L. Parish, M.R. Pereyra, H.A. Pollack, G. Cardenas, P.C. Castellon, S.N. Abel, R. Singer, and L.R. Metsch. 2015. "Screening for Substance Misuse in the Dental Care Setting: Findings from a Nationally Representative Survey of Dentists." Addiction 110(9):1516–523, doi:10.1111/add.13004.

In a nationally representative 2011 survey of 1,802 dentists (71 percent of dentists polled), those who thought substance misuse screening was part of their professional role were more likely to ask their patients about misuse (86 percent) compared with those who did not accept screening as a responsibility (68 percent). Prior experience and knowledge about substance misuse were the strongest predictors of inquiry into patient substance use/misuse and acceptance of screening as part of a dentist's clinical practice role.

Read more:
http://onlinelibrary.wiley.com/doi/10.1111/add.13004/abstract

W. Wen, L. Taber, S.Y. Lynch, E. He, and S. Ripa. 2015. "12-Month Safety and Effectiveness of Once-Daily Hydrocodone Tablets Formulated with Abuse-Deterrent Properties in Patients with Moderate to Severe Chronic Pain." Journal of Opioid Management 11(4):339–56, doi:10.5055/jom.2015.0283.

In a manufacturer-funded safety study, 922 patients with chronic nonmalignant and non-neuropathic moderate to severe pain received open-label hydrocodone tablets 20–120 mg. Of these, 728 achieved a stabilized dose at the end of dose titration (up to 45 days) and entered a 1-year maintenance period. The safety profile was similar to other oral opioid analgesics. Frequent adverse events (≥ 5 percent) were those commonly associated with use of systemic opioid analgesics, including nausea, constipation, vomiting, fatigue, dizziness, somnolence, and headache. Eight percent of patients (77) experienced 109 nonfatal serious adverse events. Six percent discontinued the study because of the lack of therapeutic effect, including 2 percent who opted out during titration. Reported pain relief, sleep, functional health, and daily living gains at the end of dose titration continued through the 12-month maintenance period without an increase in dosage or use of supplemental analgesic medication.

Read more:
http://www.ncbi.nlm.nih.gov/pubmed/26312961

M.J. Worley, K.G. Heinzerling, S. Shoptaw, and W. Ling. 2015. "Pain Volatility and Prescription Opioid Addiction Treatment Outcomes in Patients with Chronic Pain." Experimental and Clinical Psychopharmacology, doi:10.1037/pha0000039.

In a study without a comparison or control group, among 149 adult opioid users with chronic pain who were treated with buprenorphine/naloxone and counseled for 12 weeks in an outpatient setting, average reported pain severity declined over time. Patients with greater pain volatility were less likely to have a good treatment outcome, defined as urine-verified abstinence from opioids at week 12 and during at least 2 of the previous 3 weeks. In multivariate analysis, a one-standard deviation increase in pain volatility was associated with a 44 percent reduction in the probability of endpoint abstinence.

Read more:
http://www.ncbi.nlm.nih.gov/pubmed/26302337
Professional Education and Policy Debate
T.C. Pham, J. Fudin, and R.B. Raffa. 2015. "Is Levorphanol a Better Option than Methadone?" Pain Medicine, doi:10.1111/pme.12795.

This commentary reviews the basic and clinical pharmacology of methadone and suggests levorphanol should receive attention as a possible alternative. (Editor's note: Levorphanol is a no-longer-patent-protected full agonist opioid that is eight times more potent than morphine, has an 11–16-hour half-life, and is said to produce a "euphoric high".) The benefit–risk ratio of methadone might be acceptable if there was no better alternative, but neither its pharmacokinetic nor pharmacodynamic properties are unique to methadone.

Read more:
http://onlinelibrary.wiley.com/doi/10.1111/pme.12795/abstract

C.M. Wilder and T. Winhusen. 2015. "Pharmacological Management of Opioid Use Disorder in Pregnant Women." CNS Drugs, doi:10.1007/s40263-015-0273-8.

Both methadone and buprenorphine maintenance treatments significantly improve maternal, fetal, and neonatal outcomes. Although methadone remains the current standard of care, buprenorphine maintenance is increasingly used as a first-line treatment for pregnant women with opioid use disorder because it yields better neonatal outcomes. However, treatment dropout may be greater with buprenorphine.

Read more:
http://link.springer.com/article/10.1007/s40263-015-0273-8
National
e-Prescribing Controlled Substances Now Legal Nationwide
Robert Lowes, Medscape Medical News
August 31, 2015

As of August 28, all states allow e-prescribing for controlled substances. This should make it more difficult for addicts and drug dealers to forge prescriptions.

Read more:
http://www.medscape.com/viewarticle/850268

Here's What Two Top FDA Officials Have to Say About Approving Oxycontin for Children in Severe Pain
Brady Dennis, The Washington Post
September 4, 2015

Food and Drug Administration (FDA) officials Janet Woodcock, director of the Center for Drug Evaluation and Research, and Sharon Hertz, director of the Division of Anesthesia, Analgesia, and Addiction Products say FDA's decision to approve OxyContin for children ages 11 to 16 was simply part of a broad effort to end "off label" prescribing to children. It is the 535th drug that added child labeling since the effort began. FDA has found labeling informs physicians about proper dosing for children, whether use indications differ, and what side effects might occur. Reaction to the approval was mixed, with better guidance for use in cancer patients generally welcomed.

Read more:
http://www.washingtonpost.com/news/to-your-health/wp/2015/09/04/heres-what-two-top-fda-officials-have-to-say-about-approving-oxycontin-for-children-in-severe-pain

Employer Is Liable Under the WLAD for Refusing to Hire a Truck Driver for Taking a Prescribed Narcotic
Ieva Aubin and Michael Droke, Dorsey & Whitney LLP
September 3, 2015

In Clipse v. Commercial Driver Services, Inc., the Washington Court of Appeals held that Commercial Driver Services, Inc. (CDS) was liable under the Washington Law Against Discrimination (WLAD) for not hiring a commercial truck driver who took a prescribed narcotic. Clipse was hired as a driving instructor contingent on passing a physical exam. The exam revealed he was taking methadone for chronic pain; however, the physician provided Clipse with a 1-year medical examiner's certificate qualifying him to drive a commercial vehicle. CDS refused to hire Clipse because of its "no tolerance" drug policy, even though the policy made no reference to prescription drugs. The company also claimed their standard practice required a 2-year medical examiner's certificate, although it had no written policy to this effect. The court of appeals held that CDS discriminated against Clipse on the basis of actual and perceived disability in violation of the WLAD, and affirmed the jury's damages award. The court found Clipse presented no evidence that CDS promised him permanent employment subject only to dismissal for just cause, and held that the trial court erred in refusing to grant CDS judgment as a matter of law on this claim. It also held that retrospective jury damages in a WLAD suit are not wages employers are obligated by statute to pay, thus precluding an award for double damages.

Read more:
http://www.jdsupra.com/legalnews/employer-is-liable-under-the-wlad-for-43232

When Painkilling Becomes an Addiction for Young Athletes
Kristine Meldrum Denholm, USA Today High School Sports
September 2, 2015

This article shares stories from parents who have lost children to opioid overdoses. All were star athletes who suffered injuries and became addicted to prescription pain relievers. Eventually, they turned to heroin. One quarter of the 7.5 million high school athletes suffer a sports injury each year.

Read more:
http://usatodayhss.com/2015/when-painkilling-becomes-an-addiction-for-young-athletes

The Suburbs Are the Latest Battleground for Heroin. Can This Video Game-Like Software Help Save Lives?
Caitlin Dickson, Yahoo News
September 3, 2015

Bill Patrianakos, who became a heroin addict at 22, used his personal experience to create an interactive timeline of an average teenager's journey from prescription pills to heroin and eventually overdose. The timeline includes snippets of text messages and social media interactions. More than 7,000 students, 400 parents, and 1,400 school staff members used the program, which was piloted in 11 high schools and middle schools across four Chicago-area counties during the 2012–13 school year. Two years later, the Robert Crown Center surveyed students who had participated: 93 percent reported understanding heroin's effects on the brain and body, 87 percent said they knew how to avoid heroin use, and 90 percent could identify at least three aspects of their lives that would be improved by not using the drug. No information was collected on knowledge levels among students not exposed to the program. (Includes video demo: 4:23 minutes)

Read more:
http://news.yahoo.com/can-this-video-game-like-software-keep-suburban-kids-away-from-heroin--191136752.html

Painkillers to Heroin: The Pros and Cons of Treatments for Opioid Addiction
Ricardo Borrego, M.D., U.S. News and World Report
September 1, 2015

This article discusses the signs of opioid addiction and available options to treat it.

Read more:
http://health.usnews.com/health-news/patient-advice/articles/2015/09/01/painkillers-to-heroin-the-pros-and-cons-of-treatments-for-opioid-addiction
MARIJUANA
A.M. Arria, K.M. Caldeira, B.A. Bugbee, K.B. Vincent, and K.E. O'Grady. 2015. "The Academic Consequences of Marijuana Use During College." Psychology of Addictive Behaviors, doi:10.1037/adb0000108.

Structural equation modeling with data from eight annual assessments of 1,117 students recruited as freshmen at the University of Maryland in 2004–05 showed a significant path from baseline substance use frequency to skipping more classes at baseline to lower first-semester GPA to longer time to graduation. Marijuana frequency, other drug use, and alcohol quantity were modeled separately and had similar effects on GPA and graduation time. Accounting for demographics and other factors, any substance misuse was adversely associated with college academic outcomes, both directly and through poorer class attendance.

Read more:
http://psycnet.apa.org/psycinfo/2015-34685-001

K. Detyniecki and L. Hirsch. 2015. "Marijuana Use in Epilepsy: The Myth and the Reality." Current Neurology and Neuroscience Reports 15:65, doi:10.1007/s11910-015-0586-5.

The authors reviewed the weak preclinical and human evidence on the anticonvulsant properties of cannabinoids—mainly tetrahydrocannabinol and cannabidiol—and explored safety data from animal and human studies. Then they tried to reconcile the differing opinions of physicians and patients on whether there is sufficient available evidence for recommending marijuana to treat epilepsy.

Read more:
http://link.springer.com/article/10.1007/s11910-015-0586-5

S. Lough. 2015. "Filling the Cannabis Knowledge Gap." CMAJ, doi:10.1503/cmaj.109-5141.

This article describes emerging educational opportunities for Canadian physicians to learn about medical marijuana. The College of Family Physicians of Canada has approved seven educational programs on dried cannabis. Two online programs were funded by Tilray, a licensed producer. Another producer, Tweed Marijuana Incorporated, launched its education program last spring. Advancing Practice, which has no industry affiliation, provides an online certificate program approved by the Canadian Council on Continuing Education in Pharmacy. Doctors can also attend seminars or dinner lectures about medical marijuana led by researchers or fellow physicians.

Read more:
http://www.cmaj.ca/site/earlyreleases/31aug15_filling-the-cannabis-knowledge-gap-cmaj.109-5141.xhtml

J.A. Marusich, R.M. Craft, T.W. Lefever, and J.L. Wiley. 2015. "The Impact of Gonadal Hormones on Cannabinoid Dependence." Experimental and Clinical Psychopharmacology, 23(4):206–16, doi:10.1037/pha0000027.

In marijuana-addicted rats with disabled hormone systems, testosterone decreased withdrawal-induced licking among males, while estradiol and progesterone increased withdrawal-induced chewing and progesterone increased withdrawal-induced sniffing among females. These results suggest estradiol and progesterone may promote the development of dependence, whereas testosterone may protect against dependence.

Read more:
http://psycnet.apa.org/journals/pha/23/4/206

J.M. Sido, P.S. Nagarkatti, and M. Nagarkatti. 2015. "Δ9-Tetrahydrocannabinol Attenuates Allogeneic Host-Versus-Graft Response and Delays Skin Graft Rejection Through Activation of Cannabinoid Receptor 1 and Induction of Myeloid-Derived Suppressor Cells." Journal of Leukocyte Biology, doi:10.1189/jlb.3A0115-030RR.

THC reduced rejection of skin allografts in mice. It also reduced T cell proliferation and activation.

Read more:
http://www.jleukbio.org/content/early/2015/06/01/jlb.3A0115-030RR.abstract?sid=32775e13-2c68-4d7e-b166-916ecacc85a0

E.R. Weitzman, R.E. Ziemnik, Q. Huang, and S. Levy. 2015. "Alcohol and Marijuana Use and Treatment Nonadherence Among Medically Vulnerable Youth." Pediatrics 136(3):450–57, doi:10.1542/peds.2015-0722.

Like their healthy peers, youth ages 9 to 18 with asthma/cystic fibrosis, type 1 diabetes, arthritis, or inflammatory bowel disease experiment with alcohol and marijuana.

Read more:
http://pediatrics.aappublications.org/content/136/3/450.abstract?sid=14578ebd-e73f-4fb5-b641-81199063442d

Investors in Proposed Ohio Marijuana Farms Are Diverse Lot
Alan Johnson, The Columbus Dispatch
September 2, 2015

This article lists the people, by county, who are putting up at least $20 million to bankroll ResponsibleOhio—a marijuana-legalization constitutional amendment. The group includes a diverse mix, from an NBA legend to an ex-boyband member. Each invested in a plan that establishes 10 exclusive commercial marijuana-growing sites across the state.

Read more:
http://www.dispatch.com/content/stories/local/2015/09/02/investors-in-legal-pot-are-diverse-lot.html

Daily Marijuana Use Among U.S. College Students Highest Since 1980
University of Michigan
September 1, 2015

Monitoring the Future (MTF) data for 2014 shows daily marijuana use among college students exceeded daily cigarette smoking for the first time. Daily or near-daily marijuana use by 5.9 percent of college students in 2014 was at its highest rate since MTF began in 1980. Use of marijuana at least once in the prior 30 days rose from 17 percent in 2006 to 21 percent in 2014. Use in the prior 12 months rose from 30 percent in 2006 to 34 percent in 2014.

Read more:
http://ns.umich.edu/new/releases/23088-daily-marijuana-use-among-u-s-college-students-highest-since-1980
http://monitoringthefuture.org/pubs/monographs/mtf-vol2_2014.pdf

Georgia Medical Cannabis Commission Hears Cultivation Options
Gloria Tatum, Atlanta Progressive News
August 28, 2015

The Georgia Commission on Medical Cannabis met to hear options for in-state production and distribution of cannabidiol oil. Medical cannabis manufacturers from Georgia, Colorado, Oregon, and California suggested models. Their recommendations included limiting licenses to a few companies to take the product from seed to sale; locating laboratories, greenhouses, and warehouses together; and engaging a company to grow and process the product, with the state then distributing it to qualifying citizens.

Read more:
http://atlantaprogressivenews.com/2015/08/28/georgia-medical-cannabis-commission-hears-cultivation-options

Sutter County Supervisors Leave Pot Ordinance As Is
Andrew Creasey, Appeal-Democrat
August 31, 2015

The Sutter County (Calif.) Board of Supervisors decided not to change its medical marijuana ordinance after the president of the county's Medical Marijuana Growers Association proposed eliminating the 2,000-feet-from-bus-stops rule for cultivation and reducing the buffer zone between all listed facilities from 2,000 feet to 1,500 feet.

Read more:
http://www.appeal-democrat.com/news/sutter-county-supervisors-leave-pot-ordinance-as-is
/article_f54ab72c-5054-11e5-8182-c7cd088675d7.html

Medical Cannabis Company Sells Its First Marijuana Pills
The Independent
August 31, 2015

MMJ PhytoTech is selling 30-pill boxes of capsules called Satipharm, a hemp-derived cannabidiol pill, online in Europe. The Australian medical firm is marketing the "food supplement" pills as treatment for ailments including chronic pain, cancer, epilepsy, arthritis, and post-traumatic stress disorder.

Read more:
http://www.independent.co.uk/news/science/medical-cannabis-company-sells-its-first-marijuana-pills-10479731.html

Sports Pain Management Panel Presented at Cannabis World Congress in LA
PR Newswire
September 2, 2015

NFL players Nate Jackson and Lorenzo Neal will talk about the benefits of cannabis for athletes along with medical pain experts at the Cannabis World Congress and Business Exposition.

Read more:
http://www.prnewswire.com/news-releases/sports-pain-management-panel-presented-at-cannabis-world-congress-in-la-300136921.html
International
ACT Drug Overdose Reversal Program Should Be Rolled Out Nation-Wide, Expert Panel Says
Adrienne Francis, ABC
August 30, 2015

An independent panel of experts recommended that the Alcohol Tobacco and Other Drug Association's naloxone program be expanded nationwide in Australia. Under the program, doctors routinely prescribe naloxone to anyone who uses opioids and their families and friends. The Therapeutic Goods Administration is considering rescheduling naloxone from prescription only to over the counter. More Canberrans die from opioid overdose than from road accidents.

Read more:
http://www.abc.net.au/news/2015-08-31/calls-for-overdose-reversal-program-to-be-rolled-out-nation-wide/6736086

[Audio] Legally Prescribed Addiction
ABC RN Afternoons
August 31, 2015

Michael Mackenzie of RN Afternoons talks to Dr. Nick Carr—a Melbourne physician and Victorian ambassador for ScriptWise—about prescription drug misuse and addiction. (Duration: 11:22 minutes)

Listen:
http://www.abc.net.au/radionational/programs/rnafternoons/legally-prescribed-addiction/6738396
Northeast/Mid-Atlantic News
Pa: Police Using Heroin Antidote Have Saved 289 Lives Across the State
Susan Baldridge, Lancasteronline.com
September 1, 2015

Pennsylvania officials announced that state and local police officers have reversed 289 overdoses with naloxone in the past 9 months.

Read more:
http://lancasteronline.com/news/local/pa-police-using-heroin-antidote-have-saved-lives-across-the/article_6ebaa3b0-4fec-11e5-a8ee-bb36894f022a.html

Free Heroin Overdose Kits Available in Bucks, Berks
Christina Lobrutto, Philly Voice
September 3, 2015

The Council on Chemical Abuse offers free naloxone kits to residents in Bucks and Berks Counties, Pa. Individuals must complete a short online course before receiving the kits.

Read more:
http://www.phillyvoice.com/pa-county-free-heroin-overdose-kits-public

Pennsylvania Departments of Drug and Alcohol Programs and Health Kick-Off Second Annual Building Bridges to Recovery Initiative
PR Newswire
August 31, 2015

The Pennsylvania Department of Drug and Alcohol Programs and Department of Health held an International Overdose Awareness Day bringing attention to the drug overdose crisis. The event aimed to help people with substance use disorder get treatment and focus on recovery through the Building Bridges to Recovery initiative.

Read more:
http://www.prnewswire.com/news-releases/pennsylvania-departments-of-drug--alcohol-programs-and-health-kick-off-second-annual-building-bridges-to-recovery-initiative-300135254.html

UMMS Working with Other Mass. Medical Schools, Governor on Opioid Prescribing Practices
Megan Bard, University of Massachusetts Medical School
September 4, 2015

The University of Massachusetts Medical School, Boston University School of Medicine, Harvard Medical School, and Tufts School of Medicine met with the governor to discuss the future of medical education for pain management and opioid prescribing practices.

Read more:
http://www.umassmed.edu/news/news-archives/2015/09/umms-working-with-other-mass-medical-schools-governor-on-opioid-prescribing-practices

Officials: Narcan Training Available for Pharmacists to Help Reverse Overdoses
The Register Citizen
September 1, 2015

The Connecticut Department of Consumer Protection announced the availability of naloxone certification training for pharmacists. Certification is completed online through the University of Connecticut School of Pharmacy website.

Read more:
http://www.registercitizen.com/general-news/20150901/officials-narcan-training-available-for-pharmacists-to-help-reverse-overdoses
South News
Physician, 18 Others Indicted for Prescription Drug Abuse
Max Brantley, Arkansas Times
September 2, 2015

A physician and 18 others were indicted by a federal grand jury in a conspiracy to distribute oxycodone in three Arkansas counties: Lonoke, White, and Pulaski. Co-conspirators supplied demographic information to the physician, who would write prescriptions without examining or meeting patients. Tablets were obtained at local pharmacies and sold for $30 each. Several co-conspirators have acknowledged working for the doctor since 2011.

Read more:
http://www.arktimes.com/ArkansasBlog/archives/2015/09/02/physician-18-others-indicted-for-prescription-drug-abuse

Officials Warn of Drug Use to Support Studying
Alex Hines, WBOY
September 3, 2015

The West Virginia Poison Center is warning students about using drugs as study aids. Some try prescription drugs like Ritalin, which can cause dangerous effects, especially when combined with caffeine or other substances. Dr. Marilyn Zrust, a nursing professor at West Virginia Wesleyan College, encourages individuals to get help for friends who use legal and illegal drugs. (Includes video: 2:24 minutes)

Read more:
http://www.wboy.com/story/29955550/officials-warn-of-drug-use-to-support-studying
Midwest News
Illinois Will Be First State to Lock Painkiller Pill Bottles
CBS Chicago
August 29, 2015

In 2016, Illinois will become the first state in America to test a pilot program installing locking devices on pain relievers with hydrocodone. The 1-year program will take place at participating pharmacies.

Read more:
http://chicago.cbslocal.com/2015/08/29/illinois-will-be-first-state-to-lock-painkiller-pill-bottles

New Task Force to Tackle Indiana's Challenging Drug Abuse Problem
Jeff Neumeyer, NBC 33
September 1, 2015

Indiana's governor has created a 21-member anti-drug task force to evaluate resources across the state; identify gaps in enforcement, treatment, and prevention; and recommend ways to reduce drug misuse and addiction. A final report is planned for November. (Includes video: 2:10 minutes)

Read more:
http://www.21alive.com/nbc33/New-task-force-to-tackle-Indianas-challenging-drug-abuse-problem-323768511.html

Doctors Reminded It's OK to Prescribe Naloxone for Drug Users
Russ McQuaid, Fox 59
August 30, 2015

Indiana's attorney general will soon issue a notice on making naloxone publicly available. The notice will remind doctors to prescribe the drug and pharmacies to keep it on hand.

Read more:
http://fox59.com/2015/08/30/doctors-reminded-its-okay-to-prescribe-naloxone-for-drug-users

Event Offers Free Narcan, Training on Overdose Awareness Day
Howard Monroe, WISH-TV
August 30, 2015

Overdose Lifeline, Ind., held an event to train families and friends of drug addicts and distribute Narcan®.

Read more:
http://wishtv.com/2015/08/30/free-narcan-training-on-overdose-awareness-day

Program Helps Employers Deal with Drugs at Work
John Jarvis, The Marion Star
August 29, 2015

The Crawford–Marion Board of Alcohol, Drug Addiction, and Mental Health Services; the Marion Area Chamber of Commerce; and the Marion Community Foundation introduced Join the Front Line at Work, a 15-hour pilot course to help Ohio employers create and support a drug-free workplace. Topics include general drug addiction information, the prescription drug abuse epidemic, the proposed Ohio constitutional amendment to legalize marijuana, and federal and state requirements. Employers who complete the course will leave with comprehensive drug-free workplace policies/programs and customized drug-free workplace documents. The chamber encourages members to take the training.

Read more:
http://www.marionstar.com/story/news/local/2015/08/29/program-helps-employers-deal-drugs-work/71391174/?from=global&sessionKey=&autologin=

Detroit Area Cops Save Lives with Anti-Overdose Kits
Mike Martindale, The Detroit News
August 30, 2015

Metro Detroit police have reversed at least 16 overdoses with naloxone since January. The Oakland County Sheriff's Office reported 12 overdose reversals since March. Sheriff's deputies in Macomb County have used naloxone three times since May, and Novi police recorded their first rescue on July 31.

Read more:
http://www.detroitnews.com/story/news/local/oakland-county/2015/08/30/overdose-spray/71442662

Oklahoma Researcher Reports Link Between Pharmacies' Output, Overdoses
Jaclyn Cosgrove, The Oklahoman
August 30, 2015

The Oklahoma Health Care Authority linked its Medicaid data with the state medical examiner's data. From 2012 to 2013, 36 percent of unintentional prescription drug overdose deaths were Medicaid recipients. Hydrocodone–acetaminophen is the drug most prescribed to state Medicaid patients. More overdose deaths in Oklahoma from 2007 to 2012 involved hydrocodone or oxycodone than alcohol, methamphetamine, cocaine, heroin, and all other illicit drugs combined.

Read more:
http://newsok.com/article/5443349
West News
Lawmaker: Rise in Prescription Overdose Deaths a 'Medical Emergency'
Annie Knox, The Salt Lake Tribune
August 31, 2015

In 2014, 289 Utahans died from an opioid pain reliever overdose—up from 274 in 2013 and 260 in 2012. Pain medications cause more deaths than all other kinds of drugs. Oxycodone, methadone, and hydrocodone are the biggest problems.

Read more:
http://www.sltrib.com/home/2896383-155/lawmaker-rise-in-prescription-overdose-deaths

California Moves to Stop Misuse of Psychiatric Meds in Foster Care
Elaine Korry, NPR
September 2, 2015

The California Senate passed a package of laws that regulate psychiatric medication prescribing for children and teens in the child welfare system. The legislation describes the oversight function and names problematic prescribing practices: use of multiple drugs in children, dosages exceeding maximums, and use of antipsychotics when not medically necessary because of physical health risks. Under the reforms, children on medication would be better monitored, and doctors who rely most heavily on prescriptions would be identified. The bill also calls for stricter oversight of group homes to determine when psychotropic medications are used to control children's behavior, and California social workers and caregivers would receive training on the risks, benefits, and side effects of psychiatric medications. A mix of state and federal dollars would establish a structure to provide second medical opinions. Finally, the legislation would require that children taking powerful medications also receive other services. The bill is headed to the state assembly.

Read more:
http://www.npr.org/sections/health-shots/2015/09/02/436350334/california-moves-to-stop-misuse-of-psychiatric-meds-in-foster-care
Other Resources
ONDCP Hosts Recovery Month Event
Community Anti-Drug Coalitions of America
Accessed September 4, 2015

On September 17 from 7 to 8 p.m. EST, the Office of National Drug Control Policy (ONDCP) will host an online event at the White House in observation of National Alcohol and Drug Addiction Recovery Month—with a special focus on youth in recovery. Coalitions are invited to host a viewing party that will be broadcast live on www.whitehouse.gov/live. Panel members will aim to educate, inform, and inspire youth in recovery and those not yet in recovery. The online event will feature tweets with questions for panelists in recovery.

Read more:
http://www.cadca.org/resources/ondcp-hosts-recovery-month-event

New Campaign Urges It's Time 'America Starts Talking' More Openly About Safe Prescription Opioid Pain Management
PR Newswire
September 2, 2015

Pharmaceutical company Kaleo launched America Starts Talking, a campaign designed to prompt discussions among healthcare providers, patients, families, and friends about safe opioid medication use. The tools include downloadable discussion guides and interactive educational materials that explain how to recognize an opioid emergency and respond.

Read more:
http://www.prnewswire.com/news-releases/new-campaign-urges-its-time-america-starts-talking-more-openly-about-safe-prescription-opioid-pain-management-300136579.html
Webinars
CDC Opioid Prescribing Guidelines Public Webinar
National Center for Injury Prevention and Control
September 16, 2015, 2–5 p.m. (EDT)

Register:
https://events-na12.adobeconnect.com/content/connect/c1/1278955669/en/events/
event/shared/default_template/event_landing.html?sco-id=1392440305

ROSC and MAT Part II: Opioid Treatment Services
Great Lakes Addiction Technology Transfer Center Network
September 23, 2015, 1–2:30 p.m. (EDT)

This Webinar will discuss how Medication-Assisted Treatment (MAT) works within Recovery-Oriented Systems of Care (ROSC). Recovery-oriented care seeks to improve outcomes by establishing networks of formal and informal services developed for individuals and families affected by severe substance use disorders.

Register:
https://attendee.gotowebinar.com/register/7277698614905933825

Battling Opioid Addiction: Public Policy and Healthcare Strategies for an Epidemic
Health Management Associates
September 29, 2015, 1–2 p.m. (EDT)

Experts from Health Management Associates will outline public policy and healthcare strategies that have successfully reduced opioid addiction risk, including case studies of collaborative initiatives and protocols for identifying and treating people struggling with addiction.

Read more:
http://bit.ly/1JBynnp

Addressing the Prevention Needs of College Students: Collecting Data and Fostering Buy-In
SAMHSA's Center for the Application of Prevention Technologies
October 1, 2015, 3–4:30 p.m. (EDT)
https://captus.samhsa.gov/news-and-events/addressing-prevention-needs-college-students-collecting-data-and-fostering-buy
Grant Awards
CDC Funding Helps States Combat Prescription Drug Overdose Epidemic
Centers for Disease Control and Prevention
September 4, 2015

The Centers for Disease Control and Prevention (CDC) launched Prescription Drug Overdose: Prevention for States, a program to help end the prescription drug overdose epidemic. CDC also awarded $20 million to 16 states for the same purpose. The states, which will address prescription overdoses over the next 4 years, are Arizona, California, Illinois, Kentucky, Nebraska, New Mexico, North Carolina, Ohio, Oklahoma, Oregon, Pennsylvania, Rhode Island, Tennessee, Utah, Vermont, and Wisconsin.

Read more:
http://www.cdc.gov/media/releases/2015/p0904-cdc-funding.html

Related Articles

Vermont to Receive $4 Million to Fight Prescription Drug Abuse
Tom Brown, VT Digger
September 4, 2015
http://vtdigger.org/2015/09/04/vermont-to-receive-4-million-to-fight-prescription-drug-abuse

California Gets $3.7M Grant to Prevent Opioid Overdoses
Sacramento Business Journal
September 3, 2015
http://www.bizjournals.com/sacramento/news/2015/09/03/california-gets-3-7mgrant-to-prevent-opioid.html

$3.4M CDC Grant to Help Right Rx Drug Abuse in TN
News Sentinel
September 4, 2015
http://www.knoxnews.com/news/local-news/34m-cdc-grant-to-help-right-rx-drug-abuse-in-tn_79884518

CDC Awards Illinois $917,000 Through Prescription Drug Overdose Prevention Program
Joseph Edwards, WREX
September 3, 2015
http://www.wrex.com/story/29954141/2015/09/03/cdc-awards-illinois-917000-through-prescription-drug-overdose-prevention-program
Steppingstone in Fall River Awarded $400K Federal Grant
Deborah Allard, The Herald News
September 1, 2015

Steppingstone Incorporated, Mass., was awarded a $400,000 federal grant from the Center for Substance Abuse Treatment to help incarcerated men with substance abuse and mental health issues.

Read more:
http://www.heraldnews.com/article/20150901/NEWS/150909308

Funding to Help Combat Drug Trafficking, Support Victims Assistance Programs
Political News
August 30, 2015

North Dakota was awarded nearly $450,000 in federal funding to address trafficking and distribution of drugs such as heroin, marijuana, and prescription medicines. Funds will also support services for violent crime victims.

Read more:
http://politicalnews.me/?id=35081&keys=ONDCPP-DRUG-CONTROL-TRAFFICKING
Grant Announcement
2016 Grant Funding Cycle
Community Action Coalition
Applications available September 7, 2015
Deadline: October 16, 2015

Grants are available for organizations, groups, and individuals in Decatur County, Ind., who work to address alcohol and other drug problems through education, prevention, treatment, or criminal justice. Applicants must address one or more of the following problem statements 1) Gateway drugs (marijuana, alcohol, and tobacco) continue to be a concern among the young population; 2) Prescription drug abuse is a growing concern; 3) ATOD use and abuse continue to contribute negatively to the family structure.

Read more:
http://www.greensburgdailynews.com/news/cac-grant-applications-available/article_4738ff77-2226-5e18-b4ff-2bcc45e15002.html

2015 Healthy Living Grant Program
American Medical Association
Deadline: September 11, 2015, 5 p.m. (Central)
http://www.ama-assn.org/ama/pub/about-ama/ama-foundation/our-programs/public-health/healthy-living-grants.page?

Partnership for Clean Competition
Pre-applications due November 1
Full applications due December 1
http://www.cleancompetition.org/Pages/programs-grants.aspx

NIDA Translational Avant-Garde Award for Development of Medication to Treat Substance Use Disorders
U.S. Department of Health and Human Services, National Institutes of Health
Deadline: December 3, 2015
http://www.grants.gov/web/grants/search-grants.html
National Take-Back Initiative
National Prescription Drug Take-Back Day
Drug Enforcement Administration
September 26, 2015, 10 a.m. to 2 p.m.
Various locations nationwide
http://www.deadiversion.usdoj.gov/drug_disposal/takeback
Take-Back Events and Drop Boxes
Lewisboro Sheds More Than 100 Pounds of Prescription Drugs
TinaMarie Craven, Lewisboro Ledger (New York)
September 3, 2015
http://www.lewisboroledger.com/27704/lewisboro-sheds-more-than-100-pounds-of-prescription-drugs

Disposal Program for Unwanted Drugs a Success for Longport
Nanette LoBiondo Galloway, Shore News Today (New Jersey)
August 31, 2015
http://www.shorenewstoday.com/downbeach/disposal-program-for-unwanted-drugs-a-success-for-longport/article_7113015a-5016-11e5-a1d7-07eb8c586862.html

Encourage Your Patients to Participate in National Prescription Drug Take Back Day
California Medical Association
September 3, 2015
http://www.cmanet.org/news/detail/?article=encourage-your-patients-to-participate-in3

Prescription Drug Collection Sites
Empower Porter County (Indiana)
Accessed August 31, 2015
http://empowerpc.org/prescription-drug-collection-sites

Unwanted Drug Drop-Off Available at Cedar Falls PD
Nikki Newbrough, KWWL (Iowa)
August 28, 2015
http://www.kwwl.com/story/29902428/2015/08/28/unwanted-drug-drop-off-available-at-cedar-falls-pd

Mark Your Calendars: Arlington's Drug Take-Back Day
Linda Bock, Arlington Patch (Massachusetts)
August 31, 2015
http://patch.com/massachusetts/arlington/mark-your-calendars-arlingtons-drug-take-back-day-0

Interview: Hennepin County Sheriff Talks About Prescription Drug Drop-Off Program
Russell Barnes, KSTP (Minnesota)
September 2, 2015
http://kstp.com/article/stories/s3895798.shtml

Rend Lake College Taking Back Unwanted Prescription Drugs
David Horn, KFVS (Missouri)
September 2, 2015
http://www.kfvs12.com/story/29940421/rend-lake-college-taking-back-unwanted-prescription-drugs-september-26-in-mt-vernon

NPD Collecting Unwanted Prescription Drugs
Nevada Daily Mail
September 4, 2015
http://www.nevadadailymail.com/story/2228090.html

East Brunswick Police to Participate in Prescription Drug Collection
TAPinto (New Jersey)
August 31, 2015
https://www.tapinto.net/towns/east-brunswick/articles/east-brunswick-police-to-participate-in-prescript#

Clermont County Offers Free Drop Off for Expired or Unneeded Medication
WCPO (Ohio)
September 3, 2015
http://www.wcpo.com/news/local-news/clermont-county/clermont-county-offers-free-drop-off-for-expired-or-unneeded-medication

Downingtown to Offer Prescription Drug Take-Back Day
Ginger Dunbar, Daily Local News (Pennsylvania)
September 2, 2015
http://www.dailylocal.com/general-news/20150902/downingtown-to-offer-prescription-drug-take-back-day

Cumberland Police Install Prescription Drug Drop Box
Mike Jones, Observer-Reporter (Pennsylvania)
August 31, 2015
http://www.observer-reporter.com/article/20150831/NEWS02/150839926

Drug Take Back Program Coming to Mountain Top
Patrick Rushton, Citizens' Voice (Pennsylvania)
August 31, 2015
http://citizensvoice.com/arts-living/drug-take-back-program-coming-to-mountain-top-1.1933878

Knoxville Pharmacy Hosts Drug Take-Back Day
WATE (Tennessee)
September 4, 2015
http://wate.com/2015/09/03/knoxville-pharmacy-hosts-drug-take-back-day

Rx Drug Take Back Day in Vermont Set for September 26
State of Vermont
September 3, 2015
http://governor.vermont.gov/node/2471

Dayton Police Dept. Is Hosting a Prescription Drug Take-Back Day
The Town of Dayton (Virginia)
Accessed August 31, 2015
http://www.daytonva.us/blog/dayton-police-dept-hosting-a-prescription-drug-take-back-day

Community Prescription Drug Drop
Washington and Lee University (Virginia)
August 28, 2015
http://dashboards.blogs.wlu.edu/2015/08/28/community-prescription-drug-drop

State Police Barracks in Wyoming to Serve as Drop-Off for Unwanted Prescriptions
Travis Kellar, Times Leader (Wyoming)
September 2, 2015
http://timesleader.com/news/local/379936/state-police-barracks-in-wyoming-to-serve-as-drop-off-for-unwanted-prescriptions
Upcoming Conferences and Workshops
SCOPE of Pain Training
Oakland County Prescription Drug Abuse Partnership
October 3, 2015
Waterford, Michigan
https://www.oakgov.com/health/partnerships/Pages/Oakland-County-Prescription-Drug-Abuse-Partnership.aspx#1

Register:
https://www.scopeofpain.com/in-person-training/index.php?event=145

Sixth Annual Prescription Drug Abuse Symposium
State of Indiana, Attorney General's Office
October 28–29, 2015
Indianapolis, Indiana
http://www.in.gov/bitterpill/symposium.html

Register:
https://www.eventbrite.com/e/6th-annual-prescription-drug-abuse-symposium-tickets-17987317551

143rd Annual Meeting and Exposition—Health in All Policies
American Public Health Association
October 31–November 4, 2015
Chicago, Illinois
https://www.apha.org/events-and-meetings/annual

Register:
https://www.apha.org/events-and-meetings/annual/registration-information

2015 Fall Research Conference: The Golden Age of Evidence-Based Policy
Association for Public Policy Analysis and Management
November 12–14, 2015
Miami, Florida
http://www.appam.org/events/fall-research-conference/2015-fall-research-conference-information

Register:
http://www.appam.org/events/fall-research-conference/2015-fall-conference-registration

28th Annual National Prevention Network Conference: Bridging Research to Practice
National Prevention Network
November 17–19, 2015
Seattle, Washington
http://www.npnconference.org

Register:
http://www.npnconference.org/registration

University of Michigan Injury Center Prescription Drug Overdose Summit
University of Michigan Injury Center
December 1, 2015
Ann Arbor, Michigan
http://www.injurycenter.umich.edu/conferences/opioid-overdose-summit

Ensuring Access to Pain Care: Engaging Pain Medicine and Primary Care Teams
American Academy of Pain Medicine
February 18–21, 2016
Palm Springs, California
http://www.painmed.org/annualmeeting

2016 National Rx Drug Summit
March 28–31, 2016
Atlanta, Georgia
http://nationalrxdrugabusesummit.org
The Weekly Update is a service provided by the SAMHSA Preventing Prescription Abuse in the Workplace Technical Assistance Center (PAW) to keep the field abreast of recent news and journal articles to assist in forming policy, research, and programs to reduce prescription drug misuse or abuse. Please note, the materials listed are not reflective of SAMHSA's or PAW's viewpoint or opinion and are not assessed for validity, reliability or quality. The Weekly Update should not be considered an endorsement of the findings. Readers are cautioned not to act on the results of single studies, but rather to seek bodies of evidence. Copyright considerations prevent PAW from providing full text of journal articles listed in the Weekly Update.