The Prevention of Prescription Drug Abuse in the Workplace (PAW) TA Center addresses prescription drug abuse—a growing public health problem with increasing burdens on workers, workplaces, and our economy. To subscribe colleagues, family members, or friends to this listserv sponsored by the Substance Abuse and Mental Health Services Administration (SAMHSA), please click here or send their e-mail addresses to paw@dsgonline.com.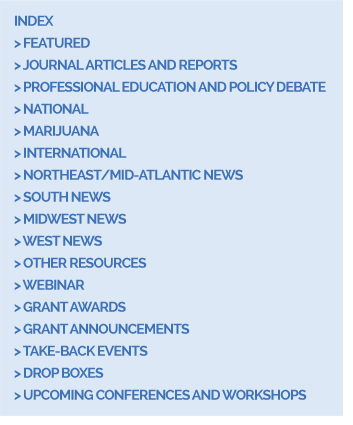 Featured
Prescription Painkillers and the Workforce
Sarah Trotto, National Safety Council, Safety+Health Magazine
September 27, 2015

Nearly half of respondents to a National Safety Council (NSC) poll participated in a potentially unsafe activity while using an opioid, including 39 percent who went to work. Experts say policies, training, testing, and therapy are key tools that can help address opioid misuse. NSC has created policy statements as part of an initiative to prevent prescription drug overdose. The council recommends employers use a "comprehensive approach," including supervisor training for identifying impaired workers, drug testing for all common opioids, employee assistance programs with treatment, and a clear explanation of drugs not allowed in safety-sensitive jobs. This article details one employer's approach to help injured workers.

Read more:
http://www.safetyandhealthmagazine.com/articles/12932-prescription-drugs-workers

New Report Urges National, State Action on Drugged Driving
J. Hedlund, Governors Highway Safety Association
Accessed October 2015

Drug use by drivers is a mounting concern, particularly in light of more permissive marijuana laws and an increase in prescription drug misuse. This report summarizes the state of knowledge on drug-impaired driving, state laws governing driving under the influence of drugs, and enforcement, prosecution, adjudication, and sanctioning strategies. It recommends examining and updating drug-impaired driving laws; providing training to law enforcement, prosecutors, and judges; testing all fatally injured drivers for drug use; and tracking drug-impaired driver crash data separately from alcohol-impaired data. The report also suggests federal actions to support state efforts, including a national drugged driving education campaign, standardized roadside testing policies and devices, and data collection guidelines. The Governors Highway Safety Association encourages the National Highway Traffic Safety Administration to issue guidance on best practices for preventing marijuana-impaired driving.

Read more:
http://www.ghsa.org/html/media/pressreleases/2015/20150930drugged.html
http://www.ghsa.org/html/publications/2015drugged.html
Journal Articles and Reports
M. Bawor, B.B. Dennis, A. Bhalerao, C. Plater, A. Worster, M. Varenbut, J. Daiter, D.C. Marsh, D. Desai, M. Steiner, R. Anglin, G. Pare, L. Thabane, and Z. Samaan. 2015. "Sex Differences in Outcomes of Methadone Maintenance Treatment for Opioid Use Disorder: A Systematic Review and Meta-Analysis." CMAJ Open 3(3):E344–E351, doi:10.9778/cmajo.20140089.

A systematic review identified 18 generally low-quality observational studies and 2 randomized controlled trials of adult methadone treatment for opioid use disorder that reported data by sex. Pooled data from two to three low-quality studies showed women were less likely to use alcohol (odds ratio [OR] 0.5), more likely to use amphetamines (OR 1.5), had less legal involvement (OR 0.6), and were less likely to be employed during treatment (OR 0.4). Opioid use patterns were similar among men and women in methadone treatment.

Read more:
http://www.cmajopen.ca/content/3/3/E344.abstract

Injuries Cost the US $671 Billion in 2013
Centers for Disease Control and Prevention
September 30, 2015

In 2013, lifetime medical and work loss costs of fatal and emergency department–treated injuries were $671 billion. Drug poisonings, including prescription drug and heroin overdoses, accounted for the largest share of the $214 billion in fatality costs: 27 percent. In contrast, all poisonings accounted for only 2.6 percent of the $457 billion for nonfatal injuries. Centers for Disease Control and Prevention Director Tom Frieden said, "The doubling since 2000 of deaths by drug poisoning, including prescription drug overdose and heroin, is particularly alarming."

Read more:
http://www.cdc.gov/media/releases/2015/p0930-injury-costs.html
Related Articles
C. Florence, T. Simon, T. Haegerich, F. Luo, and C. Zhou. "Estimated Lifetime Medical and Work-Loss Costs of Fatal Injuries—United States, 2013." Centers for Disease Control and Prevention, Morbidity and Mortality Weekly Report 64(38):1074–77.

Read more:
http://www.cdc.gov/mmwr/preview/mmwrhtml/mm6438a4.htm

C. Florence, T. Haegerich, T. Simon, C. Zhou, and F. Luo. "Estimated Lifetime Medical and Work-Loss Costs of Emergency Department–Treated Nonfatal Injuries—United States, 2013." Centers for Disease Control and Prevention, Morbidity and Mortality Weekly Report 64(38):1078–82.

Read more:
http://www.cdc.gov/mmwr/preview/mmwrhtml/mm6438a5.htm
A. Harocopos and B. Allen. 2015. "Routes into Opioid Analgesic Misuse: Emergent Typologies of Initiation." Journal of Drug Issues 4(4):385–95, doi:10.1177/0022042615604345.

Five small focus groups with a total of 19 people ages 20–47 who misused opioid analgesics in New York City identified three initiate groups: recreational initiates, who typically began misusing opioids in their teens through nonmedical sources; medical initiates, who initiated opioid use through medical treatment; and experienced opioid users, who initiated opioid use through both recreational and medical channels but whose entry into misuse followed a history of heroin use.

Read more:
http://jod.sagepub.com/content/45/4/385.short

H.J. Saade, A. Dedea, L. Dedea, J. Dhabliwala, A.T. Pusser, J.A. Johnson, and J.P. Seale. 2015. "Value of Saliva Testing When Added to Questionnaire Screening for Unhealthy Drug Use." Abstract: Inebria Conference. Addiction Science and Clinical Practice 10(Suppl. 2):O25, doi:10.1186/1940-0640-10-S2-O25.

In the medical–surgical area of an urban emergency department in Macon, Ga., 208 patients were interviewed about their drug use, with 111 agreeing to saliva testing. Two patients were positive for undisclosed cocaine and one tested positive for unreported barbiturate use.

Read more:
http://www.ascpjournal.org/content/10/S2/O25

R. Saitz, D.P. Alford, J.S. German, J.H. Samet, D.M Cheng, and C.A. Lloyd–Travaglini. 2015. "Primary Care Patients with Drug Use Identified by Screening Self-Medicate with Alcohol and Other Drugs for Chronic Pain." Abstract: Inebria Conference. Addiction Science and Clinical Practice 10(Suppl. 2):P15, doi:10.1186/1940-0640-10-S2-P15.

Among 589 adult patients at a Boston hospital-based primary care practice who screened positive for illicit drug use or prescription drug misuse, 87 percent reported chronic pain, with 13 percent indicating mild pain, 25 percent indicating moderate pain, and 50 percent indicating severe pain. Seventy-four percent reported pain-related dysfunction, with 15 percent experiencing mild dysfunction, 23 percent experiencing moderate dysfunction, and 36 percent experiencing severe dysfunction. Half said they used marijuana, cocaine, or heroin to treat pain, as did 81 percent of the 121 prescription drug misusers. Of 265 participants who reported drinking alcohol, 38 percent said they drank to treat pain. This included 61 percent of the 114 heavy alcohol users.

Read more:
http://www.ascpjournal.org/content/10/S2/P15

E.C. Saunders, M.P. McGovern, C. Lambert–Harris, A. Meier, B. McLeman, and H. Xie. 2015. "The Impact of Addiction Medications on Treatment Outcomes for Persons with Co-Occurring PTSD and Opioid Use Disorders." The American Journal on Addictions, doi:10.1111/ajad.12292.

In a small randomized trial, 126 patients who met criteria for opioid use disorders were assigned to Standard Care alone, Integrated Cognitive Behavioral Therapy (ICBT) plus Standard Care, or Individual Addiction Counseling plus Standard Care. Symptoms were reassessed at 6 months. Medication-assisted treatment patients receiving ICBT had lower odds of a positive urine drug screen than nonmedication-assisted treatment patients receiving Standard Care alone (odds ratio = .07). Medication-assisted treatment patients had comparable declines in post-traumatic stress disorder symptoms, regardless of psychosocial treatment type.

Read more:
http://onlinelibrary.wiley.com/doi/10.1111/ajad.12292/abstract

A. Shei, M. Hirst, N.Y. Kirson, C.J. Enloe, H.G. Birnbaum, and W. Dunlop. 2015. "Estimating the Health Care Burden of Prescription Opioid Abuse in Five European Countries." ClinicoEconomics and Outcomes Research 7:477–88, doi:10.2147/CEOR.S85213.

In published data for France, Germany, Italy, Spain, and the United Kingdom, prevalence of prescription overdose ranged from 0.7 to 13.7 per 10,000 population. Applying a published estimate of the incremental healthcare costs of opioid misuse disorder suggests its healthcare costs ranged from €900 to €2,551 per patient per year. The annual healthcare cost burden of misuse ranged from €6,264 to €279,927 per 100,000 individuals across the five countries.

Read more:
http://www.ncbi.nlm.nih.gov/pmc/articles/PMC4577260

A. Shei, B. Rice, N.Y. Kirson, K. Bodnar, C.J. Enloe, H.G. Birnbaum, P. Holly, and R. Ben–Joseph. 2015. "Characteristics of High-Cost Patients Diagnosed with Opioid Abuse." Journal of Managed Care and Specialty Pharmacy 21(10):902–12.

This analysis of OptumHealth Reporting and Insights medical and pharmacy claims data from the first quarter of 1999 to the first quarter of 2012 focused on 9,241 patients ages 12–64 who had a ICD9–CM diagnosis of opioid abuse during or after 2006, no prior diagnoses of opioid abuse, and continuous non–HMO coverage over an 18-month study period. The patients' study period comprised a 12-month observation period centered on the date of first opioid abuse diagnosis and a 6-month baseline period immediately preceding the observation period. The study lacked a comparison group of users who were not misusing. Twenty percent of patients who misused accounted for two thirds of the group's healthcare costs. Compared with lower-cost patients, these high-cost patients were older (42 vs. 36) and more likely to be female (56 percent vs. 43 percent), and they had higher comorbidity at baseline (Charlson Comorbidity Index 0.8 vs. 0.2). They also had higher rates of chronic pulmonary disease (13 percent vs. 6 percent), mild/moderate diabetes (8 percent vs. 3 percent), nonopioid substance use disorders (12 percent vs. 9 percent), and psychotic disorders (26 percent vs. 14 percent). In the observation period, high-cost patients continued to have higher rates of nonopioid substance abuse diagnoses (53 percent vs. 47 percent) and psychotic disorders (67 percent vs. 48 percent). They also had greater medical resource use across all places of service (inpatient, emergency department, outpatient, drug/alcohol rehabilitation facility, and other). The mean observation period healthcare costs were $27,158, with high-cost patients averaging $89,177 compared with $11,653 for other, healthier patients. Only 27 percent of the variation in observation period healthcare costs was explained by patient characteristics in the baseline period.

Read more:
http://www.ncbi.nlm.nih.gov/pubmed/26402390
Professional Education and Policy Debate
D. Aschenbrenner. 2015. "Disposal of Unused Drugs in the Community." American Journal of Nursing 115(10):20–21, doi:10.1097/01.NAJ.0000471936.46794.7f.

On its website, the Food and Drug Administration (FDA) offers consumer information about safe practices for medication disposal. The safest avenue for drug disposal is a local or national drug take-back program or national Drug Enforcement Administration–authorized collection site. Consumers may also mix drugs with unpalatable substances, place them in closed containers, and dispose of the mixture in their household trash. FDA recommends flushing drugs that carry a high risk of causing harm from accidental ingestion down the toilet, except in states that ban this practice.

Read more:
http://journals.lww.com/ajnonline/Abstract/2015/10000/Disposal_of_
Unused_Drugs_in_the_Community.20.aspx

S.L. Green and S. Pfenning. 2015. "Optimizing the Use of State Prescription Drug Monitoring Programs for Public Safety." Journal of Nursing Regulation, doi:10.1016/S2155-8256(15)30777-8.

This article describes the history of prescription monitoring programs (PMPs), efforts to improve PMP use for clinical decision making, and necessary steps to optimize the role of PMPs in state prescription drug abuse prevention strategies.

Read more:
http://www.journalofnursingregulation.com/article/S2155-8256(15)30777-8/abstract

M.F. Weaver, J.A. Hopper, and E.W. Gunderson. 2015. "Designer Drugs 2015: Assessment and Management." Addiction Science and Clinical Practice 10:8, doi:10.1186/s13722-015-0024-7.

Recent designer drugs include substituted cathinones (e.g., mephedrone, methylone, and methylenedioxypyrovalerone, often referred to as "bath salts"); synthetic cannabinoids (e.g., Spice); and synthetic hallucinogens (25I-NBOMe, or N-bomb). Compound availability has evolved rapidly to evade legal regulation and detection by routine drug testing. Young adults are the primary users, but trends are changing rapidly, with use becoming popular among the military. Acute toxicity is common and often manifests with a constellation of psychiatric and medical effects, which may be severe. Multiple deaths have been reported with each type of designer drug. Clinicians should keep designer drugs in mind when evaluating substance use in young adults or anyone presenting with acute neuropsychiatric complaints. Treatment of acute intoxication involves supportive care targeting manifesting signs and symptoms.

Read more:
http://www.ascpjournal.org/content/10/1/8
National
AGs Support Federal Legislation to Combat Epidemic of Heroin Addiction and Prescription Drug Abuse
National Association of Attorneys General
September 29, 2015

The National Association of Attorneys General wrote congressional committee leaders in support of the Comprehensive Addiction and Recovery Act of 2015 (S.524/H.R. 953), which would give states the necessary tools to effectively confront heroin addiction and prescription pain reliever misuse in communities. This act lays out a strategy that includes prevention, enforcement, reduction of overdose deaths, evidence-based treatment, and support for those in or seeking recovery. Signers were attorneys general from 37 states and the District of Columbia.

Read more:
http://www.naag.org/naag/media/naag-news/ags-support-federal-legislation-to-combat-epidemic-of-heroin-addiction-and-prescription-drug-abuse.php

Obama Vows to Fight Prescription Drug Abuse
Ariel Cohen, Washington Examiner
September 26, 2015

President Obama highlighted the importance of prescription drug safety in his weekly address. Obama's administration implemented the Prescription Drug Abuse Prevention Plan, partnering with communities to prevent overdoses and equipping first responders with naloxone. The president wants to focus more on this issue in the week to come because "it's a challenge we can solve if we work together." (Includes video: 4:11 minutes)

Read more:
http://www.washingtonexaminer.com/obama-vows-to-fight-prescription-drug-abuse/article/2572881

FDA Rebuts Letter from Sen. King, Others, About Opioid Prescriptions for Pediatric Patients
James Lawlor, Portland Press Herald
September 28, 2015

The Food and Drug Administration (FDA) criticized a letter sent by eight U.S. senators over the agency's policy allowing OxyContin prescribing to children ages 11–16. The FDA approved guidelines for pediatric use this summer. Once a drug receives an "on label" designation by the FDA, it is legal for pharmaceutical companies to market and promote its use, but they can no longer promote more liberal off-label use. An FDA spokesman said the new rule does not expand access to OxyContin but sets prescribing standards. Senator Angus King was "puzzled" by the FDA's response, saying the agency should have had an advisory committee on the topic to hash out potential impacts of the new guidelines for children.

Read more:
http://www.pressherald.com/2015/09/28/fda-rebuts-letter-from-sen-king-others-about-opioid-prescriptions-for-pediatric-patients
MARIJUANA
B. Fischer, S. Kuganesan, A. Gallassi, R. Malcher–Lopes, W. van den Brink, and E. Wood. 2015. "Addressing the Stimulant Treatment Gap: A Call to Investigate the Therapeutic Benefits Potential of Cannabinoids for Crack-Cocaine Use." The International Journal of Drug Policy, doi:10.1016/j.drugpo.2015.09.005.

The authors speculate that cannabidiol might have therapeutic benefits for treating crack cocaine misuse disorders and related adverse symptoms.

Read more:
http://www.ijdp.org/article/S0955-3959(15)00300-X/abstract

Prescribed Marijuana vs. Workplace Drug Testing
Christopher B. Dolan, The San Francisco Examiner
October 1, 2015

Attorney Christopher B. Dolan answers a reader in San Mateo, Calif., who asks: Can a company refuse to employ me or fire me if I have a prescription for medical marijuana and show up positive on a drug test? According to Mr. Dolan, the reader could be denied employment if she tests positive for THC. The Compassionate Use Act protects her from arrest but not termination. He suggests speaking openly and honestly with a potential employer about the ability to pass a test or seek employment at a location that does not screen employees.

Read more:
http://www.sfexaminer.com/prescribed-marijuana-vs-workplace-drug-testing

Colorado Medical Marijuana Advocates Alarmed by Proposed Policy Change
David Olinger, The Denver Post
October 1, 2015

The Colorado Medical Board proposed a policy requiring doctors who recommend marijuana to become competent in pain treatment, keep extensive records on their patients, and advise them of risks, including death. The policy also suggests "pregnancy testing during the initial evaluation should be considered for all women of child-bearing age." Medical marijuana advocates fear such a policy would shut down the medical marijuana program. A state regulatory official assured them no such outcome is intended.

Read more:
http://www.canoncitydailyrecord.com/ci_28904627/colorado-medical-marijuana-advocates-alarmed-by-proposed-policy

Seven Denver Cannabis Shops Busted for Selling to Minors
Marijuana Business Daily
October 2, 2015

Denver police announced that several cannabis stores were cited for selling to minors. During the sting operation, 7 of 30 stores tested sold to minors, unlike in 2014, when none did. The cited shops were The Herbal Cure, The Healing House, Pure Medical Dispensary, LaContes Clone Bar, Herbs 4 You, Mile High Green Cross, and Higher Expectations. It is unclear if they will lose their business licenses.

Read more:
http://mjbizdaily.com/7-denver-cannabis-shops-busted-for-selling-to-minors

Oregon Marijuana Shops Begin Sales to Recreational Users
Jonathan J. Cooper and Bob Seavey, Associated Press
October 1, 2015

Oregon marijuana shops began selling marijuana to recreational users ages 21 and older. Marijuana purchases will be tax-free until January, and customers can buy as much as 7 grams at a time of dried marijuana flower and leaf, plus plants and seeds. For the next year or so, marijuana-infused candy, cookies, oils, and lotions will be available only to people with medical marijuana cards, as the state works on retail regulations involving these products. Store owners hope to avoid the shortages and price spikes that followed the start of legal sales last year in Washington and Colorado.

Read more:
http://abcnews.go.com/US/wireStory/oregon-marijuana-shops-begin-sales-recreational-users-34169209

The Nation's First Marijuana 'Resort' to Open in South Dakota
Katy Osborn, Time
September 29, 2015

The Flandreau Santee Sioux Indian tribe in South Dakota plans to open the nation's first marijuana resort on New Year's Eve. The resort will grow its own marijuana and feature a smoking lounge with food and bar service and a nightclub. Santee Sioux leaders plan to eventually add slot machines and an outdoor music venue. The tribe estimates up to $24 million a year in profits for this project.

Read more:
http://time.com/money/4054120/marijuana-resort

Healthy Options: Medicinal Cannabis Effective for Pain, and More
Jan Fishler, The Union
September 29, 2015

Dr. Stephen Banister, whose 45-year career has covered primary care, holistic medicine, narcotic pain management, and use of medicinal cannabis, discusses how his practice has changed since the 1996 passage of California Proposition 215 (the Medical Use of Marijuana Initiative and Compassionate Use Act). Dr. Banister also discusses the effectiveness of cannabis for pain management, other uses, and the best way to use the drug.

Read more:
http://www.theunion.com/news/18407984-113/healthy-options-medicinal-cannabis-effective-for-pain-and#

Panel to Discuss Overdose Epidemic of K2 in Willimantic
Crystal Hall, Fox CT
September 29, 2015

A panel discussion at Eastern Connecticut State University will discuss the dangers of K2, a synthetic "marijuana." The discussion will also address heroin and prescription drug misuse. Several people were arrested in May after nearly a dozen went to the hospital having ingested K2 laced with other drugs. In July, officers reported 12 overdoses in a single day. And in September, Willimantic police responded to seven overdoses stemming from K2 use in 1 day.

Read more:
http://foxct.com/2015/09/29/panel-to-discuss-overdose-epidemic-of-k2-in-willimantic

All of These CEOs Have Admitted to Smoking Marijuana
Daniel Bukszpan, Fortune
September 30, 2015

Fortune lists seven current and former CEOs who admit they smoked pot: Michael Bloomberg, former mayor of New York City and CEO of Bloomberg Media; Richard Branson, founder of Virgin Group; Hugh Hefner, founder of Playboy Enterprises; Mark Johnson, CEO and co-founder of Descartes Labs; Peter Lewis, former CEO of Progressive Insurance Company; John Sperling, former CEO of the University of Phoenix; Oprah Winfrey, CEO of Harpo Productions and the Oprah Winfrey Network; and George Zimmer, founder and former CEO of Men's Wearhouse. The article describes their positions on legalization, if known.

Read more:
http://fortune.com/2015/09/30/ceos-marijuana-smoking
International
Opioid Prescription Painkiller Misuse Surges
Alana Schetzer, The Sydney Morning Herald
September 28, 2015

The latest National Drug Strategy Household Survey report showed opioid pain reliever misuse increased from 4.8 percent of the Australian population in 2010 to 7.7 percent in 2013. The Royal Australasian College of Physicians wants more education for doctors on how chronic pain is treated and a reevaluation of other treatments to reduce "inappropriate" prescriptions.

Read more:
http://www.smh.com.au/national/opioid-prescription-painkiller-misuse-almost-doubles-20150928-gjweiz.html
Northeast/Mid-Atlantic News
Massachusetts Senate OKs Bill to Address Opioid Crisis
The Washington Times
October 1, 2015

The Massachusetts Senate passed a bill that would encourage doctors to consider new approaches for treating pain and increase screening of public school students for substance misuse. Doctors and pharmacists would be encouraged to prescribe federally approved, nonopioid drug products that have proven effective in pain management. Physicians would also be required to explain—in writing—the decisions they make to prescribe certain "high risk" medications. Patients could place a note in their medical records declaring they do not want opiates prescribed under any circumstances. Pharmacists, at a patient's request, could fill part but not all of a doctor's prescription. The bill heads to the House.

Read more:
http://www.washingtontimes.com/news/2015/oct/1/alternative-pain-management-focus-of-senate-opioid/

Mass. General to Pay $2.3 Million over Drug Thefts
Travis Andersen, The Boston Globe
September 28, 2015

Massachusetts General Hospital will pay a record $2.3 million settlement to the federal government to resolve allegations that its lax control over the facility's drug supply allowed employees to steal thousands of pain pills. U.S. Attorney Ortiz said the settlement is the largest amount ever paid for a case involving alleged drug diversion or use of substances for nonmedical purposes at a hospital. The settlement did not indicate whether any employees cited for misconduct were fired or criminally charged.

Read more:
https://www.bostonglobe.com/metro/2015/09/28/mass-general-agrees-pay-million-settlement-federal-government-over-drug-thefts/NNgyVznhbmJnRuc3W2dYOK/story.html

State Launches Investigation into How Opioids Were Marketed in N.H.
Brian Wallstin, NHPR
September 29, 2015

The New Hampshire Attorney General's Office is investigating marketing claims by prescription opioid manufacturers. The investigation focuses on whether the drug makers played down opioid addiction risks while overstating the benefits as a long-term treatment for chronic pain. Investigators will look into allegations that fraudulent marketing practices prevented patients from making informed decisions about the drugs.

Read more:
http://nhpr.org/post/state-launches-investigation-how-opioids-were-marketed-nh

New Hampshire Launches Statewide Opioid Awareness Campaign
Paige Sutterland, NHPR
September 29, 2015

New Hampshire Governor Maggie Hassan announced a new campaign, "Anyone Anytime NH," which includes a 24-hour hotline and website with opioid use guidelines and resources. It also provides information on how to obtain and administer naloxone—available for free at community health centers throughout the state. (Includes audio: 45 seconds)

Read more:
http://nhpr.org/post/new-hampshire-launches-statewide-opioid-awareness-campaign

Bill Aims to Expand Prescription Drug Drop-Offs: Called the 'Pharmaceutical Stewardship Act'
WROC
September 27, 2015

New York House member Louise Slaughter is pushing a bill called the "Pharmaceutical Stewardship Act," which would make pharmaceutical companies financially responsible for proper disposal of prescription and over-the-counter drugs. The bill would also create drug take-back programs in every county. (Includes video: 1:24 minutes)

Read more:
http://www.rochesterfirst.com/news/local-news/bill-aims-to-expand-prescription-drug-drop-offs

Three Things AG Kilmartin's Doing to Fight Opioid Abuse in RI
Bill Tomison, WPRI
September 29, 2015

Rhode Island Attorney General Kilmartin announced three ways his office is working to fight opioid misuse: a pitch to Congress for more funding, a rebate agreement on the overdose antidote drug often used, and comparing notes and ideas with other attorneys general of the region late next month.

Read more:
http://wpri.com/2015/09/29/3-things-ag-kilmartins-doing-to-fight-opioid-abuse-in-ri

Safe Homes Campaign Aims to Stem Rampant Misuse of Prescription Drugs
Gintautas Dumcius, MassLive
September 30, 2015

The Safe Homes Coalition announced 10,000 resealable plastic bags will be distributed throughout the Greater Boston area so residents can secure their medications. This initiative is part of its "Keep Kids Safe" program to raise awareness about prescription drug misuse. The coalition is working with realtors to promote the program and its resealable plastic bags.

Read more:
http://www.masslive.com/news/boston/index.ssf/2015/09/safe_homes_
campaign_aims_to_st.html
South News
Heroin Substitute Fentanyl, Not Infamous Flakka, Is Deadliest New Designer Drug
Jay Weaver and David Ovalle, Miami Herald
September 27, 2015

Florida authorities are seeing a rise in the number of addicts, emergency room visits, and deaths from fentanyl use. In Manatee County, Fla., a number of recent drug overdose deaths have been attributed to heroin mixed with fentanyl. A Miami Herald review of medical examiner records in Miami–Dade and Broward Counties revealed fentanyl is deadlier in South Florida. Investigators believe underground labs in China are fueling the synthetics pipeline. They have concocted illegal fentanyl and chemically tweaked "analogs" typically sold as heroin or mixed with it. (Includes video: 1:39 minutes)

Read more:
http://www.bradenton.com/news/local/heroin-epidemic/article37069065.html

State Report Shows Florida Heroin Deaths Reached All-Time High in 2014
Dan Sullivan, Tampa Bay Times
September 30, 2015

The vast majority of the 8,587 Floridians whose 2014 deaths were drug related had more than one drug in their systems. Florida medical examiners reported heroin was detected in 447 fatalities in 2014—an all-time high. That more than doubles the number (199) in 2013. Fentanyl was detected in 538 deaths, up 84 percent from 292 fatalities in 2013. Oxycodone was either detected in or blamed for the deaths of 978 people, a decrease of 7 percent from 1,053 in 2013. Alprazolam was detected in or blamed for 1,316 deaths, up 5 percent from the 1,244 fatalities in 2013.

Read more:
http://www.tampabay.com/news/publicsafety/state-report-shows-florida-heroin-deaths-reached-all-time-high-in-2014/2247848
Midwest News
Overdose Deaths Epidemic in Tennessee
Becky Fletcher, The Tennessean
September 28, 2015

The Tennessee Department of Health reported that at least 1,263 residents died last year from opioid overdoses, up 97 deaths from 2013. There were more than 100 deaths in Davidson, Knox, and Shelby Counties, while 25 other counties reported at least 12 deaths. All but four counties had at least one overdose death in 2014. Drug overdoses in the state jumped from 16.6 percent per 100,000 deaths in 2011 to 19.3 percent per 100,000 deaths in 2014. This article includes the number of overdose deaths by county.

Read more:
http://www.tennessean.com/story/money/industries/health-care/2015/09/27/overdose-deaths-epidemic-tennessee/32557463

Teen Prescription Drug Overdose Inspires Push for 'Good Samaritan' Exemption in Michigan Law
Jonathan Oosting, MLive Media Group
September 29, 2015

Mason Mizwicki, 16, died from a methadone overdose. He asked for help, but no one called 911 for fear of getting in trouble. Now, Mason's parents are lobbying for a change in Michigan law. House Bill 4843 would create a "Good Samaritan" exemption for individuals under 21 who seek medical attention for themselves or anyone else who has overdosed. The proposal would not protect drug dealers from prosecution, and individuals could still be charged with related crimes. The Criminal Justice Committee did not vote on the bill but is expected to take up the legislation again at a later date.

Read more:
http://www.mlive.com/lansing-news/index.ssf/2015/09/teen_prescription_drug_overdos.html

Hospital Hopes to Reduce Heroin Addiction by Limiting Access to Prescription Pills
Ryan Shek, MLive Media Group
September 29, 2015

Michigan Lt. Governor Brian Calley visited Allegiance Health to learn more about the hospital's efforts to curtail opiate addiction. Allegiance has had success following restrictive prescription practices and 2012 guidelines.

Read more:
http://www.mlive.com/news/jackson/index.ssf/2015/09/lt_governor_visits_allegiance.html

Canton Police Now Has Narcan on Hand
Ed Balint, The Repository
September 30, 2015

Ohio's Canton Police Department now carries naloxone. Funding was provided by the Mental Health and Recovery Services Board of Stark County to purchase 50 kits. The local fire department received 158 overdose calls and administered naloxone 58 times from January through late September of 2014. The fire department received 210 overdose calls and administered naloxone 72 times during the same time period in 2015.

Read more:
http://www.cantonrep.com/article/20150929/NEWS/150929269
West News
We Have a Prescription Pill Problem
The Las Vegas Sun
September 28, 2015

Nevada is among the states with the highest number of pain reliever prescriptions per capita, the worst prescription pain reliever misuse problems, and the most deaths from prescription drug overdoses. Data from the Nevada Pharmacy Board place the state second in the country for prescriptions written for oxycodone, Percocet, and hydrocodone. This article lists the number of prescriptions written for pain medicine by zip code from January 2010 to June 2012.

Read more:
http://lasvegassun.com/news/2015/sep/28/prescription-pill-problem-Nevada
Other Resources
Psychiatry Grand Rounds: Prescription Drug Abuse and Adolescence
University of Florida, College of Medicine
Release date: September 30, 2015
Expiration date: September 29, 2016

This continuing medical education activity has two components: 1) slides and an audio lecture in an electronic format and 2) an online post-test. Participants should be able to cite the trends (prevalence) in adolescents' medical misuse and nonmedical use and diversion of scheduled medications (e.g., opioid analgesics, stimulants, anxiolytics, and sedatives); identify limitations of current knowledge relative to prescription drug misuse; differentiate among sub-types of medical and nonmedical users; and evaluate the four components of a prevention message for patients.

Read more:
http://cme.ufl.edu/department-of-psychiatry-online-grand-rounds/prescription-drug-abuse-and-adolescence
Webinar
Basic Pharmacology of Commonly Misused Prescription Drugs
The Ohio State University
October 26, 2015, 2–3 p.m. (Eastern)

Participants will be able to describe how opioid pain medications, sedatives, and stimulants affect the body; understand why misusers extract medicines from capsules and/or tablets; and appreciate why some people become addicted to these substances while others do not.

Read more:
https://csw.osu.edu/Payment/index.php
Grant Awards
2015 BJA Harold Rogers PDMP Grant Awards Announcement
Prescription Drug Monitoring Program Training and Technical Assistance Center, Brandeis University
Accessed September 29, 2015

The Bureau of Justice Assistance announced awards for the FY 2015 Harold Rogers Prescription Drug Monitoring Program (PDMP) grants in three categories.

Read more:
http://www.pdmpassist.org/content/2015-bja-harold-rogers-pdmp-grant-awards-announcement

Category 1
http://grants.ojp.usdoj.gov:85/selector/title?solicitationTitle=BJA FY 15 Harold Rogers Prescription Drug Monitoring Program: PDMP Implementation and Enhancement Grants&po=BJA

Category 2
http://grants.ojp.usdoj.gov:85/selector/title?solicitationTitle=BJA FY 15 Harold Rogers Prescription Drug Monitoring Program: PDMP Practitioner and Research Partnerships&po=BJA

Category 3
http://grants.ojp.usdoj.gov:85/selector/title?solicitationTitle=BJA FY 15 Harold Rogers Prescription Drug Monitoring Program: Data-Driven Multi-Disciplinary Approaches to Reducing Rx Abuse Grants&po=BJA
Grant Announcements
Medication Assisted Treatment Iowa for Prescription Drug and Opioid Addiction Treatment
Iowa Department of Health
Bid date: October 15, 2015, 4 p.m.
http://www.iowabids.com/bid-opportunities/2015/09/21/6583111-RFP--Medication-Assisted-Treatment-Iowa-for-Prescription-Drug-and-Opioid-Addiction-Treatment.html

2016 Grant Funding Cycle
Community Action Coalition
Deadline: October 16, 2015
http://www.greensburgdailynews.com/news/cac-grant-applications-available/
article_4738ff77-2226-5e18-b4ff-2bcc45e15002.html

Partnership for Clean Competition
Pre-applications due November 1
Full applications due December 1
http://www.cleancompetition.org/Pages/programs-grants.aspx

NIDA Translational Avant-Garde Award for Development of Medication to Treat Substance Use Disorders
U.S. Department of Health and Human Services, National Institutes of Health
Deadline: December 3, 2015
http://www.grants.gov/web/grants/search-grants.html
Take-Back Events
Prescription Drug Take Back Day Oct. 17
The Star (Wisconsin)
October 2, 2015
http://www.hngnews.com/sun_prairie_star/news/article_
de6219fc-690d-11e5-9cb8-b317ad5d1c03.html

17 Tons of Unwanted Prescription Drugs Turned In
(Editor's note: Total includes collections from state of Washington, Idaho, Oregon, and Alaska)
MyCentralOregon.com (Oregon)
September 30, 2015
http://www.mycentraloregon.com/2015/09/30/17-tons-of-unwanted-prescription-drugs-turned-in

Ohioans Got Rid of 13.5 Tons of Prescription Drugs Last Weekend
Alan Johnson, The Columbus Dispatch (Ohio)
September 30, 2015
http://www.dispatch.com/content/blogs/the-daily-briefing/2015/09/09.30.2015-pill-dump.html

Local Drug Dropoff Events Bring in 7.3 Tons
Karen Kucher, The San Diego Union-Tribune (California)
September 29, 2015
http://www.sandiegouniontribune.com/news/2015/sep/29/drugs-dropped-off-prescription-DEA

DEA: 10,700 Pounds of Prescription Drugs Collected in Houston
John Barned–Smith, Houston Chronicle (Texas)
September 26, 2015
http://www.chron.com/houston/article/DEA-drug-giveback-today-expected-to-net-10-000-6531963.php

MCSO Collects 2,100 Pounds of Medication in Drug Take-Back Program
Sarah Robinson, Ledger-Enquirer (Georgia)
September 29, 2015
http://www.ledger-enquirer.com/news/local/article36947916.html

BCSO Partnership Collects over 1,000 Pounds of Unused, Expired Prescription Medications
Wayne Ivey, Brevard County Sheriff (Florida)
September 30, 2015
http://spacecoastdaily.com/2015/09/bcso-partnership-collects-over-1000-pounds-of-unused-expired-prescription-medications

Drug Take-Back Day Nets 880 Pounds of Medications
Emily Nitcher, Arkansas Democrat Gazette (Arkansas)
September 27, 2015
http://m.arkansasonline.com/news/2015/sep/27/drug-take-back-day-nets-880-pounds-of-m/?latest

Prescription Drug Collection Event in Columbia Nets 649 Pounds of Unwanted Meds
Elaina Steingard, Missourian (Missouri)
September 28, 2015
http://www.columbiamissourian.com/news/local/prescription-drug-collection-event-in-columbia-nets-pounds-of-unwanted/article_a9651412-65e7-11e5-83ea-cfb633d474e2.html

National Prescription Drug Take Back Day at Henry Mayo Nets 158 Pounds of Unwanted Medications
Henry Mayo Newhall Hospital (California)
September 28, 2015
http://www.henrymayo.com/news-and-events/the-latest-at-henry-mayo/national-prescription-drug-take-back-day-at-henry-mayo-nets-158-pounds-of-unwanted
Drop Boxes
New East Side Prescription Drug Drop Off Location
Tucson News Now (Arizona)
September 28, 2015
http://www.tucsonnewsnow.com/story/30123669/new-eastside-prescription-drug-dropoff-location

Drug Take-Back Program Appears to Be Working Year-Round in County
Dan Brannan, Riverbender.com (Illinois)
October 1, 2015
http://www.riverbender.com/articles/details/drug-takeback-program-appears-to-be-working-yearround-in-county-9261.cfm

Assumption Parish Sheriff's Office Offers Prescription Drug Drop-Off Box
Bridget Mire, Houma Today (Louisiana)
September 28, 2015
http://www.houmatoday.com/article/20150928/ARTICLES/150929749?tc=ar

New Prescription Drug Drop Off Box at Annapolis Police Department
Eye on Annapolis (Maryland)
October 2, 2015
http://www.eyeonannapolis.net/2015/10/02/new-prescription-drug-drop-off-box-at-annapolis-police-department

Permanent Drug Deposit Boxes Installed
Tony Schinella, Concord Patch (New Hampshire)
October 2, 2015
http://patch.com/new-hampshire/concord-nh/permanent-drug-deposit-boxes-installed

Prescription Drug Take-Back Greatly Expanded in Onondaga County
WSYR (New York)
September 28, 2015
http://www.localsyr.com/news/local-news/prescription-drug-take-back-greatly-expanded-in-onondaga-county
Upcoming Conferences and Workshops
Sixth Annual Prescription Drug Abuse Symposium
State of Indiana, Attorney General's Office
October 28–29, 2015
Indianapolis, Indiana
http://www.in.gov/bitterpill/symposium.html

Register:
https://www.eventbrite.com/e/6th-annual-prescription-drug-abuse-symposium-tickets-17987317551

143rd Annual Meeting and Exposition—Health in All Policies
American Public Health Association
October 31–November 4, 2015
Chicago, Illinois
https://www.apha.org/events-and-meetings/annual

Register:
https://www.apha.org/events-and-meetings/annual/registration-information

2015 Fall Research Conference: The Golden Age of Evidence-Based Policy
Association for Public Policy Analysis and Management
November 12–14, 2015
Miami, Florida
http://www.appam.org/events/fall-research-conference/2015-fall-research-conference-information

Register:
http://www.appam.org/events/fall-research-conference/2015-fall-conference-registration

28th Annual National Prevention Network Conference: Bridging Research to Practice
National Prevention Network
November 17–19, 2015
Seattle, Washington
http://www.npnconference.org

Register:
http://www.npnconference.org/registration

University of Michigan Injury Center Prescription Drug Overdose Summit
University of Michigan Injury Center
December 1, 2015
Ann Arbor, Michigan
http://www.injurycenter.umich.edu/conferences/opioid-overdose-summit

Ensuring Access to Pain Care: Engaging Pain Medicine and Primary Care Teams
American Academy of Pain Medicine (AAPM)
February 18–21, 2016
Palm Springs, California
http://www.painmed.org/annualmeeting

2016 National Rx Drug Summit
March 28–31, 2016
Atlanta, Georgia
http://nationalrxdrugabusesummit.org
The Weekly Update is a service provided by the SAMHSA Preventing Prescription Abuse in the Workplace Technical Assistance Center (PAW) to keep the field abreast of recent news and journal articles to assist in forming policy, research, and programs to reduce prescription drug misuse or abuse. Please note, the materials listed are not reflective of SAMHSA's or PAW's viewpoint or opinion and are not assessed for validity, reliability or quality. The Weekly Update should not be considered an endorsement of the findings. Readers are cautioned not to act on the results of single studies, but rather to seek bodies of evidence. Copyright considerations prevent PAW from providing full text of journal articles listed in the Weekly Update.