The Prevention of Prescription Drug Abuse in the Workplace (PAW) TA Center addresses prescription drug abuse—a growing public health problem with increasing burdens on workers, workplaces, and our economy. To subscribe colleagues, family members, or friends to this listserv sponsored by the Substance Abuse and Mental Health Services Administration (SAMHSA), please click here or send their e-mail addresses to paw@dsgonline.com.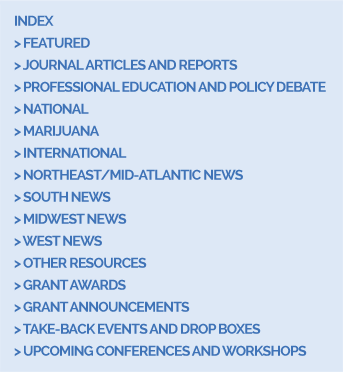 Featured
Fact Sheet: Obama Administration Announces Public and Private Sector Efforts to Address Prescription Drug Abuse and Heroin Use
The White House Office of the Press Secretary
October 21, 2015

President Obama announced federal, state, local, and private sector efforts aimed at addressing the prescription drug abuse and heroin epidemic. These efforts include commitments from more than 40 provider groups that will train over 540,000 healthcare providers on opioid prescribing during the next 2 years. In addition, CBS, ABC, The New York Times, Google, the National Basketball Association, Major League Baseball, and other companies will donate millions of dollars in media space for public service announcements produced by the Partnership for Drug-Free Kids on the risks of prescription drug misuse. The President issued a memorandum to federal departments and agencies directing them to increase prescriber training and improve access to medication-assisted treatment by broadening certification to prescribe and supervise use by large caseloads. The Drug Enforcement Administration will also hold National Prescription Drug Take-Back Day events in spring and fall of 2016.

Read more:
https://www.whitehouse.gov/the-press-office/2015/10/21/fact-sheet-obama-administration-announces-public-and-private-sector

The Problem Isn't Just Pills
Patrick J. Kennedy, The Washington Post
October 25, 2015

Although former Rhode Island Congressman Patrick Kennedy applauds the efforts announced by the President and stakeholders that will focus on prescription drug misuse, he says solving the problem requires addressing it through a broader lens. Kennedy writes of sitting in House Appropriations Committee meetings, popping OxyContin he became addicted to when treating back pain. He describes the ease in which he doctor shopped and his many failed attempts at detoxification. Kennedy says he only became drug free when he treated his underlying mental health problems. He believes we need to face opiate addiction as part of a wider revolution in the way we diagnose, treat, and insure against mental illness and addiction. Prescription opiate addiction, he argues, "is not an isolated problem, and it shouldn't be dealt with in a line-item way: It reflects our larger failure to integrate addiction and mental illness care into our general medical care. The pills don't cause this problem, they exploit a vulnerability in our medical safety net. … This vulnerability can be addressed only if this administration—and the next one—commits fully to enforcing the protections of the Mental Health Parity and Addiction Equity Act and the Affordable Care Act. These protections require full disclosure by all medical insurers of how they make medical-management decisions on approving, refusing, or prematurely shortening care for addiction and mental health. We need to be able to determine, once and for all, if the same criteria are being used for brain-disease care as for treatments of disorders of any other organ. Medical insurers—including the nation's biggest insurer, the federal government through the Centers for Medicare and Medicaid Services—are not fulfilling their responsibilities under these laws."

Read more:
http://www.pressreader.com/usa/the-washington-post-sunday/20151025/281870117295336/TextView
Journal Articles and Reports
C.S. Davis and D. Carr. 2015. "Legal Changes to Increase Access to Naloxone for Opioid Overdose Reversal in the United States." Drug and Alcohol Dependence, doi:10.1016/j.drugalcdep.2015.10.013.

As of September 2015, 43 states and the District of Columbia have passed laws to increase layperson naloxone access. This article summarizes the provisions of these laws across three domains: 1) laws intended to increase naloxone prescribing and distribution, 2) laws intended to increase pharmacy naloxone access, and 3) laws intended to encourage overdose witnesses to summon emergency responders. The laws vary regarding the types of individuals who can receive a prescription for naloxone, whether laypeople can dispense the medication, and immunity provided to those who prescribe, dispense, and administer naloxone or report an overdose emergency.

Read more:
http://www.drugandalcoholdependence.com/article/S0376-8716(15)01695-6/abstract

Y. Finkelstein, G. Goel, J.R. Hutson, J. Armstrong, C.R. Baum, P. Wax, and J. Brent. 2015. "Drug Misuse in Adolescents Presenting to the Emergency Department." Pediatric Emergency Care. Epub ahead of print.

Using the 37-site ToxIC (Toxicology Investigators Consortium) Case Registry, a cross-country surveillance tool, the authors analyzed data from all patients aged 13–18 who presented to U.S. emergency departments with drug misuse and required a bedside medical toxicology consultation between January 2010 and June 2013. Of 3,043 poisonings, 202 (7 percent) involved drug misuse (69 percent of the 202 were males). Illicit drugs (primarily synthetic cannabinoids and "bath salts") were encountered in 50 percent, followed by prescription medications (28 percent) and over-the-counter drugs (25 percent). Polypharmacy exposure was documented in 37 percent. Eighty-one percent were symptomatic. The most common symptoms were central nervous system impairments (81 percent), psychosis (38 percent), agitation (30 percent), coma (26 percent), myoclonus (11 percent), and seizures (10 percent). Benzodiazepines were the most frequently administered medications (46 percent). Antidotes, primarily naloxone, physostigmine, N-acetyl-cysteine, and flumazenil, were administered to 28 percent. No deaths were recorded.

Read more:
http://www.ncbi.nlm.nih.gov/pubmed/26466148

E.J. Gladstone, K. Smolina, D. Weymann, K. Rutherford, and S.G. Morgan. 2015. "Geographic Variations in Prescription Opioid Dispensations and Deaths Among Women and Men in British Columbia, Canada." Medical Care 53(110):954–59, doi:10.1097/MLR.0000000000000431.

In British Columbia between 2004 and 2013, 46 percent of women and 71 percent of men who died from overdoses involving prescription opioids did not have an active opioid prescription in the 60 days before their deaths. Analyzing data by sex for small geographic areas showed that, like the United States, the opioid-related death rate in British Columbia tracked the rate of prescription opioid dispensing.

Read more:
http://journals.lww.com/lww-medicalcare/Abstract/2015/11000/Geographic_Variations_in_Prescription_Opioid.7.aspx

B. Larance, R. Mattick, R. Ali, N. Lintzeris, R. Jenkinson, N. White, I. Kihas, R. Cassidy, and L. Degenhardt. 2015. "Diversion and Injection of Buprenorphine–Naloxone Film Two Years Post-Introduction in Australia." Drug and Alcohol Review, doi:10.1111/dar.12344.

In 2013, 2 years after buprenorphine treatment was introduced in Australia, researchers surveyed 444 regular drug injectors in the Australian Illicit Drug Reporting System panel who were not in treatment in 2013, 492 opioid substitution therapy clients, and 44 experts (primarily treatment providers). Key outcomes were unsanctioned removal of supervised doses, diversion, injection, and street price. Prevalence of past 6-month injection among people who inject drugs was adjusted for background availability of opioid substitution therapy medications using sales data. Among drug injectors who were not in treatment, rates of injection at least weekly were comparable for buprenorphine–naloxone film, methadone, and buprenorphine–naloxone tablets, and lower than those for mono-buprenorphine, adjusting for background availability. More mono-buprenorphine clients (25 percent) regularly injected their medication than did clients prescribed buprenorphine–naloxone film (3 percent), methadone (3 percent), or buprenorphine–naloxone tablets (2 percent). The experts said buprenorphine–naloxone film needed less supervised dosing time, as it dissolved rapidly and was harder to remove from the mouth than sublingual tablets. However, removal of supervised doses was higher among buprenorphine–naloxone film clients (15 percent) than among methadone clients (3 percent) and not significantly different from buprenorphine–naloxone tablet (11 percent) or mono-buprenorphine clients (31 percent).

Read more:
http://onlinelibrary.wiley.com/doi/10.1111/dar.12344/abstract

L. Lin, A.S.B. Bohnert, A.M. Price, M. Jannausch, E.E. Bonar, and M.A. Ilgen. 2015. "Pain Acceptance and Opiate Use Disorders in Addiction Treatment Patients with Comorbid Pain." Drug and Alcohol Dependence, doi:10.1016/j.drugalcdep.2015.10.017.

Among 501 residential addiction treatment patients in Michigan with comorbid pain, 72 percent had symptoms of an opioid use disorder. Younger age, Caucasian race, female sex, cocaine use, and lower pain acceptance were associated with more intense opioid use, but pain intensity was not. In multivariate analysis, higher pain acceptance was associated with lower odds of intense opioid use (odds ratio [OR] 0.50) and heroin use (OR 0.57).

Read more:
http://www.drugandalcoholdependence.com/article/S0376-8716(15)01699-3/abstract

Y. Wang, L.B. Cottler, and C.W. Striley. 2015. "Differentiating Patterns of Prescription Stimulant Medical and Nonmedical Use Among Youth 10 to 18 Years of Age." Drug and Alcohol Dependence, doi:10.1016/j.drugalcdep.2015.10.006.

The National Monitoring of Adolescent Prescription Stimulants Study recruited 11,048 youths ages 10 to 18 from entertainment venues in 10 U.S. cities. Among this cohort, 6.8 percent used prescription stimulants in the past 30 days, with 3.0 percent reporting medical use only, 1.1 percent reporting medical and nonmedical use (dual users), and 2.5 percent reporting nonmedical use only. Use of someone else's stimulants was the most frequently reported form of nonmedical use (88.4 percent), followed by using more than was prescribed (38.9 percent) and using outside of the prescribed route (32.2 percent). Dual users had more conduct problem behaviors compared with other user groups. Compared with dual users, nonmedical-only users were more likely to have close friends who tried Adderall, endorse binge drinking, and endorse illicit drug use.

Read more:
http://www.drugandalcoholdependence.com/article/S0376-8716(15)01688-9/abstract

L.K. Whiteside, J. Russo, J. Wang, M.L. Ranney, V. Neam, and D.F. Zatzick. 2015. "Predictors of Sustained Prescription Opioid Use After Admission for Trauma in Adolescents." Journal of Adolescent Health, doi:10.1016/j.jadohealth.2015.08.011.

A random sample of 120 injured adolescents (12–18 years) admitted to a Level I trauma center in Seattle, Wash., were interviewed during admission and at 2, 5, and 12 months post-discharge, with 98 percent completing the 12-month interview. Seven percent reported prescription opioid use before their trauma, with prescription opioid use rates of 52 percent at 2 months, 13.3 percent at 5 months, and 12.5 percent at 12 months. After adjusting for demographic characteristics and injury severity score, those who used marijuana pre-injury and those with higher pre-injury pain scores were more likely to report sustained prescription opioid use.

Read more:
http://www.jahonline.org/article/S1054-139X(15)00334-1/abstract
Professional Education and Policy Debate
D.J. Goodman, C.U. Milliken, R.N. Theiler, B.R. Nordstrom, and S.C. Akerman. 2015. "A Multidisciplinary Approach to the Treatment of Co-Occurring Opioid Use Disorder and Posttraumatic Stress Disorder in Pregnancy: A Case Report." Journal of Dual Diagnosis, doi:10.1080/15504263.2015.1104484

This case report describes complexities in the treatment of a pregnant woman with opioid use disorder and post-traumatic stress disorder (PTSD) and reviews the psychotherapeutic and pharmacologic approaches available to treat these co-occurring disorders in pregnancy. The case demonstrates the importance of early screening and intervention for co-occurring PTSD in pregnant women who use substances.

Read more:
http://www.tandfonline.com/doi/abs/10.1080/15504263.2015.1104484

A.J. Gudoski. 2015. "Prescription Drug Monitoring Programs: Combating Prescription Drug Misuse." Nurse Practitioner 40(11):28–33, doi:10.1097/01.NPR.0000472247.21080.fc.

Most states have implemented prescription drug monitoring programs (PDMPs)—electronic databases that collect and track prescription data and flag suspected diversion activities. Equipped with expanding prescriptive authority, nurse practitioners are now poised to become vital change agents in expanding the potential effectiveness of PDMPs.

Read more:
http://journals.lww.com/tnpj/Abstract/2015/11000/Prescription_
drug_monitoring_programs__Combating.5.aspx

H. Koh. 2015. "Community Approaches to the Opioid Crisis." JAMA 314(14):1437–438, doi:10.1001/jama.2015.12346.

In the Journal of the American Medical Association Forum, author Howard Koh, M.D., discusses state and local efforts that have led to a surge of community activities. These include reducing the opioid supply by updating prescribing guidelines, urging safe disposal, monitoring use and potential misuse through prescription drug monitoring programs, reversing overdoses by expanding naloxone use, accessing treatment and prevention, and humanizing the epidemic by encouraging public dialogue and sharing stories about how the opioid crisis cuts short promising lives.

Read more:
http://jama.jamanetwork.com/article.aspx?articleid=2456154

G. Peltz and K.J.S. Anand. 2015. "Long-Acting Opioids for Treating Neonatal Abstinence Syndrome: A High Price for a Short Stay?" JAMA, doi:10.1001/jama.2015.13537.

The authors share their viewpoint on using methadone to treat neonatal abstinence syndrome (NAS). It is not known whether different NAS treatment strategies that use short- or long-acting narcotics have different detrimental long-term consequences. The authors argue new strategies are needed that do not require continued exposure of the newborn brain to opiates. They suggest a trial with ondansetron, which is used to treat pregnancy-induced nausea and during labor for anesthetic-induced nausea. Ondansetron has not been associated with adverse fetal outcomes.

Read more:
http://jama.jamanetwork.com/article.aspx?articleid=2463848
National
Drug Abuse Among Coal Miners Is Rising
Pamela Pritt, The Register-Herald
October 20, 2015

Eugene White, director of the Office of Mine Health, Safety and Training told legislators on the Joint Committee on Energy that more than 800 of the nation's 30,000 miners failed drug tests over the past 3 years, with 309 miners failing drug tests in 2013, 314 failing in 2015, and at least 214 failing so far this year. Of these 837, 107 had foreman's certifications, and 49 were acting as supervisors. Another 165 failed pre-employment drug and alcohol screening. Test failure typically results in a 3-year suspension. Prescription medications have been the most commonly detected drugs, followed by marijuana.

Read more:
http://www.register-herald.com/news/drug-abuse-among-coal-miners-is-rising/article_2fab95da-964d-51e5-a0c5-9d42d82f869e.html

American Academy of Pain Medicine (AAPM) Joins Obama Administration Fight Against Prescription Drug Abuse
Newswire
October 22, 2015

The American Academy of Pain Medicine (AAPM) joins the Obama Administration's efforts to address the growing opioid misuse crisis. AAPM's commitment to this initiative is demonstrated by educational programming, including the Providers' Clinical Support System for Opioid Therapies Webinars and Methadone E-Learning Education Curriculum, designed to equip prescribers with the knowledge, skills, and behaviors needed to implement evidence-based safe prescribing practices.

Read more:
http://newswise.com/articles/american-academy-of-pain-medicine-aapm-joins-obama-administration-fight-against-prescription-drug-abuse

Millennium Health Ends DOJ Probe, Said to Prepare for Ch. 11
Laura J. Keller and Tom Schoenberg, Bloomberg
October 19, 2015

Millennium Health, the biggest U.S. lab-testing company, agreed to pay $256 million to resolve claims that it misrepresented the need for procedures and offered gifts to doctors in exchange for referrals. A source with knowledge of the case tells Bloomberg that Millennium Health plans to file for Chapter 11 bankruptcy protection by November 10, enabling it to turn over control of the business to its lenders. The payment will resolve allegations that Millennium violated the False Claims Act by having doctors order unnecessary urine, drug, and genetic testing. The government accuses Millennium—a provider of urine-testing services to monitor prescription drug use and potential abuse—of misrepresenting to doctors the necessity of an $1,800 genetic test for pain management patients.

Read more:
http://www.bloomberg.com/news/articles/2015-10-19/millennium-health-agrees-to-pay-256-million-to-settle-doj-probe

Rx Safes Announces Retail Distribution Through CVS Health
Market Watch
October 20, 2015

Rx DrugSAFE is now part of CVS Health's national online offerings. This metal safe, secured by autonomous fingerprint technology, only opens after recognizing its authorized user. Rx Safes offers a manufacturer's rebate program and special pricing through CVS Health to make the technology more affordable for families.

Read more:
http://www.marketwatch.com/story/rx-safes-announces-retail-distribution-through-cvs-health-2015-10-20
MARIJUANA
D.S. Hasin, T.D. Saha, B.T. Kerridge, R.B. Goldstein, S.P. Chou, H. Zhang, J. Jung, R.P. Pickering, W.J. Ruan, S.M. Smith, B. Huang, and B.F. Grant. 2015. "Prevalence of Marijuana Use Disorders in the United States Between 2001–2002 and 2012–2013." JAMA Psychiatry, doi:10.1001/jamapsychiatry.2015.1858.

Analysis of two waves of National Epidemiologic Survey on Alcohol and Related Conditions data showed past-year prevalence of adult marijuana use rose from 4.1 percent in 2001–02 to 9.5 percent in 2012–13. Significant increases occurred across most demographic subgroups (sex, age, race/ethnicity, education, marital status, income, urban/rural, and region). Past-year prevalence of DSM–IV marijuana use disorder was 1.5 percent in 2001–02 and 2.9 percent in 2012–13. Prevalence of marijuana use disorder among marijuana users decreased from 35.6 percent to 30.6 percent.

Read more:
http://archpsyc.jamanetwork.com/article.aspx?articleid=2464591

I.V. Rolle, S.M. Kennedy, I. Agaku, S. Everett Jones, R. Bunnell, R. Caraballo, X. Xu, G. Schauer, and T. McAfee. 2015. "Cigarette, Cigar, and Marijuana Use Among High School Students—United States, 1997–2013." Centers for Disease Control and Prevention, Morbidity and Mortality Weekly Report 64(40):1136–141.

Analysis of 1997–2013 national Youth Risk Behavior Surveys showed use of marijuana (but not tobacco) during the past 30 days more than doubled from 4.2 percent to 10.2 percent of students in grades 9–12. Cigarette or cigar use without marijuana use declined from 20.5 percent to 7.4 percent, and the percentage of students using both substances declined from 25.6 to 22.5. Overall, student marijuana use rose from 29.8 percent to 32.7 percent. Marijuana use among black and Hispanic students rose considerably.

Read more:
http://www.cdc.gov/mmwr/preview/mmwrhtml/mm6440a2.htm?s_cid=mm6440a2_w

C. Thomas and B. Freisthler. 2015. "Examining the Locations of Medical Marijuana Dispensaries in Los Angeles." Drug and Alcohol Review, doi:10.1111/dar.12325.

Analysis of 2012 data from 1,000 census tracts in Los Angeles showed medical marijuana dispensaries are located in areas where more land is commercially zoned, highway ramp access is available, on- and off-premise alcohol outlet density is high, and a larger percentage of residents are Hispanic.

Read more:
http://onlinelibrary.wiley.com/doi/10.1111/dar.12325/abstract

San Francisco Adopts Alcohol and Drug Testing for Taxi Drivers
Bryan Goebel, KQED
October 21, 2015

The San Francisco Municipal Transportation Agency adopted an alcohol and drug testing program for taxicab drivers but opted against complying with federal and state regulations requiring suspension for drivers who test positive for marijuana. Instead, drivers will be allowed to keep their taxi permits if they show a valid medical marijuana recommendation from a doctor. Under the policy, taxi drivers must submit to drug and alcohol tests when they apply for permits, renew the permits annually, or get in a collision. They will also be tested if a "reasonable suspicion" exists that they are inebriated or intoxicated. The city has been out of compliance with state regulations adopted in 1996 that require alcohol and drug testing of taxicab drivers.

Read more:
http://ww2.kqed.org/news/2015/10/21/san-francisco-adopts-alcohol-and-drug-testing-for-taxi-drivers

Medical Cannabis in Illinois: What Employers Need to Know
The National Law Review
October 22, 2015

This article answers general questions about the medical cannabis pilot program in Illinois. It covers employer concerns and employee and applicant drug testing. Illinois law does not require employers to permit employee use of cannabis in the workplace, even when the employee is registered as a patient in the pilot program.

Read more:
http://www.natlawreview.com/article/medical-cannabis-illinois-what-employers-need-to-know

Pleasant Hill Rejects Total Ban on Backyard Pot
Lisa P. White, Contra Costa Times
October 20, 2015

The City of Pleasant Hill, Calif., will let qualified patients keep a few backyard marijuana plants for personal use. This exemption allows a resident to grow no more than three marijuana plants in an outside area smaller than 100 square feet. Plants cannot be visible from the street and must be the same distance from the property line as backyard structures. The police department will track complaints and illegal activity associated with outdoor marijuana growers so the city council can review the policy in 1 year. The Planning Commission will review the exemption and report to the council, which may consider it with the zoning amendment prohibiting outdoor marijuana cultivation on November 2.

Read more:
http://www.contracostatimes.com/concord/ci_28997452/pleasant-hill-rejects-total-ban-backyard-pot

Three Companies Competing for State Approval to Open Medical Marijuana Growing Facilities
Richard Reeve, ABC 7 News
October 20, 2015

Companies are competing for state approval to open medical marijuana growing facilities in Washington County, Md. Green Thumb Industries hopes to build a 45,000-foot indoor growing facility on 21 acres of cornfields west of Hagerstown. The company is promising a $12 million investment. In Hancock, Harvest, Inc. wants to convert a warehouse into an indoor growing site. State officials will issue 15 cultivating licenses in December or January. (Includes video: 2:08 minutes)

Read more:
http://wjla.com/news/local/possible-marijuana-growing-sites-in-washington-co-maryland

Canada's New Governing Party Promises to Legalize, Regulate Marijuana Sales
Trevor Hughes, USA Today
October 20, 2015

Canada's newly elected Prime Minister, Justin Trudeau, promised to create a system to tax, regulate, and sell marijuana, along with stiff penalties for anyone giving pot to children or caught driving while stoned. Trudeau had promised to begin work to legalize marijuana "right away" if elected. Now his campaign is looking to Colorado as a potential model. Canada's move toward recreational legalization could add to a growing international discussion about drug possession and penalties. Medical marijuana has been legal in Canada since 2001.

Read more:
http://www.usatoday.com/story/news/world/2015/10/20/canadas-new-governing-party-promises-legalize-regulate-marijuana-sales/74260334

Marijuana Bill Gets New Boost
Maricel Cruz, The Standard
October 18, 2015

In the Philippines, Representative Rodolfo Albano III, who authored House Bill 4477, appealed to the leadership for his bill to be debated. This bill would legalize medical cannabis as an alternative treatment for patients suffering from chronic or debilitating disease, severe and chronic pain, severe nausea, seizures, or severe and persistent muscle spasms. It would establish a Medical Cannabis Regulatory Authority and license a Medical Cannabis Compassionate Center to "acquire, possess, cultivate, manufacture, deliver, transfer, transport, sell, supply, and dispense cannabis, paraphernalia, or related supplies and educational materials to registered qualifying patients." A Medical Cannabis Safety Compliance Facility would be established to "conduct scientific and medical research on medical use of cannabis" and provide testing services for product potency.

Read more:
http://thestandard.com.ph/news/-main-stories/top-stories/189773/marijuana-bill-gets-new-boost.html
International
Hospitality Workers Most Likely to Misuse Prescription Drugs, Curtin University Study Finds
Lucy Martin, ABC
October 19, 2015

Data from the past decade show hospitality workers are more likely to misuse prescription medication and over-the-counter drugs than employees in other industries. Among working-age Australians, 3.7 percent have used a pharmaceutical drug for nonmedical purposes. Blue collar workers are more likely to misuse prescription drugs than white collar workers. Workers with greater responsibility and authority are less likely than other workers to misuse pharmaceutical drugs.

Read more:
http://www.abc.net.au/news/2015-10-19/hospitality-workers-most-likely-to-misuse-prescription-drugs/6865480
Northeast/Mid-Atlantic News
Opioid User Numbers in NH Are Staggering
Shawne K. Wickham, Union Leader
October 17, 2015

Michelle Ricco Jonas, New Hampshire's prescription drug manufacturing program manager, said more than 13 million doses of Schedule II pain relievers were dispensed at state pharmacies during the second quarter of 2015. Ricco Jonas said 108,398 patients filled 16,285,259 prescriptions for Schedule II medications; 80 percent of those prescriptions were for pain relievers.

Read more:
http://www.unionleader.com/article/20151018/NEWS12/151019335

Nashua to Study Placing Narcan Kits in Schools
Kimberly Houghton, Union Leader
October 18, 2015

The president of the Nashua, N.H., Board of Education asked the school district to explore the possibility of placing Narcan® kits in select middle and high schools. He requested that the superintendent study costs of the kits, the amount of training needed to have kits in place and used properly, and any potential liability concerns.

Read more:
http://www.unionleader.com/Nashua-schools-to-study-Narcan-kits

Despite Effort, Opioid Deaths Still Climbing in Mass.
Felice J. Freyer, The Boston Globe
October 21, 2015

The Massachusetts opioid death toll continues to rise, despite efforts to combat the crisis. During the first half of 2015, 684 people died from opioid overdoses—a 6 percent increase from the same period in 2014. The health department has already confirmed 1,089 opioid overdose deaths in 2014. Once the medical examiner finalizes ongoing death investigations, an additional 136 to 199 overdose fatalities are likely to be confirmed. The 1,089 deaths alone represent a 63 percent increase from 2012 and a 20 percent increase from 2013. New Hampshire's governor proposed legislation that would limit prescriptions for pain relievers and allow hospitals to hold people with substance use problems against their will for 3 days. The legislation would also direct medical professionals to dispense no more than 3 days' worth of opioids the first time they see a patient.

Read more:
https://www.bostonglobe.com/metro/2015/10/21/new-data-shows-opioid-overdose-epidemic-continuing/BpblfS1nPPwXMCj9NW4FgP/story.html

Legislation Unveiled to Protect Teens from Getting Addicted to Opioids
Todd Kazakiewich, WCVB
October 22, 2015

Massachusetts Representative Diana DiZogilo filed legislation that would prohibit doctors from giving OxyContin to anyone under age 17. DiZogilo believes the medication leads to opioid addiction and further fuels the epidemic of fatal overdoses. Officials echoed the same concerns during their testimony before the Joint Committee on Mental Health and Substance Abuse. The testimony was in support of the bill that would outlaw OxyContin prescriptions for children. The American Cancer Society's Cancer Action Network filed a letter in opposition, saying some young patients need strong pain medication. (Includes video: 1:38 minutes)

Read more:
http://www.wcvb.com/health/legislation-unveiled-to-protect-teens-from-getting-addicted-to-opioids/35994732

DA: Framingham Man Stole Dead Man's Prescription Drugs
Norman Miller, The Framingham Tab
October 20, 2015

Roger David Antos of Framingham, Mass., broke into a dead man's house to steal prescription pain relievers. Antos was caught by Peter Mulkerrins's family. When police arrived, they discovered a bottle of Mulkerrins's hydrocodone and other unidentified medication on Antos. They charged Antos with breaking and entering with intent to commit a felony, stealing prescription medication from a depository, and illegal possession of hydrocodone.

Read more:
http://framingham.wickedlocal.com/article/20151020/NEWS/151029230

One-Third of Marylanders Are Close to an Opioid Addict
Reading Eagle
October 17, 2015

A Washington Post–University of Maryland poll found nearly 3 in 10 Marylanders have a close friend or family member who was or is addicted to opioids such as heroin and prescription pain medicine. In Baltimore City and County, 40 percent and 37 percent of respondents, respectively, say they know an addict. Thirty-four percent in Anne Arundel and Howard Counties say the same, as do 35 percent in rural parts of the state. In the Washington suburbs of Montgomery and Prince George's Counties, 16 percent and 11 percent, respectively, say they know someone who is or was hooked on opioids. The October 2015 poll reached a random sample of 1,006 adult residents.

Read more:
http://www.readingeagle.com/ap/article/one-third-of-marylanders-are-close-to-an-opiod-addict

Cuomo Admin. Takes on Synthetic Drugs and Prescription Drug Abuses
WICZ
October 20, 2015

New York Governor Andrew Cuomo launched a statewide media campaign to address synthetic drugs and prescription drug misuse through public service advertisements and a 33-foot billboard in the Bronx.

Read more:
http://www.wicz.com/news2005/viewarticle.asp?a=40639
South News
Your Health: Free Clinics and Naloxone
Tammie Smith, Richmond Times-Dispatch
October 18, 2015

Sarah Melton, a Virginia psychiatric pharmacist, conducted Rx Partnership training for affiliate clinics, where she talked about efforts to reduce heroin and opioid overdose deaths. Melton also trained clinic pharmacy employees on delivering naloxone. Though none of the clinics—mostly free—dispense controlled substances, it is important for staff to be aware of patients who exhibit signs of addiction or drug-seeking behavior. Rx Partnership arranges for 21 affiliated clinics with pharmacies to have bulk access to prescription drugs, provided through pharmaceutical companies' patient assistance programs.

Read more:
http://www.richmond.com/life/health/article_d66f2b36-ecc9-5f77-a5c3-c325b4a96e65.html
Midwest News
Anti-Heroin Bills Pass Assembly Committee: Bills Aim to Prevent Heroin Use by Targeting Opiates
Hope Kirwan, Wisconsin Public Radio
October 22, 2015

The Wisconsin Assembly Health Committee approved four bills to address heroin use by tightening control over prescription drugs. This package would require 1) opiate dispensers to enter prescriptions into the prescription drug monitoring program database within 24 hours, 2) police who find an opiate prescription at an overdose scene to enter it into the database, and 3) treatment programs that use methadone to report the number of people receiving the medication. It would also create methadone and pain clinic registries. The committee approved a bill clarifying a 2013 state law that permits pharmacists to dispense naloxone to people without specific prescriptions.

Read more:
http://www.wpr.org/anti-heroin-bills-pass-assembly-committee

Iowa's Overdose Deaths Steady as National Rate Soars
Martha Stoddard, The Daily Nonpareil
October 23, 2015

In Iowa, overdose deaths from opioid pain relievers have held steady since 2009—about 77 per year—but overdose deaths from all types of drugs have continued to climb. The number of people trying to use multiple doctors and pharmacies dropped to almost zero after adoption of the prescription drug monitoring program in March 2009. In its first 10 months, the system flagged 232 people using 10 or more prescribers and pharmacies. Last year, only five were flagged.

Read more:
http://www.nonpareilonline.com/news/local/iowa-s-overdose-deaths-steady-as-national-rate-soars/article_e844c7fc-7733-526f-99cb-4a2a7895c274.html

Oklahoma Sees Prescription Drug Overdose Deaths Drop Slightly
Jaclyn Cosgrove, The Oklahoman
October 19, 2015

In 2014, 510 Oklahomans died from an unintentional prescription drug overdose—a 5 percent decrease since 2013. It was the state's lowest unintentional prescription drug overdose death rate since 2007. In November, state law will require physicians to regularly check the prescription drug monitoring program when prescribing opiates.

Read more:
http://newsok.com/article/5454452
West News
Montana Attorney General Looking to Curb Prescription Drug Abuse
David Jay, KTVQ
October 23, 2015

Attorney General Tim Fox is promoting the Resolve Montana program to help educate the community about prescription drug dangers. Resolve Montana places drop boxes throughout the state for people to properly dispose of prescription drugs. The program also asks Montanans to use drugs as prescribed and keep them safe and secure. (Includes video: 1:16 minutes)

Read more:
http://www.ktvq.com/story/30331160/attorney-general-looking-to-curb-prescription-drug-abuse

Prescription Drug Overdoses Spur New Guidelines for Marin County Doctors
Jodi Hernandez, NBC Bay area
October 20, 2015

The Marin County, Calif., public health officer sent out a public health advisory to local doctors with new guidelines for prescribing narcotics. The number of narcotics prescribed in the county doubled between 2004 and 2014. Marin has urged doctors to explain the risks, consider alternatives, and encourage patients to discard drugs they no longer need in drop boxes across the county. (Includes video: 2:49 minutes)

Read more:
http://www.nbcbayarea.com/news/local/Prescription-Drug-Overdoses-Spur-New-Guidelines-for-Marin-County-Doctors-334850801.html

Seven Pinole Valley High Students Suspended, Five Hospitalized, After Taking Xanax: School
Cheryl Hurd, Lisa Fernandez, and Jodi Hernandez, NBC Bay Area
October 22, 2015

Seven students at California's Pinole Valley High were suspended for using Xanax. The students were stumbling around at lunchtime, so school officials called an ambulance and the police. Five were taken to the hospital, and two were released to their parents. This news came 1 day after the San Francisco Department of Public Health issued a warning about fake Xanax, with three people hospitalized and a fourth dead. Days prior, five students in Marin County were taken to the hospital after overdosing on cough medication. (Includes video: 1:01 minutes)

Read more:
http://www.nbcbayarea.com/news/local/Five-Pinole-Valley-High-Students-Hospitalized-After-Taking-Xanax-336161531.html

Sheriff's Deputies in 4 O.C. Cities Now Carrying Kits to Combat Drug Overdoses
The Orange County Register
October 22, 2015

Some Orange County, Calif., sheriff's deputies in Stanton, Mission Viejo, and Laguna Niguel are equipped with and trained to use naloxone kits as part of a 6-month pilot Overdose Prevention Program. The costs of the program are being covered by funds seized and forfeited by drug trafficking organizations during investigations.

Read more:
http://www.ocregister.com/articles/drug-688652-department-county.html

'Pill Shopping' Concerns Local Prescribers, Pharmacists
Alicia Phillips and Debe Campbell, Navajo County Drug Project
October 18, 2015

A survey by the Navajo County Drug Project that polled 75 medical providers and 6 retail pharmacists in Arizona's White Mountains found prescription drug misuse is a problem, and providers are concerned about patients "pill shopping." The surveyed pharmacies dispense an estimated 1,042,000 prescriptions annually. Five frequently use the prescription drug monitoring program, and one sometimes uses it. Every physician with a Drug Enforcement Administration registration to prescribe controlled substances must register with the program by 2017. If 50 percent of prescribers are not actively using the system by the end of 2016 and 75 percent are not using it by the end of 2017, the legislature has said it will mandate use.

Read more:
http://www.wmicentral.com/news/latest_news/pill-shopping-concerns-local-prescribers-pharmacists/article_ea3055ac-7383-11e5-abcd-ef69a24cd7fa.html
Other Resources
Safe Drug Disposal: A Guide for Communities Seeking Solutions
Partnership for Drug-Free Kids
Accessed October 21, 2015

This guide created by the Partnership for Drug-Free Kids, Office of Community Oriented Policing Solutions, Office of National Drug Control Policy, and Drug Enforcement Administration helps communities take steps to safely dispose of medicines. It provides an overview on the topic, discusses who should be involved in the development of a program, and suggests ways to promote safe drug disposal programs to community members. The guide also identifies key issues for program developers to consider along with helpful resources.

Read more:
http://medicineabuseproject.org/resources/communities-law-enforcement/safe-drug-disposal?utm_source=landingpage&utm_medium=potus&utm_campaign=safedrugdisposal
Grant Awards
Area Anti-Drug Group Wins $625,000 Federal Grant
Tyler Graef, Southeast Missourian
October 19, 2015

The Early Prevention Impacts Community was awarded a $625,000 federal grant to fund education and drug prevention programs for youth. It was the only new awardee in Missouri for 2015.

Read more:
http://www.semissourian.com/story/2241907.html

Grant to Train Erie County Physicians to Address Opiate Epidemic
Janice L. Habuda, The Buffalo News
October 22, 2015

The Peter and Elizabeth C. Tower Foundation awarded a $64,000 grant to a Getzville-based organization to develop guidelines for healthcare providers who prescribe pain medications. Physicians will also receive training to prescribe buprenorphine.

Read more:
http://www.buffalonews.com/city-region/medical/grant-to-train-erie-county-physicians-to-address-opiate-epidemic-20151022
Grant Announcements
Partnership for Clean Competition
Pre-applications due November 1
Full applications due December 1
http://www.cleancompetition.org/Pages/programs-grants.aspx

NIDA Translational Avant-Garde Award for Development of Medication to Treat Substance Use Disorders
Department of Health and Human Services, National Institutes of Health
Deadline: December 3, 2015
http://www.grants.gov/web/grants/search-grants.html

NJHI 2016: Building a Culture of Health in New Jersey—Communities Moving to Action, Round 2
Robert Wood Johnson Foundation
Deadline: January 14, 2016
http://www.rwjf.org/en/library/funding-opportunities/2015/njhi-2016--building-a-culture-of-health-in-new-jersey---communiti.html
Take-Back Events and Drop Boxes
43,000 lbs. of Prescription Drugs Collected During Statewide Take Back
Pete Zervakis, WKOW (Wisconsin)
October 20, 2015
http://www.wkow.com/story/30301252/2015/10/19/43-thousand-pounds-of-prescription-drugs-collected-during-statewide-take-back

Bucks County Collects 7,130.73 Pounds of Drugs
Erich Martin, Levittownnow.com (Pennsylvania)
October 20, 2015
http://levittownnow.com/2015/10/20/bucks-county-collects-7130-73-pounds-of-drugs

DeKalb Drug Take-Back Program Collects 400-Plus Pounds of Pills
Daily Chronicle (Illinois)
October 17, 2015
http://www.daily-chronicle.com/2015/10/15/dekalb-drug-take-back-program-collects-400-plus-pounds-of-pills/aj42m3r

More Than 137 Pounds of Old Medications Collected at Leisure Village
Ventura County Star (California)
October 18, 2015
http://www.vcstar.com/news/local-news/simi-valley/more-than-137-pounds-of-old-medications-collected-at-leisure-village_81607638

Antrim County Sheriff's Office to Collect Unwanted Prescription Drugs
Michelle Nemmers, WPBN (Michigan)
October 22, 2015
http://upnorthlive.com/news/local/antrim-county-sheriffs-office-to-collect-unwanted-prescription-drugs

Sheriff, Village PD Partner for Prescription Drug Disposal
CJ Carnacchio, Sherman Publications, Inc. (Michigan)
October 21, 2015
http://www.clarkstonnews.com/Articles-News-c-2015-10-21-259884.113121-sub14475.113121-Sheriff-village-PD-partner-for-prescription-drug-disposal.html

Montclair Police Install New Drug Drop Box
Nicholas Katzban, The Montclair Times (New Jersey)
October 20, 2015
http://www.northjersey.com/community-news/2.4225/montclair-police-install-new-drug-drop-box-1.1436788

Middle Township Police Offer Project Medicine Drop
Press of Atlantic City (New Jersey)
October 19, 2015
http://www.pressofatlanticcity.com/news/middle-township-police-offer-
project-medicine-drop/article_7c9fb6b2-7681-11e5-b576-c3015ec8d3e6.html

Collaborative: Prescription Take Back Day Successful
The Manchester Journal (Vermont)
October 19, 2015
http://www.manchesterjournal.com/community/ci_28992020/collaborative-prescription-take-back-day-successful

Prescription Drug Take-Back Day Recovers Piles of Pills in Mequon
WDJT (Wisconsin)
October 17, 2015
http://www.cbs58.com/story/30286816/prescription-drug-take-back-day-recovers-piles-of-pills-in-mequon
Upcoming Conferences and Workshops
143rd Annual Meeting and Exposition—Health in All Policies
American Public Health Association
October 31–November 4, 2015
Chicago, Illinois
https://www.apha.org/events-and-meetings/annual

Register:
https://www.apha.org/events-and-meetings/annual/registration-information

Prescription Drug Abuse Summit
State of Arkansas
November 3, 2015
Hot Springs, Arkansas
http://arkansasag.gov/our-office/sponsored-events/prescription-drug-summit

2015 Fall Research Conference: The Golden Age of Evidence-Based Policy
Association for Public Policy Analysis and Management
November 12–14, 2015
Miami, Florida
http://www.appam.org/events/fall-research-conference/2015-fall-research-conference-information

Register:
http://www.appam.org/events/fall-research-conference/2015-fall-conference-registration

28th Annual National Prevention Network Conference: Bridging Research to Practice
National Prevention Network
November 17–19, 2015
Seattle, Washington
http://www.npnconference.org

Register:
http://www.npnconference.org/registration

University of Michigan Injury Center Prescription Drug Overdose Summit
University of Michigan Injury Center
December 1, 2015
Ann Arbor, Michigan
http://www.injurycenter.umich.edu/conferences/opioid-overdose-summit

Ensuring Access to Pain Care: Engaging Pain Medicine and Primary Care Teams
American Academy of Pain Medicine
February 18–21, 2016
Palm Springs, California
http://www.painmed.org/annualmeeting

2016 National Rx Drug Summit
March 28–31, 2016
Atlanta, Georgia
http://nationalrxdrugabusesummit.org
The Weekly Update is a service provided by the SAMHSA Preventing Prescription Abuse in the Workplace Technical Assistance Center (PAW) to keep the field abreast of recent news and journal articles to assist in forming policy, research, and programs to reduce prescription drug misuse or abuse. Please note, the materials listed are not reflective of SAMHSA's or PAW's viewpoint or opinion and are not assessed for validity, reliability or quality. The Weekly Update should not be considered an endorsement of the findings. Readers are cautioned not to act on the results of single studies, but rather to seek bodies of evidence. Copyright considerations prevent PAW from providing full text of journal articles listed in the Weekly Update.